Running Errands Instead of Reading: California Settles Suit Over Students Kept in "Sham" Classes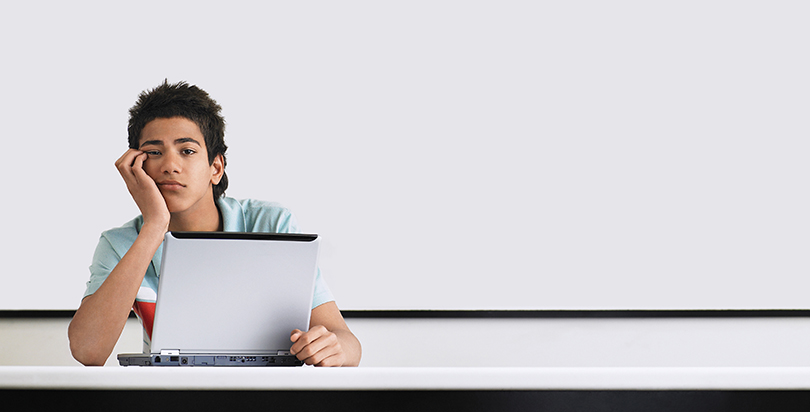 The California State Education Department has settled a lawsuit alleging that it failed to intervene as students in six high schools in poor neighborhoods languished in so-called "fake" classes where they ran errands for teachers, socialized or were simply sent home instead of receiving instruction.
The state Board of Education voted Thursday to settle the suit, filed in May 2014 on behalf of 22 students from low-income, mostly minority high schools in the Los Angeles Unified, Compton Unified and Oakland Unified school districts.
"Generally, students started school at the same time, and the bell to end rang at approximately the same time," Mark Rosenbaum, the lead counsel for the plaintiffs and director of Public Counsel Opportunity Under Law, told the Los Angeles Times. "What was happening behind closed doors was very different depending on ZIP code."
In addition to the law center, the
complaint
was brought by the American Civil Liberties Union of Southern California and a coalition of other civil rights attorneys and private law firms.
Victor Leung, a staff attorney at the ACLU of Southern California, said parents and students had long reported that students were assigned to non-classes where they were dismissed as early as 11 a.m. or served as teacher's assistants when they needed credits to graduate and were already in jeopardy of not graduating on time.
That was the case for Jason Magaña, 17, a student plaintiff in the case who started his senior year at Thomas Jefferson High School last year assigned to the same graphic design class he'd passed the year before. His schedule also had two "home periods" during which he could do nothing or leave school. It was a month into the semester before he was finally placed in the economics class he needed to graduate, he said.
"I'd go almost every day to the counseling office to see if they could change my class but all the counselors were busy so I had to wait four weeks until my problem was fixed," Magaña told The Seventy Four on Friday.
He did graduate, with honors, and is studying mechanical engineering at California State University, Sacramento.
The teen said the settlement filled him with pride and relief that other students — including his younger sister, who attends another Los Angeles high school — will not encounter the same setbacks.
"This a big accomplishment because I know other students are not going to pass through what I passed through," he said.
High teacher turnover, violence in and outside of the classroom and massive delays in finalizing students' schedules in schools that sorely lack resources led to hundreds of students missing out on education, according to the complaint.
"This settlement really will ensure that there is a much more even playing field for students throughout California," Leung said. "When these issues were brought to our attention, I think it revealed some real inequities in the California education system and it was qute shocking to us. But I think that the settlement is a good indicator that the justice system works and that the state can and will intervene."
The settlement comes in conjunction with a
new law
, signed by Gov. Jerry Brown last month, that intends to strengthen the state's tracking of students assigned to non-content courses, which are sometimes called "home periods" or "teaching assistant periods." It also bars high schools from re-enrolling students in classes they have already taken and passed.
Under the
settlement
, state officials must intervene if students in those three districts are found to be placed in these classes in a way that's inconsistent with the new law — specifically, for more than one week in any semester — or if districts encounter "widespread problems" with students scheduling.
The new law goes into effect in the 2016-17 school year. It was introduced by Assemblyman Reginald Byron Jones-Sawyer, Sr., a Democrat who represents part of Los Angeles and was driven to help when he learned of the case, Leung said.
The settlement, which is expected to receive final approval by a superior court judge, provides plaintiffs with $400,000 to cover attorneys' fees.
"We believe every student should have access to high-quality courses so they can succeed in 21st-century careers and college," State Superintendent of Public Instruction Tom Torlakson said in a statement. "This settlement reaffirms my commitment and the California Department of Education's commitment to help identify and coordinate local resources for districts with significant problems scheduling students."
In a statement, the Los Angeles Unified School District said that it has "adequately addressed" the issues raised in the lawsuit.
"We are pleased that the Plaintiffs and State Defendants have agreed that there is no need to proceed with the case," the statement said.
Get stories like these delivered straight to your inbox. Sign up for The 74 Newsletter