Rubalcava: California Helps Schools Treat Kids With Trauma Before a Crisis Occurs. Other States Should Give Students This Kind of Support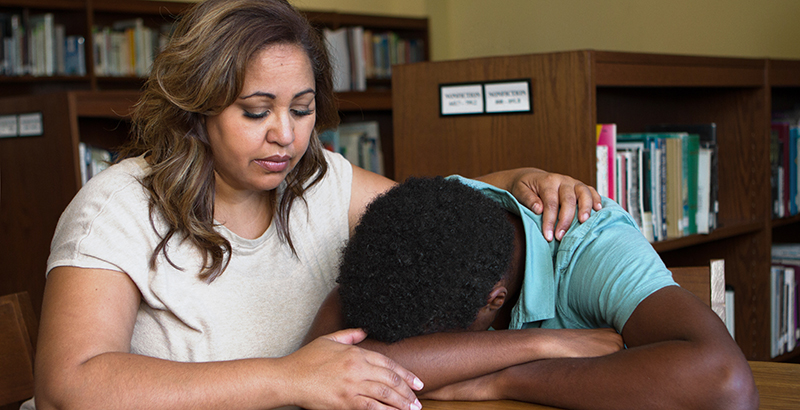 Twenty years ago, a groundbreaking study by the federal Centers for Disease Control and Prevention revealed the ubiquity of childhood trauma and its long-term impact on health and behavior. I was in my sixth year of college at the time, struggling to focus on my coursework as I recovered from years of watching my alcoholic father physically and psychologically abuse my mother, while worrying that my brother would overdose from drugs as he attempted to cope with the dysfunction in our home. I would have been a perfect subject for the researchers.
In the decades since, experts have found that childhood trauma is more prevalent in low-income communities of color and can leave children with disabling forms of anxiety and depression. As any educator knows, these emotional burdens interfere with children's ability to learn and grow.
What is surprising is how little attention our public education system has paid to these obstacles. Even the education reform movement, with its focus on helping students in disadvantaged communities, has concentrated its efforts mostly on academics and raising achievement standards rather than on the whole child. At Magnolia Public Schools, where 77 percent of our students are low-income, we celebrate the fact that 90 percent graduate having taken the courses they need to qualify for California universities — far surpassing the state average of 40 percent. But the troubling truth is that many of our graduates, including some of our highest-performing students, continue to grapple with personal crises.
In my 16 years of working at schools in underserved areas, I've seen countless kids overwhelmed by grief, anger, or fear. I recognize their pain because it echoes the pain I felt — and still sometimes feel — after a childhood marred by instability and violence.
While my wounds no longer torment me, I fear that many of our students won't be so lucky. Like most educators in high-poverty neighborhoods, I've been frustrated that we can't do more to help our students overcome their suffering. Research shows that children with untreated trauma are more likely, later in life, to struggle with substance abuse as well as mental and physical health problems. But few schools have the staff, resources, and expertise necessary to fully examine and address the traumas plaguing so many of our kids.
The good news is that public officials are increasingly recognizing that besides teaching academic content, schools must help students learn to recover from anguishing experiences. In California, the $22 million Multi-Tiered System of Support Initiative is enabling hundreds of school districts and charter networks, including Magnolia, to radically shift the way we engage with students affected by trauma.
In the past, most of our students received help or support services only when problems arose. Now, every child will be screened and evaluated by integrated teams of administrators, psychologists, and teachers trained in research-based methods of trauma assistance. For students who need intensive support, our on-campus professionals will partner with local agencies and community organizations that provide medical care and mental health services. These integrated, collaborative support teams will address students' needs proactively and holistically.
That means we'll finally be able to offer more robust and targeted help to kids who desperately need it — the boy who can't pay attention in class because he's worried his father won't get out of jail, or the girl who starts fights because she often goes to bed hungry. Our students will learn the social-emotional competencies to cope with chronic stress. They'll develop the psychological and emotional resilience that leads to building safe, stable, and nurturing relationships inside and outside of school.
It isn't just students in high-poverty neighborhoods who need this kind of support. From campus shootings to cyberbullying, students from all backgrounds are experiencing traumas that can hinder their socio-emotional development. Other states should follow California's lead and invest in equipping schools to treat trauma.
None of us can change the past. I can't stop the bullets that whizzed by me while I stood in my parents' living room. My students can't erase the suffering of having lost siblings to gang violence.
But each of us can learn to process even our most haunting experiences. We can use those experiences to transform and discover our deepest potential. If more schools can become vehicles for that transformation and discovery, the best days of our public education system might be ahead of us.
Alfredo Rubalcava is CEO and superintendent of Magnolia Public Schools, a network of 10 public charter schools in Los Angeles, Orange, and San Diego counties. Rubalcava has served in public education for 16 years.
Get stories like these delivered straight to your inbox. Sign up for The 74 Newsletter