Analysis: Newark Poll Suggests We Can Rebuild a Stronger Bipartisan Coalition to Support Charter Schools & Better Educational Opportunity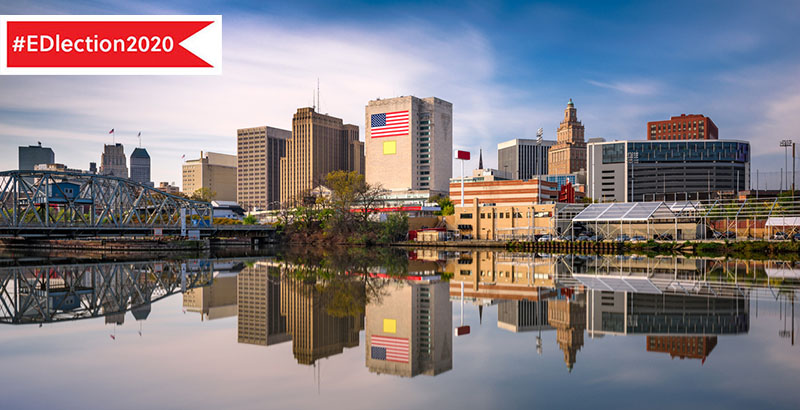 Regardless of who wins the presidency, one thing is certain: We must rebuild the crumbled bipartisan coalition in support of America's charter schools. President Donald Trump's administration has disrupted the decades-old partnership that Democratic and Republican Presidents Bill Clinton, George W. Bush and Barack Obama kept alive for years. A Joe Biden administration might pursue policies that work better for charter school families, but his campaign platform doesn't promise to offer strong support for these free, open-enrollment public schools either.
So if we can't rely on a president to do this, where should we look?
Rebuilding the coalition must start by working from the ground up in local communities by focusing a new generation of leaders who want what is best for kids. We must continue investing in the expansion of high-performing charter schools while doing more to empower the voices of their parents, teachers, alumni and allies, and then, help them win elected office. This new generation of leaders will understand that the role of charters is not to compete with or overtake district schools, but rather to work side by side with them to improve educational opportunity for all.
We have barely begun to empower this group to shift the focus away from extreme voices in both parties that attempt to marginalize communities that want charter schools. But Newark provides some hopeful notes for this approach.
Despite the toxicity of national policy discussions about charter schools, voters in this overwhelmingly Democratic city told us in a late September poll that they support candidates who would expand charters — by a 2-to-1 ratio. And for the first time, a full two-thirds of Newark voters indicated their support for charters. Four of the nine members of our local school board are charter school parents, another is a parent and a former teacher, and yet another is a charter school alumna and the youngest woman ever to hold that office. These folks are reasonable, open-minded people who see the value of the district and the charters working together to improve education for children.
The lesson from Newark is clear: Despite national rhetoric to the contrary, there is deep, continuing support for charter schools when they're not placed at odds with district schools. And that growing base of parents, alumni and teachers should be the cornerstone of a new, bipartisan coalition that reflects the communities they serve — and brings that commitment to Washington from states and cities across the country.
Getting there will take time and lots of hard work by this new generation of leaders in local communities. There need to be major new investments in programs to help charter school parents and their allies to vote more often, as well as training and support to help them win elections at every level of government and to support them once they get there.
National groups like Education Reform Now and its Leaders of Color initiative have driven this work for years, as have local organizations in Newark and a handful of other cities. But we need to expand programs like these to have a broader, national impact and also create new ones to flesh out the infrastructure driving local change.
This kind of work is difficult because it doesn't fit neatly into short election cycles, it forces organizations to confront the overall messiness of democracy and politics, and it will require a new, more diverse group of leaders to spearhead it. More importantly, the groups that do this are too often underresourced. It is up to all of us who care deeply about educational equity to collectively solve that problem if we are to tap the potential of this moment and rebuild a stronger, more inclusive, pro-charter coalition.
Kyle Rosenkrans is executive director of the New Jersey Children's Foundation.
Disclosure: The City Fund provides financial support to the New Jersey Children's Foundation and The 74.
Support The 74's year-end campaign. Make a tax-exempt donation now.