Romfo: How Scholarships of Just $2,500 Can Open Doors to Private School and Educational Excellence for Low-Income Students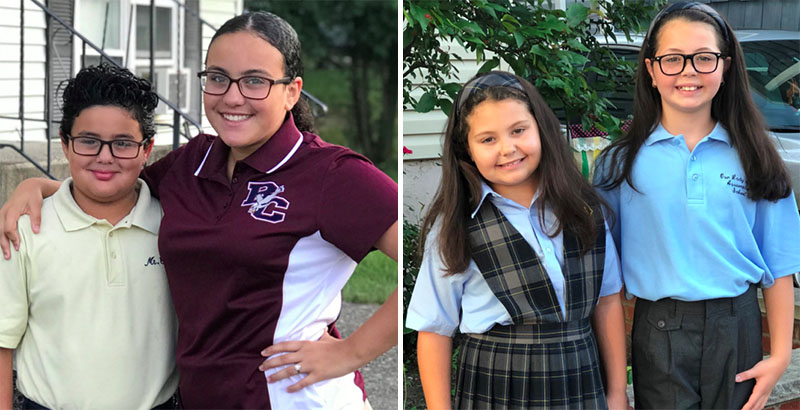 Updated Jan. 28
Would you like your child to take an international trip in eighth grade? Or learn Mandarin? Or gain a deep understanding of the Muslim and Jewish communities? School choice can provide these opportunities, and National School Choice Week is a good time to shine a spotlight on educational options that can promote inclusion, pluralism and intercultural understanding — lessons that last far beyond a child's school-age years.
I see this clearly through my work with the Children's Scholarship Fund in New York and with our 20 partner programs offering scholarships in 26 cities and regions from New Hampshire to California. When some people think of private school, they might imagine exclusive academies charging tens of thousands of dollars in tuition. But the schools the fund and our partners work with take a different approach to education: doing more with less while broadening children's horizons and inspiring them to a brighter future.
Total tuition at the schools our New York scholarship recipients attend, for example, averages just over $5,000 a year — far less than what most people think of when they hear the term "private school." The fund helps defray tuition costs for K-8 students in families with modest means. The families contribute about half, with the scholarship fund providing the rest.
For those comparatively modest sums, children often receive a far richer, and more rewarding, educational experience than they would obtain at schools spending tens of thousands of dollars more per student. In the Bronx, The Learning Tree Cultural Preparatory School takes eighth-graders who may never have left the city before on an overseas trip. In Chinatown, Transfiguration, a Catholic school, provides instruction in Mandarin starting in elementary school. Al-Ihsan Academy, an Islamic school in Queens, partners with a Jewish school for interfaith and intercultural programming designed to promote international understanding and peace.
These schools work wonders when it comes to delivering for their students, often on a shoestring budget. They provide quality, affordable options for families beyond charter schools, or traditional public schools with uneven performance.
This National School Choice Week, which runs from Jan. 26 to Feb. 1, New York parents, educators, teachers and students will come together at 2,423 events and activities celebrating all the shapes, sizes and variations of K-12 schools. That's a microcosm of the country: Nationwide, there will be more than 50,000 similar gatherings, with more than 25,000 schools and tens of thousands of parents, organizations and community groups around the United States participating in school choice fairs, movie screenings, networking lunches, rallies and other events.
Millions of students across all 50 states have benefited from the diversity of educational options, gaining access to new schools that they love and that have increased their love of learning.
American families' values, beliefs and needs differ, and that is something that school choice honestly acknowledges and respects. Rather than driving families deeper into achievement gaps and socioeconomic divides, educational pluralism paves the way for honest conversations among families, educators and community members, and for a richer diversity of parental preferences.
Empowering families with the means and tools to make the right educational choices for their children can transform a student's life, in ways that they — and you — might not have even thought possible.
Darla M. Romfo is president and chief operating officer of the Children's Scholarship Fund, a nonprofit that provides partial scholarships for low-income children in grades K-8 to go to the school that best meets their needs.
Get stories like these delivered straight to your inbox. Sign up for The 74 Newsletter