Riley: Creativity Is Not a Soft Skill — It Is a Must-Have Mindset for the 21st Century. How Teachers Can Nurture It in Their Students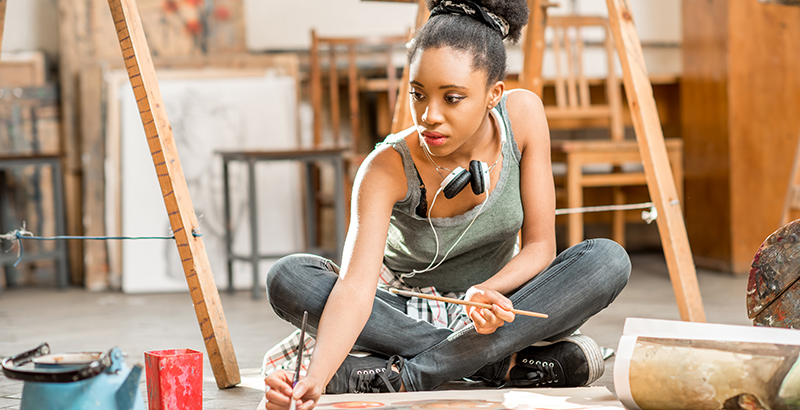 "I guess she's just creative." That simple sentence implies that creativity is a mysterious force somehow less valuable than more traditional skills like reading, math or science.
During my time as an elementary school music teacher, I had the opportunity to watch students who struggled with traditional skills blossom when given the chance to create. At the end of almost every concert, at least one person would come up to me in awe of a student and say, "I guess she's just creative!"
Numerous studies have examined components, genetic and otherwise, of what makes up creativity, from the ability to think divergently to the amount of dopamine that influences creative associations to which chromosomes influence musical aptitude. It's clear that the skills and processes required for creativity are baked into our DNA and that all of us have at least some level of it.
Most people only think of artists, painters, actors, writers and such when they hear the word "creative" — but creativity is not synonymous with being an artist. LinkedIn learning instructor and author Stefan Mumaw defines creativity as "problem-solving with relevance and novelty." According to this definition, a software architect, a plumber or a scientist could also be creative.
Creativity comprises the behavior, actions and interpretations of how we relate to and experience the world. It is a habit, and one we can exercise. It is not a soft skill, so it's time to stop thinking about creativity as nice to have and start remembering that creativity is essential.
LinkedIn surveys from 2019 and 2020 list creativity as one of the most important skills that employers are seeking in job applicants. But that isn't new; in 2014, I sat in an auditorium where a speaker from NASA addressed educators about the need for more creativity in schools.
He said, "We are going to put people on Mars. What will those people do when they run into a problem that the manual can't solve, and help is thousands of miles away? We need people to be creative for our survival." NASA has since been investing heavily in STEAM efforts — science, technology, engineering, arts and math — both in and out of schools to assist in fostering future astronauts who are creative problem-solvers.
But how do you measure creativity? Certainly not with quantifiable numbers. But you know it when you see it — Leonardo da Vinci, for example, was beyond a doubt a creative genius who pushed himself to explore, grow and share his process and skills.
Although we may not be able to master creativity, we can practice the skills that enable it. A musician can master the skill of playing scales. An artist can master how to add texture to a painting. These building-block skills can be measured and evaluated, as can the ways students employ exploration, connection, experimentation and reflection throughout their learning process or project.
How well students set a goal and then use those four processes to arrive at a unique outcome can help teachers guide them toward developing and sharing their self-expression with the world. There are many informal arts activities that teachers can use to foster these creative processes with their students. I highly recommend the following three exercises:
The Cover Story game, to develop student imagination and communication. In this game, students envision an ideal situation so fantastic that it lands them on the cover of a magazine.
Visual thinking strategies such as the iNotice3 technique, to encourage critical and creative thinking by asking students to pick an art form, evaluate it and share their observations. This strategy is extremely flexible and can be used with any art form or content area.
Drama strategies such as "Yes, and …" build and extend collaboration skills by teaching the value of listening to, accepting and expanding on ideas put forth by others.
With a little shift in thinking, we can learn to cultivate the creative genius that's inside each of us. After all, creativity is the fingerprint of the human spirit. It helps make us whole and give us the ability to share our unique skills and talents with the world. Creativity is not a soft skill; it is a must-have mindset for the 21st century.
Susan Riley is a former music educator, curriculum innovation specialist and arts integration specialist. She has published three books on arts integration and contributed to publications such as Americans for the Arts, Edutopia and Education Week. Susan is the founder and CEO of The Institute for Arts Integration and STEAM. 
Get stories like these delivered straight to your inbox. Sign up for The 74 Newsletter