Rhode Island's Big Bet on Classroom Innovation: A Statewide Personalized-Learning Initiative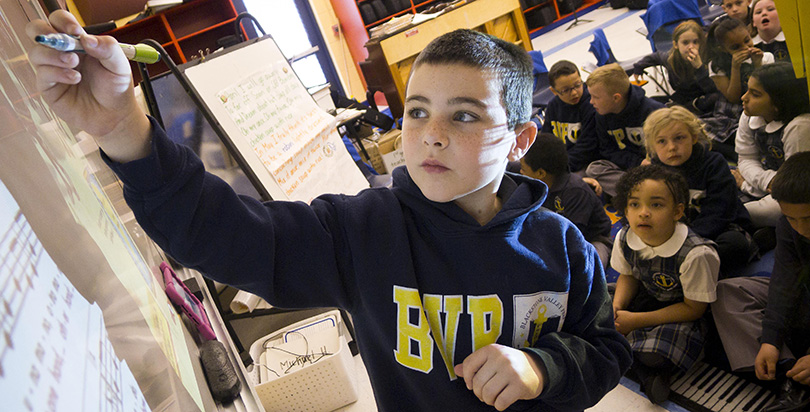 The smallest state in the union leads one of the largest innovation efforts in the country by working to personalize education for every student.
The Rhode Island Personalized Learning Initiative has put the power of Gov. Gina Raimondo's Office of Innovation — a quasi-governmental agency dedicated to spurring, seeding and accelerating innovation through technology — at the service of education leaders statewide to define personalized learning and help them sift through research to implement meaningful models in their public schools.
The statewide initiative launched in September 2016 by introducing technology into the classroom to create individualized learning plans and lessons. But the effort involves more than just hardware and software.
"This is about the best teaching and learning we can possibly provide for our students," Daniela Fairchild, director of education for the Office of Innovation, tells The 74. "We see technology as a key component and key support, as doing personalized learning is very difficult to do at scale without technology. In our world, technology is central, but technology is not the end-all, be-all, but the support to a broader personalized effort helping to improve the system and bring us to a space where we are best supporting our students for the 21st century."
Michael Horn, a distinguished fellow at Clayton Christensen Institute for Disruptive Innovation, tells The 74 that Rhode Island has proved its commitment to personalizing learning for each student as a matter of policy as well as practice. "The rollout of supporting all schools and educators as they move to blended-learning models has been more deliberate and thoughtful than anything else I've seen in the nation," he says.
Tom Vander Ark, author of Getting Smart and CEO of a company of the same name, agrees, saying, "Rhode Island has strong alignment around personalized learning from the governor's office to the classroom."
Fairchild says the push for personalized learning in Rhode Island started with individual schools even before the government became interested. But when the state made it a priority, the focus intensified and spread to all districts.
For example, Rhode Island Mayoral Academies, now a network of eight charter schools that was a founding partner in the initiative, started looking into personalized learning when it opened its first kindergarten class in 2009. The need became clearer in 2010, when the network, which is governed by mayor-led school boards, opened a middle school with the knowledge that a high school would have to follow in 2014.
"Our goal is to meet the kids where they are and help them be their best," Jeremy Chiappetta, executive director of Blackstone Valley Prep Mayoral Academy, tells The 74. "In order to meet them where they are, you need to understand where they are across a broad spectrum, and you have to be able to track it and push people."
To help educators monitor student progress and understand their skill levels in each subject, Rhode Island vetted and helped districts statewide adopt one of three technologies: Summit's Personalized Learning Platform, Cortex by InnovateEDU and Agilix's Buzz.
Chiappetta selected Summit, as did 13 schools across nine Rhode Island districts. Ten districts in the state have adopted Buzz, and schools in Providence, Rhode Island's largest district, with almost 25 percent of the public school population, have started to pilot Cortex.
"We see personalized learning as a way to get to greater equity in our education," Fairchild says. "We see it as having the potential to better reach some of the students who haven't been well served."
Lizzie Choi, chief program officer for Summit Public Schools, the nonprofit that created the Summit Personalized Learning Platform, notes that more than 100 schools around the country have joined up so far. "We're excited to partner with a diverse group of district and public charter schools in Rhode Island," she tells The 74. "Thanks to strong leadership at the state level, this growing network of educators is demonstrating that personalized learning can help all students reach their full potential."
As a pioneer of sorts, Blackstone Valley Prep has a focus beyond just its own students. Chiappetta keeps an open dialogue with the state and other districts, sharing the pros and cons of the network's personalized-learning efforts. The success he wants for his students, he says, he wants for every student in the state — and working with other districts is an important part of that effort.
"We need to be a proof point, an open door for others to learn from us and give feedback to the Rhode Island initiative," Chiappetta says. "It is really powerful, and we are helping fulfill the vision as others are exploring."
Working with educators throughout the year and in conferences across the state has proved helpful in this goal, he says. "When we talk about personalized learning, it resonates," Chiappetta says. "So many of us have our own personal journeys where the cookie cutter didn't quite work and someone reaching out to us to help personalize our experience helped make us successful."
At Blackstone Valley Prep, that personalized experience extends beyond cutting-edge classroom technology to relationship-building. Mentor groups of about 12 high school students across grade levels meet regularly with staff members who check on their progress in meeting goals and discuss current events, emotions and issues facing the students. Those mentor groups build relationships with students that lead to positive interactions with families.
Chiappetta says personalization requires tools and technology to understand students academically — and also an effort to get to know students holistically.
"We have this natural resource of smallness" — Rhode Island has about 140,000 students in total — "that does allow us to collaborate quickly, efficiently and fast," he says. "The opportunity in Rhode Island is to think about how quickly we could scale some of these opportunities and initiatives and still allow for a diversity of tools, platforms and experiences to be tested and implemented. Ideally, we all learn from each other and keep advancing."
For Blackstone Valley Prep, that means a continued focus on the next step for the students. Fall 2017 will mark its first year with all four high school grades and its first in a permanent space, meaning an even larger challenge in delivering lessons, designing projects, coaching kids,and running mentor groups in a more personalized manner every day.
"It is about implementing this better and better and better," Chiappetta says.
Get stories like these delivered straight to your inbox. Sign up for The 74 Newsletter