Rhim: Innovating to Help Schools and Families Educate Students With Disabilities at Home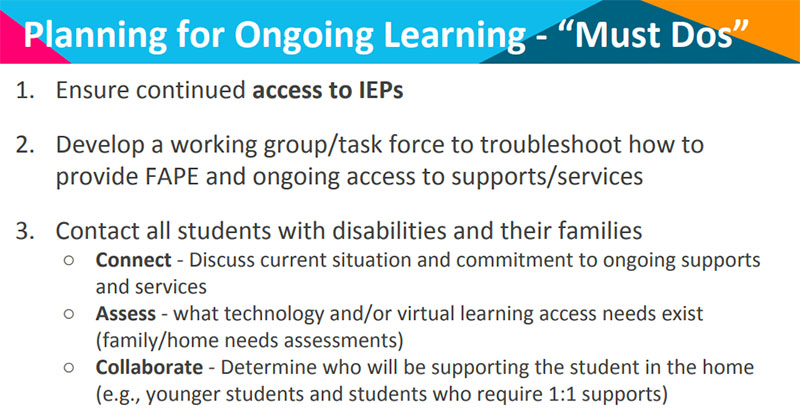 This essay originally appeared on the Walton Family Foundation blog.
As a researcher, consultant and advocate for students with disabilities, I have spent the past 25 years working to ensure that every child can have access to a high-quality public education.
This access has become even more precarious as school districts and states grapple with the COVID-19 pandemic.
Adjusting to distance learning is challenging in the most ideal of circumstances. For students with disabilities, who often thrive on the routine and structure of school, processing this change can be tremendously challenging.
We are also asking the parents of our most complex learners to put on a new hat — implementing Individualized Education Programs, modifying curriculum and accessing district services remotely.
These parents are already stretched thin by attempting to work from home themselves or by searching for child care, a nearly herculean task at this time, so they can deliver essential services.
There is no tried and tested lesson plan for this situation. But with the continued support of the Walton Family Foundation and others, our organization is rapidly adjusting to this "new normal," helping charter management operators, authorizers, schools and parents understand the resources available to students with disabilities as they continue their education from home.
We're also working hard to stay on top of shifting guidance from states and the federal government to ensure that students' rights under the Individuals with Disabilities Education Act (IDEA) and Section 504 are upheld.
The need is clear.
Searches for information about educating students with disabilities during this crisis have driven a more than 1,000 percent increase in weekly traffic to our website, and a webinar we held regarding the legal and programmatic issues of remote education drew just shy of 500 attendees.
We're receiving outreach from educators, administrators and parents, many of them new to our work. The surge in interest shows us that in these unprecedented times, our efforts are needed more than ever.
Our staff — already a remote workforce prior to the pandemic — hasn't missed a beat in rising to this challenge. As they continue to work tirelessly to create and share materials and resources with educators, we are also circulating best practices: what's working in real time in school districts across the country.
We are encouraging schools to follow the model of successful and proactive programs like Paramount School of Excellence in Indianapolis; Friendship Public Charter School in Washington, D.C.; and Strive Prep in Colorado, which are getting on the phone with every parent of a student with an IEP, assigning special educators to students and building strong channels of communication, personal instruction and support wherever possible.
This pandemic is a reminder that when it comes to educating our children, humility is a constant, and grace is a necessity.
I have seen encouraging evidence that charter schools are leveraging their nimbleness and autonomy to quickly adapt and develop strategies to ensure that students with disabilities are central to the new distance-learning context.
For parents of students with disabilities and the schools that serve them, the learning curve will be steep, but it's not insurmountable.
In these challenging times, the parents and educators who have always advocated for the equitable education of their children will need to continue to do so as schools try to shift gears on a dime.
Lauren Morando Rhim is co-founder and executive director of the National Center for Special Education in Charter Schools.
Disclosure: The Walton Family Foundation provides financial support to The 74.
Get stories like these delivered straight to your inbox. Sign up for The 74 Newsletter