Reyna: 9th-Grade Average. FAFSA Completion. College Matching. Some Key Measures for Making Sure Students Are on the Right Track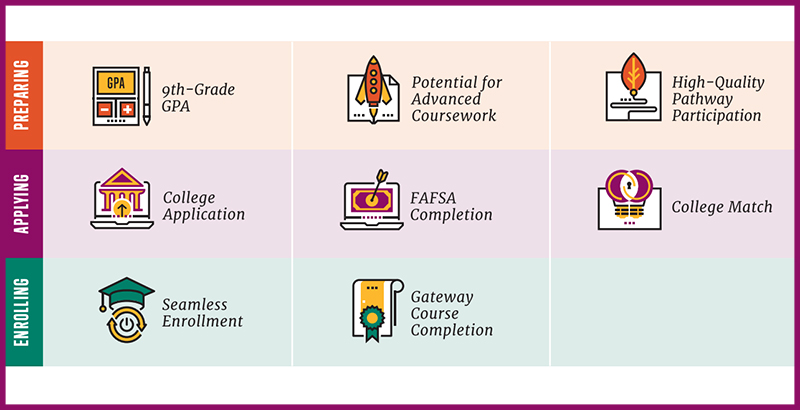 Updated Sept. 14
No one's trajectory in life should come down to a coin flip; but for Black, brown and low-income students at approximately 7,000 high schools across the United States, chances of successfully enrolling in higher education — and opening the doors to economic mobility that come with postsecondary education — are 50 percent or less.
The impact of COVID-19 threatens to worsen long-standing equity gaps in postsecondary attainment and, ultimately, in economic mobility. Economic hardship, health and family challenges, and physical restrictions have caused millions to rethink their plans to enroll in college. Once again, students of color are disproportionately impacted; Black and Hispanic students are more likely than their white peers to have changed or canceled their education plans. These current and potential postsecondary students face a serious risk of becoming a lost COVID cohort.
A new report from Education Strategy Group sounds the alarm on the threat that "coin flip" high schools pose to millions of students and their futures, and it offers a new framework to help education leaders counter that threat. Closing gaps and bringing about a more equitable society — particularly with the devastating effects of the pandemic — means focusing on strengthening critical transition points on the journey to and through higher education. The "Momentum Metrics" outlined in the report encourage education leaders to think beyond traditional data to better prepare and support students. The potential power of these metrics is significant; unfortunately, based on ESG's review, far too few high schools or districts have prioritized these measures to increase postsecondary preparation and success.
Here are a few of the most critical predictive measures that some schools, districts, charter networks and states across the country are using to reverse the trajectory of inequitable outcomes:
The journey to and through higher education is complex. Helping more students, especially those who are too often left behind, access and succeed in postsecondary education requires innovative approaches to monitoring and supporting their progress. With the guidance and assistance of school administrators, educators and counselors, along with the leadership of states and districts, the Momentum Metrics data can offer critical information to effectively target support to the students who need it the most. Without swift action, the pandemic will further weaken key postsecondary momentum points and derail the dreams of students and their families.
Ryan Reyna is senior director of Education Strategy Group.
Get stories like these delivered straight to your inbox. Sign up for The 74 Newsletter