Response: Virtual Schools Are the Right Choice for Many Families. They're Under Attack by National Charter School Authorizers Group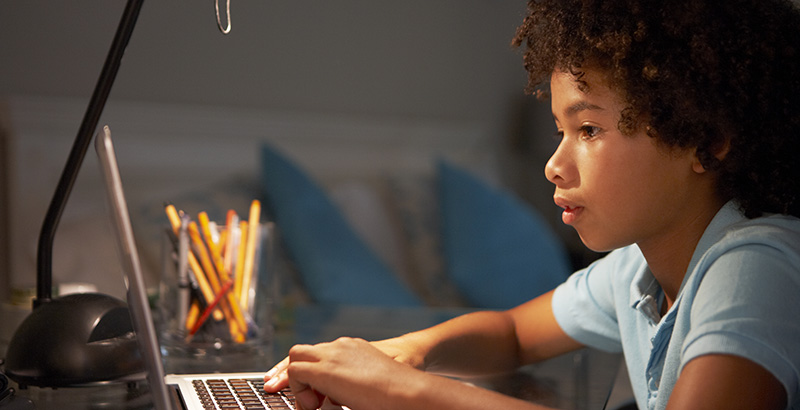 I'm a parent. I'm a school choice advocate. I'm the mom of a Connections Academy graduate. I am furious.
A recent investigative article in The 74 portrayed the organization I represent in a way that I believe is misleading, and it deserves a response.
It is an honor to serve as president of the National Coalition for Public School Options (PSO), a coalition of committed and passionate parents who want the best education possible for their children. Tens of thousands of our parent advocates have stood on state capital steps to rally for increased education options; they have flooded the halls to fight for parents' rights to choose their children's education; they have bravely shared their school choice stories in the face of opposition; and they have sacrificed time and resources, often of which there are very little, to bring hope to countless families looking for options.
I'm also the mom of a graduate of Connections Academy — a public virtual school that allowed my son, who has a learning disability, to thrive when his "A-rated" school was ravaged by teacher strikes. It also allowed him to have a seamless education when we moved frequently during his K-12 years. He is now an honor student at Pikes Peak Community College. I know this wouldn't be the case if it weren't for his excellent online education.
Most virtual schools, also called online schools, are a type of public charter school. Just like traditional public schools, they are tuition-free and must comply with all the same state standards. Students in full-time virtual schools learn in a safe environment (usually at home), receiving daily instruction online from state-certified teachers and interacting with classmates via cutting-edge video technology. Ask any parent of a virtual school student, and she will tell you these schools offer a challenging, world-class curriculum.
Why do parents choose virtual schools? The reasons are numerous: a student suffering at the hands of bullies; a student with debilitating migraine headaches; a student pursuing an Olympic dream; a student undergoing cancer treatment; an advanced learner who needs more challenge; a student falling behind who needs help catching up.
The National Association of Charter School Authorizers (NACSA) has publicly boasted of its disdain for virtual schools, which serve hundreds of thousands of students and whose parents made the conscious choice to enroll them. A former NACSA official, Alex Medler, once likened virtual education to thalidomide, a drug that caused severe birth defects. That did not go over well with virtual school parents.
NACSA has advised state charter school authorities, with whom it contracts as a vendor, on how to eliminate this choice, cutting parents out of the process. For example, in Nevada, NACSA encouraged authorizers to seek exemptions from basic administrative procedures that could deny parents and schools any notice or chance to be heard before decisions are made about their schools. In NACSA's own words, they "highly suggest" seeking an exemption, otherwise, "It would require … that both parties are able to present evidence … call witnesses … provide exhibits, that the rules of evidence apply." They also say that state authorizing bodies can do "very good authorizing without granting your schools and other organizations … the sort of protections that are required under" the state's Administrative Procedures Act.
As parents, we found NACSA's directives extremely alarming. The school choice movement was founded on empowering parents with more choices, not fewer. It was about trusting parents, not bureaucrats. This is where we fundamentally disagree with NACSA. It, too, wants choices for parents, but only the choices it deems appropriate.
PSO and its parent members wanted to better understand the relationship between NACSA and state charter authorities, so we requested a series of public records.
What we found was not what we expected, and it was of grave concern: a pattern of NACSA making unreported personal payments to state officials that it did business with — the very officials implementing its policies that were hurting virtual school students. What we found was highly unethical and, in some states, potentially illegal.
As parents, we wondered how we could have any hope to have a say in our children's education and be taken seriously by policymakers when out-of-state vendors were showering state officials — tasked with implementing their policies — with cash and other perks.
We decided to alert state officials of our findings so that the proper investigative entities could find out why and how this happened, and to close any loopholes to ensure there is no improper influence of state officials.
Whether or not you support school choice or like the virtual school model, this NACSA "business model" is wrong — and that is common sense. Never, under any circumstance, is it appropriate for a state vendor to personally pay the very state officials it does official business with.
As the government watchdog group Common Cause stated in a press release outlining an ethics complaint it filed against the Georgia State Charter School Commission, "vendors need to be held accountable for such inappropriate offers or payments and violations of important government transparency provisions."
Perhaps when more of NACSA's business model is exposed in states where virtual schools haven't been under attack, the focus will be on the wrongdoing and not on the messenger.
Tillie Elvrum is president of the National Coalition for Public School Options, a national alliance of parents that supports and defends parents' rights to access the best public school options for their children.
Get stories like these delivered straight to your inbox. Sign up for The 74 Newsletter