Republican-Backed Parent Groups Target Student Surveys. Educators Say the Movement Could Undermine Efforts to Reduce Crime and Bullying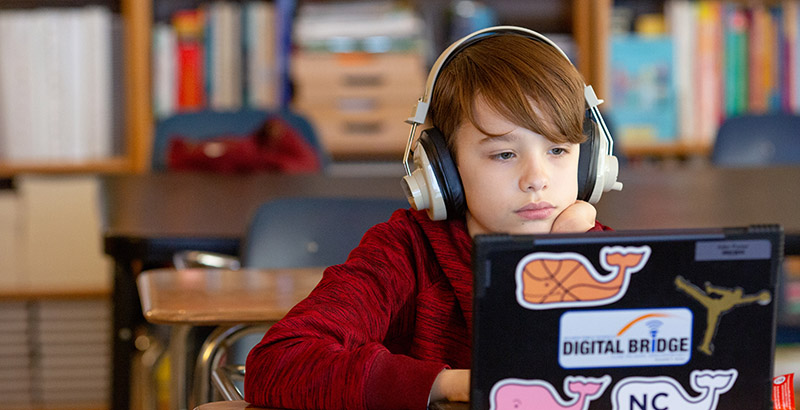 No paywall. No pop-up ads.
A controversial bill before the Indiana state Senate could undermine researchers' ability to get data widely used to inform school policies on bullying, crime and diversity.
The Indiana bill includes a provision that would require districts to get parents' permission before students take any survey that "reveals or attempts to affect the student's attitudes, habits, traits, opinions, beliefs or feelings." Parents say such surveys violate student's privacy and could encourage students to question their mental health or sexual identity.
The legislation stems from a well-funded "parents' rights" movement in Republican-led states across the country that has featured efforts to get cameras in classrooms and remove books dealing with race and sexuality. Arizona was among the first states to require parent permission for surveys six years ago, but concerns from parents about prying questions have recently spread to districts in Colorado, North Carolina and elsewhere.
"Parents are saying 'What is this intended to do? What are you doing with the data, and how do we opt out of it?'" said Dawn Lang, who has a fourth grader in the Hamilton Southeastern Schools, north of Indianapolis.
Schools use such surveys to get a read on what students think about their teachers, relationships with peers, access to weapons and, increasingly, issues related to race and diversity. Educators, researchers and others providing services to schools say it's important to get "student voice" about topics such as substance use, mental health and student engagement. Under pressure to spend billions in federal dollars to address precisely those issues, many are relying on surveys to inform how they spend the money.
Indiana districts, and many across the country, offer parents an opportunity to opt their child out of taking surveys — referred to in the field as passive, or implied, consent. Requiring all students to get permission in advance, or opting in, would reduce participation and leave schools less informed about what students think, experts say.
"Schools often use climate surveys to get a sense of what I call conditions for learning," said Sandra Washburn, a researcher with the Center on Education and Lifelong Learning at the University of Indiana. "Do students have input into decisions, someone at school they trust? That's really good data. When we have 50 percent of the student population saying they're bored on a daily basis, we take note of that."
If the bill passes, she worries it could limit the number of districts that participate in the Indiana Youth Survey, which has been running for more than 30 years and asks students questions about topics ranging from drug and alcohol use to whether their schoolwork is meaningful.
With U.S. Surgeon General Vivek Murthy recently issuing a warning about increases in youth suicide attempts and substance use, Washburn said, "We need local data that tells us how our kids are doing."
Requiring written parental consent in advance "has the potential for compromising the validity of the sample of participating students," said Mikyoung Jun, a survey statistician at Prevention Insights, the Indiana University center that runs the Indiana Youth Survey.
She pointed to international research that compared survey samples using both active and passive consent. The active consent group was less likely to include older students, as well as those with behavior problems, single parents or academic struggles. Basing decisions on such results could lead to "mistargeted" policies and programs, the authors wrote.
'Good faith, important questions'
Lang and parent groups in other states have especially raised concerns over surveys from Boston-based Panorama Education, which now has 1,500 client districts, including Hamilton Southeastern Schools.
Among questions on the survey given to third-through-fifth graders are: "How often did you get your work done right away, instead of waiting until the last minute?," "How well did you get along with other students who are different from you?" and "How often do you worry about violence at your school?"
Surveys for middle and high school students include additional diversity, inclusion and cultural awareness questions, such as, "At your school, how often are you encouraged to think more deeply about race-related topics with other students?"
Survey questions about race and diversity are among those that Brooke Lawson, coordinator of mental health and school counseling for the district, said parents call about the most.
The district posts opt-out information in multiple ways: the district's website, the superintendent's weekly video message, a district email to families and principals' newsletters. She stressed that parents can request to see their child's responses to the survey report.
Lang, a parent in the district, said she missed the notice about the survey last fall. "It was maybe bundled in with a newsletter at the end of the week," she said.
Some parents are uncomfortable staff members analyzing students' thoughts on personal matters.
"They are picking these programs because they're being told the kids are depressed," said Kelli Moore, who pulled her eighth grade son out of the Catawba County Schools in North Carolina. She is among those who protested the district's contract with Panorama, which the district terminated in December.
Moore added that the demographic questions might plant seeds of "gender confusion" in students' minds.
"They might make a child think, 'Maybe I am gay or maybe I'm supposed to be a girl, or maybe I'm supposed to be a boy,'" she said.
Districts using Panorama surveys can choose to offer just male or female as options, or add a third choice for a student to "self-describe," explained Brendan Ryan, a spokesman for the company.
But he added that districts can "modify the language or options however they deem appropriate for their students." Districts, he added, own the data, not Panorama. District officials decide who has access to it and whether to give teachers access to an individual student's responses.
"There are very fair, good faith, important questions that we think parents should be asking," he said, "and we're trying to separate that out from the folks who think we shouldn't be talking about Rosa Parks because it makes white kids feel bad."
'Falling through the cracks'
Brandan Keaveny, a data ethics consultant and former chief accountability officer in the Syracuse Public Schools in New York, said federal relief funds for pandemic recovery have likely prompted more districts to conduct surveys without first gauging parental support
"It's like, 'This is what we've decided. What do you think?'" he said, adding that districts need to ensure they communicate the purpose of the surveys, the opt-out process and how parents can request their child's data — and do it in multiple languages.
"Schools need to be communicating to parents all the places where data is shared on their child," he said. "I always said to principals, 'You really need to get people actively involved.'"
But he added that moving to an opt-in process, which he compared to voter suppression, "creates obstacles that keep families" from participating, especially if they don't speak English or have other reasons for missing messages from their children's schools.
Beth Lehr, an assistant principal in the Sahuarita Unified School District in Arizona, south of Tucson, said her school has a hard time getting student perception data because of a state law, passed in 2016, that like the Indiana proposal, requires active consent for student surveys.
Her district received a $20,000 grant this school year to implement training programs for teachers and pay stipends to those leading afterschool programs for students with additional social and emotional needs "But we can't do the data gathering to figure out who really needs that intervention because we are required to get active consent," she said.
Of the 1,063 students in her school, only 160 returned permission forms, she said, adding that even if parents don't object to the surveys, many don't read their emails or get the forms from their children in the first place.
Parents who sign the forms "are probably already doing as much as they can to help their kids," she said. "We're missing the kids who are falling through the cracks, because they're falling through the cracks for a reason."
Panorama isn't the only organization facing pushback for its surveys. A parent in a Colorado district said she was "blindsided" by her child taking a survey created by San Francisco-based non-profit YouthTruth.
Even so, more than half of the 2,100 schools using the survey requested an optional set of questions related to diversity, equity and inclusion the organization introduced for the first time this year, said Sonya Heisters, deputy director of YouthTruth.
Parents, she added, aren't limiting their concerns about surveys to school board meetings.
"We're hearing from parents who are even contacting us directly," she said. "That didn't used to happen."
Get stories like these delivered straight to your inbox. Sign up for The 74 Newsletter