New Report Grades Best (and Worst) Cities for School Choice. Where Does Your Town Rank?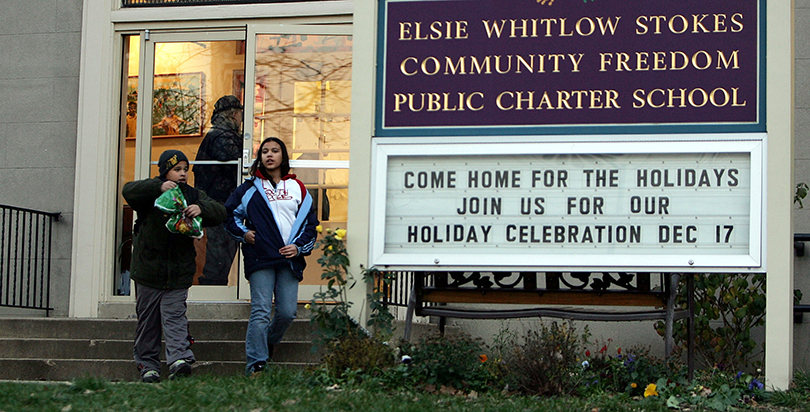 New Orleans, Washington, D.C., and Denver rank as the best cities in the U.S. for school choice, while Albany, Austin, and Pittsburgh rank as the worst, according to a new
report
from the Thomas B. Fordham Institute, a conservative education think tank.
The study ranks 30 major cities on the extent to which they promote quality educational options. The report highlights the middling rank of New York City — which is attributed in part to Mayor Bill de Blasio's perceived antipathy towards charter schools — as well as the fairly high scores of Southern cities like New Orleans and Atlanta. The study comes as school choice across the country is expanding, particularly
charter schools
, which have quadrupled in number — from about 1,500 to well over 6,000 — between 1999 and 2014.
The foreword to the report by Fordham's Amber Northern and Michael Petrilli says, "Our hope is that cities across the country will look at these rankings and work to catch up with New Orleans, Washington, and Denver … But we're keenly aware that progress is not necessarily a permanent condition."
The research contributes to understanding how local political climate and policies influence school choice, with a wealth of carefully collected data. The report, however, doesn't put enough emphasis on school quality or the impact of choice on cities' traditional public school systems.
(The study was funded in part by the Walton Family Foundation, which is also a partial
funder
of The Seventy Four.)
Coauthored by Columbia Teachers College professor Priscilla Wohlstetter and Fordham National Research Director Dara Zeehandelaar, the report ranks cities by three main criteria: political support for choice (15%), policy environment that promotes choice (35%), and quantity and quality of school options (50%).
The detailed study defines school choice broadly to include "charter, magnet, and private schools, as well as mechanisms for accessing these options, including open enrollment, vouchers, and tax credit scholarships" — though there is a particular focus on charter schools because of the scope of the sector.
The researchers consider a diverse set of nearly 50 measures including surveys of stakeholders; analysis of local media coverage; charter school size, funding1,
and performance; access to public funding for private schools; accountability measures for low-performing schools; and many others.
The measures come together to produce a score and a rank for each city. The authors acknowledge that most results are not particularly surprising, with cities known for their large charter sectors, such as New Orleans, ranking highly, and those with limited charter systems, such as Seattle
, ranking poorly. The report states that quantity and quality can — but don't necessarily — move in tandem.
---
---
The report closes with several recommendations, including expanding intradistrict choice through magnet, career and technical education programs.2 It also suggests "making choice more user-friendly for parents," by providing digestible information about school quality, expanding transportation options, and creating district-wide enrollment systems that include charters.
The report's primary strength is its compilation of data from different cities. We learn for instance how many cities have fully unified enrollment systems (four), how positively or negatively the opinion pages of local press frame choice issues (New Orleans, for one, has had generally negative coverage), and to what extent public school facilities are shared with charters (Atlanta, among others scores well here).
In other respects though the study is significantly limited.
It purports to place significant weight not just on choice quantity, but also quality. As Petrilli, Fordham's president, said on a call with reporters, "Within the school choice movement, we're one of the groups that have argued most forcefully for quality choices."
But just 10 percent of a city's score is based on how schools of choice perform.3
That's why a city like
Boston
, which the study acknowledges "has the highest-performing charter sector in the nation," can rank 12th, while Columbus, Ohio ranks fifth, even though its charters are mediocre performers.
Still, most of the top-ranked cities did have fairly strong charter sectors. Zeehandelaar, the study's co-author, said in an interview that the report was limited by lack of available data on the performance of choice schools other than charters. The report also attempts to address the issue by looking at whether cities close schools that are not well attended and the quality of charter authorizers.
Oddly, Fordham's study dings cities that prohibit online charter schools — this despite a recent high-profile
study
finding an overwhelmingly negative impact of such schools on student performance.
Moreover, because the report understandably uses a common measure to evaluate each city, some snapshots miss important nuance. For instance, New York City receives a mediocre ranking, in part because of limited support of charters from the mayor, schools chancellor and City Council. Yet it's not clear how much that matters: The state wields significant control on these issues. Last year, Gov. Andrew Cuomo successfully
pushed
a pro-charter law, without de Blasio's backing, requiring New York City to offer space for charter schools or else pay for private facilities.
Finally, the report doesn't fully consider how schools of choice interact with district schools. Do these schools compete or cooperate? Does expansion of choice
help or harm
the district? Are charters and traditional public schools serving the
same share of disadvantaged students
? What impact are choice systems having on school
segregation
city-wide?
Zeehandelaar agreed that these are important issues and pointed to a recent
report
that Fordham released on charter–district collaboration.
"Looking at the way that schools of choice interact with each other is a really important question that is very difficult to answer quantitatively and to be able to compare across cities," she said.
---
Footnotes:
1. This aspect relies on a report from the University of Arkansas finding that charters receive significantly less funding than district schools. However, the report has received sharp criticism from researchers who say that it does not make appropriate comparisons between the two sectors. (Return to story)
2. Notably, though, the report may overstate the benefits of such an approach. It claims: "Research shows that public school choice has benefits. In Chicago, for instance, a 2005 study found that roughly half of the city's high school students attended a district school other than the one they were assigned, and those students were much more likely to graduate than those who attended school near home." In fact, contrary to the implication of the report, the cited study found that school choice in Chicago generally had no impact on student graduation rates, except for career-focused schools. The Chicago study states, "With the exception of career academies, we find that systemic choice within a public school district does not seem to benefit those who participate. This casts doubt on the power of this form of choice to improve educational outcomes." (Return to story)
3. Here the report looks at exclusively at charter school performance — using estimates from CREDO's study of urban charters — based on the fact that rigorous data on other school choice programs is lacking most cities. (Return to story)
Get stories like these delivered straight to your inbox. Sign up for The 74 Newsletter