Rep. Greene Ousted from Education Committee After Lawmaker's Embrace of Conspiracy Theories About School Shootings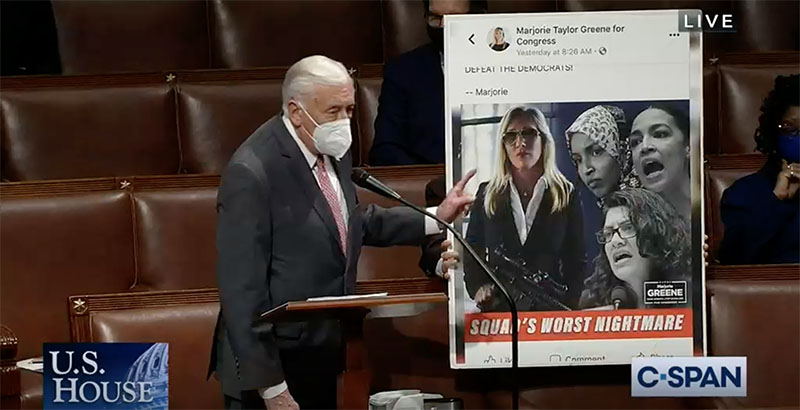 In a vote largely split along partisan lines, lawmakers removed Republican Rep. Marjorie Taylor Greene from the House education committee on Thursday for endorsing conspiracy theories claiming that mass school shootings were hoaxes and supporting violence against political rivals. 
The vote follows weeks of turmoil for Greene, a freshman congresswoman from Georgia, after news articles and the liberal watchdog group Media Matters for America resurfaced a barrage of social media posts espousing racism, anti-Semitism and baseless conspiracy theories. She also used social media to endorse violence against Democratic lawmakers, including House Speaker Nancy Pelosi and former President Barack Obama. 
The move strips Greene from her roles on the House budget and education and labor committees, a move that Republican lawmakers argued would set a dangerous precedent but was promoted by many in the education community. Eleven Republicans, more than many expected and a breakaway group that included longtime Michigan Rep. Fred Upton, voted in favor of the resolution. 
"Every single day that goes by without outright condemnation from every single one of her Republican colleagues, without consequences for her extremist views, is an outright endorsement of white supremacy," said Rep. Rashida Tlaib, a Democrat from Michigan. "We owe it to our residents who have been victims of these very hateful views to take action." 
In a statement Wednesday night, House Minority Leader Kevin McCarthy, a Republican from California, condemned Greene's rhetoric. Other Republican lawmakers have also derided Greene's comments, including Senate Minority Leader Mitch McConnell from Kentucky, who called the remarks a "cancer" on the party. However, Democrats moved to take away Greene's committee assignments after McCarthy failed to do so himself. Greene reportedly received a standing ovation after she apologized to her GOP colleagues during a closed-door caucus Wednesday night.
In remarks on the House floor Thursday, Greene acknowledged that she got "very interested" in disinformation spewed by followers of the QAnon conspiracy theory, a fringe right-wing group that played a role in the Jan. 6 insurrection in the U.S. Capitol, which left five people dead. Fueled by a growing distrust in government, she said she was "allowed to believe things that weren't true," though she also alleged that news outlets were "just as guilty as QAnon of providing truth and lies." She said she regrets posts endorsing the QAnon conspiracy, which purports that a group of Satan-worshiping elites who run a child sex ring are trying to control the government and the media. She said that she believes that "9/11 absolutely happened" and that she's simply a victim of "cancel culture." However, she never apologized for her comments, which she maintained "do not represent me." 
Greene argued that the statements at the heart of the debate were made before she was elected to a Georgia House seat — a line that several Republican colleagues used in her defense. Democrats argued that she defended her comments as recently as this week. 
While wearing a face mask emblazoned with the words "FREE SPEECH," she also confronted some of her remarks on school shootings, including an endorsement of the idea that the 2018 school shooting at Marjory Stoneman Douglas High School in Parkland, Florida, was a "false flag" operation. That tragedy resulted in 17 fatalities. She said on Thursday that "school shootings are absolutely real," while arguing that she understands the fear and trauma experienced by student survivors because of an incident she experienced as a high schooler herself. 
"My school was a gun-free school zone and one of my schoolmates brought guns to school and took our entire school hostage," she said, reiterating a story she's used repeatedly to discredit gun-control advocates. "And that happened right down the hall from my classroom." 
Nearly three-quarters of American high schools are patrolled by armed police officers, according to the most recent federal data. 
In a viral video taken just weeks after the Parkland shooting, Greene is seen publicly harassing David Hogg on a D.C. street, calling him "a coward." Hogg, then a Parkland student, became a prominent voice in the March For Our Lives movement calling for heightened firearm laws. On Thursday, Greene said her 11th-grade hostage experience allowed her to "know the fear that David Hogg had that day" of the mass shooting at his school.
Just a few weeks ago, the Texas Supreme Court denied requests from the far-right conspiracy theorist and radio host Alex Jones to throw out defamation lawsuits after he claimed that the 2012 shooting at Sandy Hook Elementary School in Newtown, Connecticut, was a hoax. That tragedy resulted in 26 fatalities, including the deaths of 20 children. 
Republicans' support for keeping Greene on House committees puts them at odds with a group of leading school and child welfare groups, including Education Reform Now, the American Federation of Teachers and Sandy Hook Promise. In a letter on Wednesday, 46 national organizations called on House leaders to remove Greene from the House education committee, noting that they have "grave concerns" about her participation in federal education policymaking. 
Her "unfounded claims and conspiracy theories" about the 2012 school shooting in Newtown and the 2018 tragedy in Parkland "are nothing short of dangerous rhetoric that only exacerbates suffering for all involved," the groups wrote in the letter. "It is unconscionable that anyone would promote the lie that these tragic events were staged, especially a Member of Congress on a committee charged with the safety of students and educators."
The topic of school safety is especially poignant at this particular moment, the letter continued, as schools across the country grapple with how to confront the COVID-19 pandemic in a way that ensures positive mental health for children. 
"It is horrifying to read Rep. Greene's comments through the eyes of principals who have endured the very school shootings she denies," Ronn Nozoe, CEO of the National Association of Secondary School Principals, said in a media release. "Each mention of her bizarre, unfounded conspiracies serves only to retraumatize those communities that still struggle to heal."
As House members debated the decision, most Republican lawmakers said they condemned Greene's comments, but took issue with the precedent the vote could set, creating a slippery slope if members in the majority revoked committee assignments from a lawmaker from the opposing party for statements made before taking office. Such a reality sets a "dangerous new standard" that would serve to deepen divisions in Congress, McCarthy argued. 
The resolution was "nothing more than a partisan power grab at a critical time when the majority party itself repeatedly calls for unity as our path forward," said Rep. Jackie Walorski, a Republican from Indiana. "Bringing a majority resolution to the floor to remove a minority member from her committee assignments is wrong and unprecedented." 
In arguing a double standard on multiple occasions, Republican lawmakers compared Greene's comments to those made by Rep. Ilhan Omar in 2019, when the House Democratic leadership reprimanded the Democratic lawmaker from Minnesota for claiming that American lawmakers' support of Israel was motivated by money. At the time, House Speaker Pelosi called Omar's comments "anti-Semetic tropes." 
"Who is next?" asked Rep. Jim Jordan, an Ohio Republican who has been a leading Congressional voice in falsely maintaining that former President Donald Trump won reelection. "Who will the cancel culture attack next?"
But Rep. Debbie Wasserman Schultz, a Democrat from Florida, rejected that line of reasoning before voting to oust Greene from her committees, arguing that the Georgia lawmaker's comments were themselves unprecedented. Greene's comments and Republicans' failure to hold her accountable for them, Democratic lawmakers argued, would serve to embolden far-right extremists and create a national security threat less than a month after those groups attacked the Capitol.
"No one else on this floor has called for violence against other members and law enforcement," she said. "Only one member has done that, and refused to back down, and that is the real precedent we are dealing with today."
Get stories like these delivered straight to your inbox. Sign up for The 74 Newsletter