Ref Rodriguez Resigns in Los Angeles: Why the School Board President Stepped Down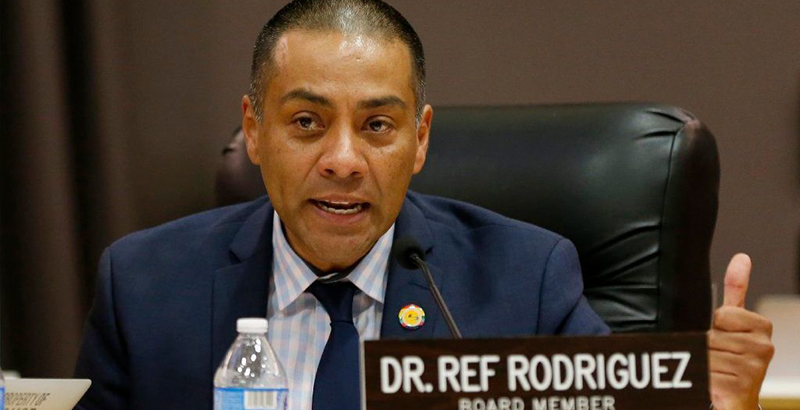 This piece originally appeared at LA School Report.
Ref Rodriguez announced Tuesday he has resigned from his position as LA Unified school board president after the district attorney charged him last week with three felonies related to an alleged money-laundering scheme in his bid for the school board.
Rodriguez posted a statement on his Twitter and Facebook pages at the beginning of a committee meeting at district headquarters announcing his resignation. He will remain on the school board representing District 5, which includes Highland Park and Eagle Rock and the cities of Huntington Park, Vernon, and Maywood.
Rodriguez was elected president by his board colleagues in July following the election this spring that won a pro-reform majority on the board.
"When I was elected Board President, I committed to highlighting the Kids First agenda for L.A. Unified. I remain committed to putting kids first, and so, in order to allow the Board to remain focused on the hard work ahead of us, I have decided to step aside as Board President," the statement said. "I do not want to serve as a distraction to my colleagues, or to any of the other dedicated teachers, principals, and employees who do the hard work of educating students every day. I have always been driven by my passion to give all kids, but especially those with backgrounds similar to mine, a chance at a brighter future, and I believe this decision will help us continue doing exactly that."
The charges stem from Rodriguez's successful bid for school board in 2015. LA County District Attorney Jackie Lacey charged Rodriguez with three felony charges of conspiracy, perjury, and procuring and offering a false or forged instrument.
(Read more: 10 things to know about the charges against Board President Ref Rodriguez)
According to board rules, Mónica García, who was appointed vice president, will serve as board president upon Rodriguez's resignation. She served as chair of the Committee of the Whole meeting Tuesday.
Through a spokeswoman, Rodriguez declined an interview request.
Rodriguez appeared in court last week but did not enter a plea. He has been released on his own recognizance and is due in court on Oct. 24.
In a statement released last week, Rodriguez said he had been working with the LA Ethics Commission for more than two years to resolve the issues.
An Ethics Commission investigation found that Rodriguez allegedly reimbursed campaign donors — most of whom were family and friends — with nearly $25,000 of his own money. Rodriguez's cousin, Elizabeth Tinajero Melendrez, was also charged. The charges also include 25 misdemeanor counts of assumed name contribution.
Rodriguez's first action as school board president was to author a resolution calling for a "Kids First" agenda for the board, which included installing a Kids Help Desk at school board meetings and having students speak at the beginning of board meetings, replacing the traditional union reports. On Tuesday at the Committee of the Whole, labor partners gave their unions' reports.
Get stories like these delivered straight to your inbox. Sign up for The 74 Newsletter