Rees: At This Year's National Charter Schools Conference, We Must Start Reinvigorating the Charter Movement. 3 Things We Need to Do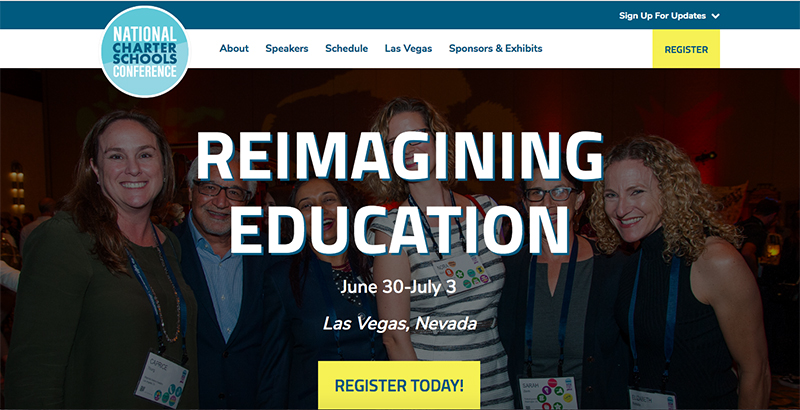 At the 2019 National Charter Schools Conference, beginning June 30 in Las Vegas, we will be celebrating innovators who are reimagining education. We'll hear from visionaries who have expanded opportunity by disrupting education — people like Sal Khan, founder of Khan Academy, and Hadi Partovi, founder of Code.org — and from entrepreneurs like Clifton Taulbert, an expert in building strong school communities. We'll highlight the ways charter schools are pushing boundaries, trying new approaches and helping students with diverse learning styles find a school where they feel encouraged and challenged to set high expectations and meet them.
Study after study confirms that high-quality charter schools, led by dedicated teachers and principals, help students raise their achievement levels. Charter schools are a good public investment, too, producing a 50 percent higher return on education dollars than traditional district schools, according to researchers at the University of Arkansas.
Yet this very success is at the heart of our biggest challenge. By reimagining the way education is delivered, charter schools have confronted the status quo. They've challenged the orthodoxy that some students can learn only so much, or that college really can't be for everyone. To put it bluntly, charter schools have made education bureaucrats and turf-conscious union leaders look bad. Every urban charter school that sends another class of graduates to college makes parents and policymakers wonder why other public schools have been getting it wrong for so long.
So the forces of the status quo are ratcheting up their attacks, blaming charter schools for every problem afflicting school districts. Charter schools are accused of draining money from public education, despite being public schools themselves. They're accused of taking the best students out of district schools, despite having no entrance requirements. They're accused of exacerbating segregation, despite offering black and Hispanic families the high-quality public education the establishment has long denied them.
Sadly, some politicians have fallen for the union-orchestrated charade — from New York, where state legislators refuse to lift the cap on Big Apple charter schools despite loud parental pleas, to California, where lawmakers are pulling every available lever to try to prevent charter schools from opening or expanding to serve more students. And it's not just a coastal issue, or even a blue state issue. In deep-red Alabama and Mississippi, the status-quo defenders have launched lawsuits to try to erase the public school options that voters, families and policymakers clearly want.
Some lawmakers have pushed back. In Nevada, where our movement is gathering, it was a Democratic-controlled legislature that backed away from moratorium threats. In Florida, members of both parties have come together to insist that charter school students should have greater funding equity. And in cities like Newark, Washington, D.C., San Antonio and Indianapolis, local leaders have ignored ideological litmus tests and asked a simple question: Are charter schools working for students?
The answer, of course, is yes. But our movement must work harder than ever to get that message out. In Vegas, I'll be urging our leaders to do three things to step up our offensive game and advance our schools.
First, we need to grow the pool of high-quality charter schools by being more open to newcomers. There are a lot of passionate educators with great ideas for charter schools, but many are dissuaded by a process that has become overly cumbersome and fraught with political tension. If we're going to keep reimagining education, authorizers, funders and advocates need to work together to support innovative educators through the charter application and launch process.
Second, we need to expand into new regions. Our movement has been focused on inner cities because that's where the need is greatest — and it's where we've delivered our biggest successes. But educational innovation is also important in rural and suburban communities, and our political livelihood depends on growing our base of support. Charter schools need to be a presence in more neighborhoods, more towns and more congressional districts.
Third, and most importantly, we need to awaken the political power of our movement. The two main national teachers unions have made nearly $200 million in contributions to influence elections since 2012. And you have to hand it to them — it's working. The House recently voted to cut $40 million from the Charter Schools Program, whose sole purpose is to put more public school options within reach of parents and families.
If we're going to win this fight, our movement needs to convince school boards, mayors, governors, members of Congress, presidential candidates and anyone else with a say in education policy that our schools and students deserve their support. We have long relied on data to make the case for charter schools. But anyone who's watched the reaction to the union-organized teacher strikes over the past year knows that it's not data that gets headlines. It's educators, students and families.
So at this year's conference, we're making a concerted effort to activate our teachers, students and families. I'm very excited that Keri Rodrigues of Massachusetts Parents United will be bringing us her gifts as a communicator and organizer to help people step up their advocacy. Dr. Howard Fuller, an icon of social justice activism, and Myrna Castrejón, who's leading the fight in California, will join Keri at an all-conference rally Tuesday to make sure the 2020 presidential candidates — and policymakers everywhere — know that we will not be silenced. The whole conference will be oriented toward helping our teachers and school leaders lift their voices and be heard.
As we celebrate the ways charter schools are reimagining education, we will be reinvigorating this movement. It's up to us to show and tell how we're bringing opportunities to more students, more families and more communities. It's up to us to fight for our schools. We know the fate that would await our students if they didn't attend charter schools. We're not going to let anyone take those schools away.
Nina Rees is the president & CEO of the National Alliance for Public Charter Schools.
Get stories like these delivered straight to your inbox. Sign up for The 74 Newsletter