Zoom-Based Program Links Young Students With One-on-One Reading Tutors — Right in Their Own Classrooms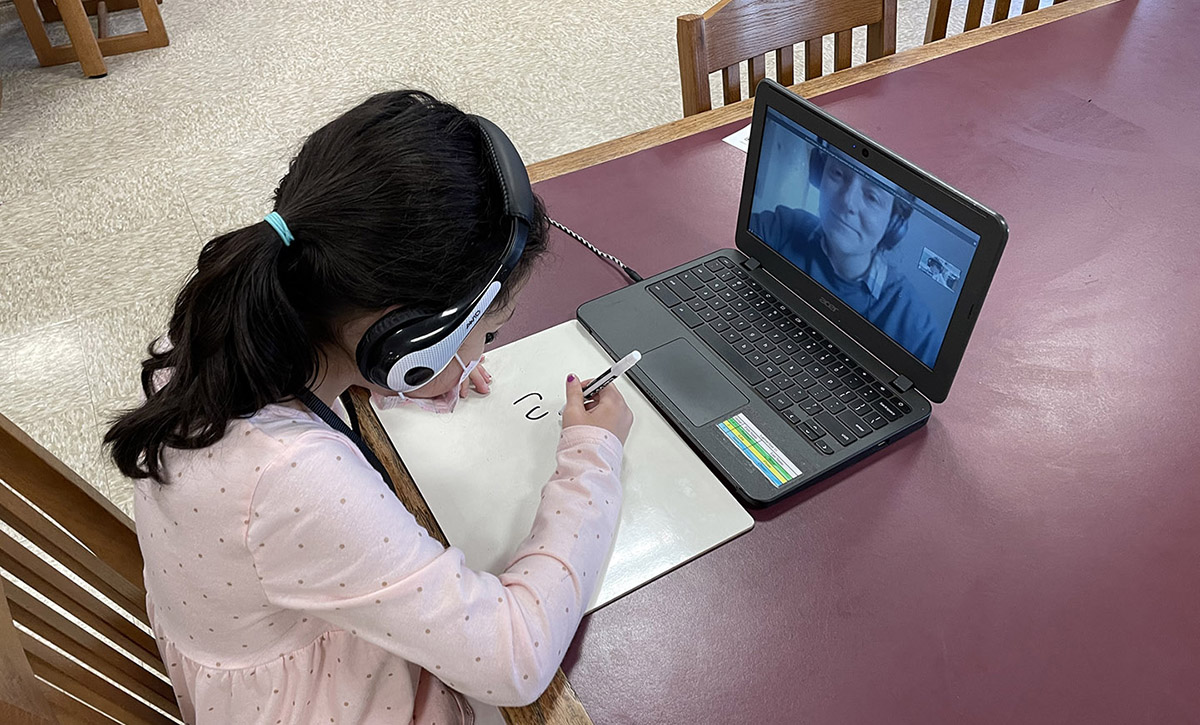 Support The 74's year-end campaign. Make a tax-exempt donation now.
When it comes to academic interventions, given a choice between technology and a human being, "we always choose a person," says Megan Murphy, head of school at Circle City Prep in Indianapolis. That's why this spring, instead of bringing in some sort of artificial intelligence app to help students learn to read, Murphy turned to an online resource that brings live tutors into her classrooms.
Ignite! Reading trains its instructors — mainly college students working toward a teaching degree — using materials from the National Council on Teacher Quality. They are then paired with young students across the country to run daily 15-minute tutoring sessions via Zoom.
Murphy says the program provides not only reading support, but a personal connection that helps children stay engaged — each session starts with a simple "how are you?" and "tell me about your day?" And unlike artificial intelligence and similar apps that require teachers' involvement, Ignite! Reading puts no demands on their time or attention.
"We wouldn't want to add something for teachers to do," Murphy says, noting that adaptive responsive computer programs still require regular teacher involvement. "The self-reliance of the [Ignite! Reading] program is important. It operates itself and we are looking for the tutors to respond. Our job is making sure the students are in attendance and online."
Jessica Sliwerski, CEO of the nonprofit Open Up Resource, says the pandemic exacerbated the nation's literacy problem and that the key to proficiency is having young students, ideally in first grade, "crack the code" of the English language. To help, she pitched the Ignite! Reading concept to Zoom, and the tech company funded a pilot program for summer 2021. During that period, while working with low-income, multilingual and special education students, "we found we were able to outpace the reading instruction they would get in a regular classroom setting," Sliwerski says. The nine-week program showed improvement 2½ that of a regular classroom. This success led to the first school partnership in fall 2021 with KIPP Bridge Academy in Oakland, California, helping Ignite! Reading learn to work directly with schools, build a trained tutoring corps and expand.
"Teachers talk about how it has enabled students who would otherwise not get intensive one-on-one instruction they need," Sliwerski says. While students improve their literacy comprehension, she says, they also feel socially and emotionally supported and can better understand what the teacher is teaching in other subjects. "Imagine being a third grader who can't read the word 'mug' and go from not reading a word to reading paragraphs of text and how that fundamentally shifts their ideas of learning and feelings about themselves," she says.
In January, the nonprofit Ignite! Reading extended to 325 students in six schools in three states. April marked the next phase of expansion, adding another seven schools, now with 13 schools serving 630 students across California, New York, Massachusetts, Oregon, North Carolina and Indiana. This fall, it will expand to approximately 20 schools, focused on young learners, especially first grade.
Ignite! Reading currently has 90 tutors and this spring partnered with Eastern Oregon University to further extend its reach. Tutors all receive one week of up-front training, followed by a nine-week certification process that mixes additional instruction, coaching and their first live tutoring sessions with students, which are recorded and reviewed. Once certified, tutors can start taking on as much work as they want. "Tutors are paid, this is a job and there is an expectation they implement feedback in real time," Sliwerski says. "We are finding our tutors get really good at teaching reading really fast."
In the model, supported by Open Up Resources, schools pay for the tutors' time, while the nonprofit, through grants and philanthropy, funds administrative, training and other costs. Sliwerski says it is important for schools to invest in the process to treat literacy with the urgency it needs.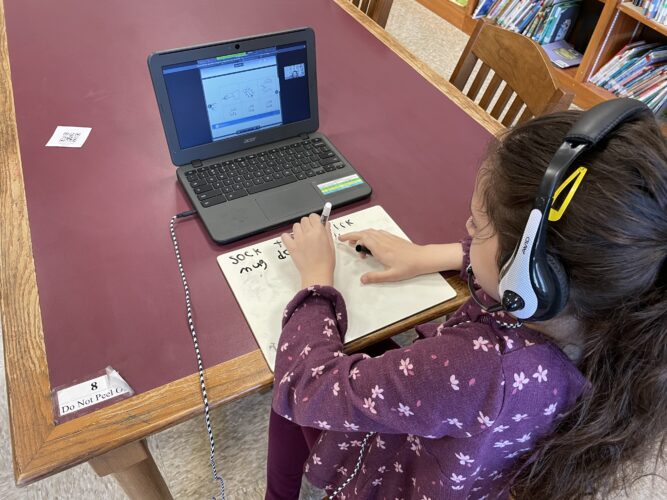 Circle City Prep connected to Ignite! Reading through a referral from a colleague of Murphy's and secured grant money to try it out. "What was compelling about the program," Murphy says, "is you put it into place in the school year, jump in and not disrupt the flow of the day because it was only 15 minutes, is virtual and one-on-one. It is pretty easy to get off the ground and identify which kids you need to pull."
Circle City Prep started with 10 students, all in second or third grade, who had the greatest need to develop foundational literacy skills. While still too early for data from Circle City's on potential literacy improvement, Murphy says that not only have the logistics of adding the program been smooth, but teachers have seen an increase in confidence in their students. She expects data to show that the program has improved the children's reading ability.
"We are excited to see how this impacts students and have enjoyed working with them," Murphy says. "I think the idea is strong, and we are excited to see the impact."
Support The 74's year-end campaign. Make a tax-exempt donation now.