Rat Brains, Ants & Underwater Robotics: Pilot Program Brings Live Virtual Reality STEM Education to Rural North Carolina Students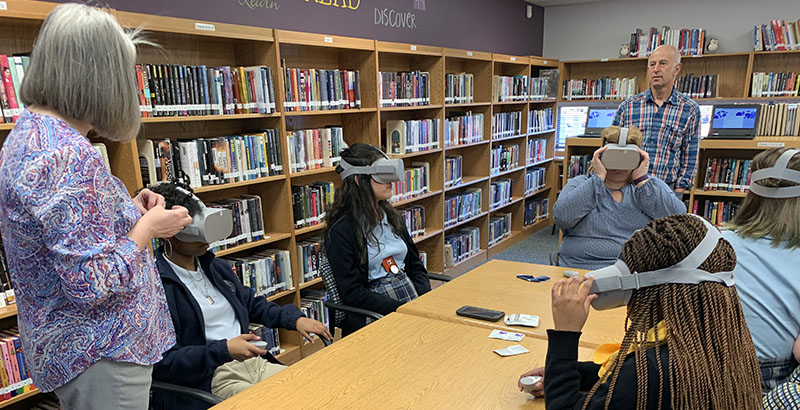 Virtual reality has long opened up windows for corporate training and consumer entertainment. But what about education? What about opportunities to create experiences for rural students in science, technology, engineering and math?
Those were the questions that Mike Cuales, owner of LEVR Studios and creative director of North Carolina State University's distance learning program, looked to answer in a three-part pilot program that brought VR STEM experiences into middle school classrooms.
"Right out of the gate, tons of money went to corporate and entertainment," Cuales says. "What drove me to launch LEVR Studios was to really investigate some different applications for 360-degree VR video to support education, specifically the K-12 STEM education side of things."
By partnering with accelerator program US Ignite to land grants, LEVR Studios last school year brought students from three middle schools in the state in touch with researchers conducting a lab live experiment testing neuro reflexes in rat brains, with scientists at the North Carolina Museum of Natural Sciences studying ants and with members of an underwater robotics club at the university.
Cuales says the ease of livestreaming STEM events in VR makes the process simple for both teachers and content providers. Instead of multiple lenses and oceans of post-production time to create videos, the live version uses a camera system that takes just 15 minutes to set up. Then, with one hit of the button, the video starts, connecting students to STEM — live — using a plug-and-play connection. The entire event is also archived to build a library for later.
"The application we developed here is to cut through some of the confusion and barriers to entry to integrating and adopting VR," he says. "A big part of this is tied to trying to make it as easy as humanly possible to get into these experiences and keep the price point low."
The biggest technical hurdles include connectivity capacity to livestream VR content from urban to rural settings and the availability of high-quality headsets, such as the Oculus, in rural classrooms.
Rebekah Davis, a 20-year teacher who's now in the doctoral program at North Carolina State University, worked with LEVR Studios to create the pilot educational opportunities. "I think the most exciting part of the project," she says, "was the field trips we did live."
The first test, involving students at the Young Women's Leadership Academy, a magnet program in Raleigh, allowed LEVR Studios to test the technology and connectivity while transporting the teens inside a lab as scientists dissected a rat brain and demonstrated how they could trigger the neurons.
"That first experience was pretty cool," Cuales says. "The tiny lab couldn't fit more than two people, but we had five students in that first run. One of the young scientists performing the experiment was an absolute genius, and she was talking about her love of her science and demonstrated an experience for the kids, an opportunity they wouldn't otherwise have. It is a rare occurrence to be that close to a scientist while they are performing an experiment and talking to you."
Davis maintained a back channel of dialogue to relay questions from the classroom for the scientists to answer during the experiment.
LEVR next went to the rural North Carolina coast to connect students from an afterschool STEM club in tiny Whiteville to the Ant Lab at the North Carolina Museum of Natural Sciences. "They got to see some cool stuff that even if they had visited the museum during the week, they weren't going to get that level of insight," Cuales says. "We are trying to emulate what exists in some regard, but go way beyond that and bring experience they wouldn't have access to."
Then, N.L. Dillard Middle School students in rural Yancyville had a face-to-face Skype call with a group of young engineering students at NC State, part of a nation-leading underwater robotics club, before they saw an example of the club in work.
Not only did the pilot program allow students an opportunity to see STEM in a way they wouldn't have been able to before, they were also able to interact with young STEM leaders who offered a real connection to a potential career path, Cuales says.
Moving forward, LEVR Studios will continue to search out grants and funding to expand its VR opportunities, and Cuales says the live stress-testing of broadband networks shows the importance of ensuring connectivity for rural communities to have access to this type of content.
"We think the model is sound," he says, "but want to look at how to get others to contribute and how to grow our library of STEM mentors and professionals."
Support The 74's year-end campaign. Make a tax-exempt donation now.