Ramsey: As a New Teacher, I Felt the Struggles Over Integration Firsthand — 38 Years After Desegregation Became the Law of the Land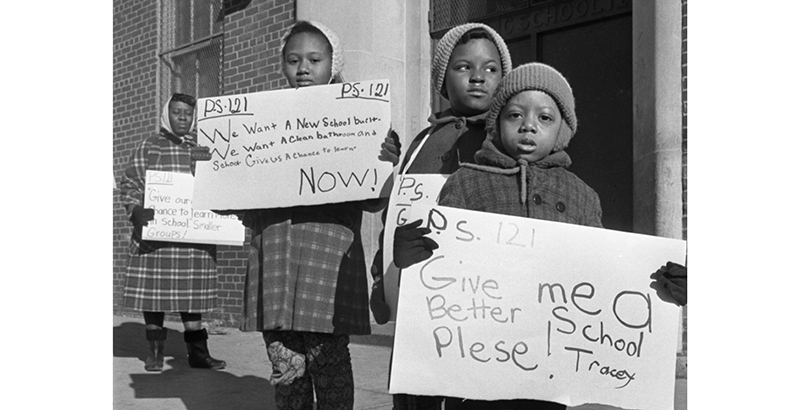 This essay is part of a special series commemorating the 65th anniversary of the landmark Brown v. Board of Education school desegregation case. Read more essays, view testimonials from the families who changed America's schools and download the new book Recovering Untold Stories: An Enduring Legacy of the Brown v. Board of Education Decision at our new site: The74Million.org/Brown65.
Integration is a powerful word, with an array of meanings for those who experience the power behind the act. When the United States Supreme Court decided in the landmark Brown v. Board of Education of Topeka case that African-American children were entitled to a free public education equitable to that of their Caucasian peers, life for African-American families shifted from the old trajectory of educational pursuits in their local neighborhoods to new, hostile educational environments.
Though school desegregation became the law of the land on May 17, 1954, it would take years for each state, for each city, to adhere to the new national policy that dismantled the Plessy v. Ferguson "separate but equal" ruling of 1896. In Indiana, the General Assembly had passed a law in 1949 requiring schools in the state to integrate, but Indianapolis did not instill change until 1968 because of the resistance by its communities. The U.S. Department of Justice would file a petition that year against Indiana Public Schools in a series of lawsuits that stated that African-American children in their system were being discriminated against, and in 1981, the district was forced to create a desegregation plan.
For me, moving from Elyria, Ohio, to Indianapolis in 1995, integration would become a household topic and discussion each week. Understanding the school desegregation process as a new seventh-grade social studies teacher would become an unexpected new norm.
The culture in my Perry Township middle school was clouded with misunderstandings and undertones of racism, mixed with strict protocols to make sure the court-mandated guidelines were followed. I was greeted with stories of past racial tensions by complaining faculty members who often shared, with boldness, their unwillingness to comply with the new rules. This behavior was unexpected and unwelcome, and it did not take long before I became aware of the historical noose now attached to my career.
When people asked where I worked, their big smiles would turn to surprise and then to a look of deliberate nonchalance when I answered, "I teach in Perry Township." After I would be asked, "Why?" multiple times, my response would be, "They gave me a job, and I did not know it was like this." What was meant by "this"? I didn't know that the district was diversifying its teaching staff because of the desegregation order. But would I have taken the job, if that had been shared? Yes, because as with most first- and second-year teachers in 1995, student loan payments and adulthood responsibilities overshadowed my desire to work in a comfortable environment. As a history teacher, I also knew that although this situation was not pleasant, it could have been worse.
When nine African-American students enrolled in Little Rock Central High School in 1957, they entered the school escorted by federal troops to attend classes during violent protests. There were no federal troops in the middle school halls in 1995, but the residue of that historical event still lingered in Perry Township 38 years later. After my first year of teaching, I agreed to stay because my professional goals shifted to a professional focus out of a personal desire to educate all students and ensure that the "bused kids," as they were called, received fair treatment, just inclusion and strong advocacy. This 25-year-old teacher, new to the city, decided to exhibit in the classroom the true meaning of integration.
I spent 15 years as a teacher and administrator in a district that bused in students under a desegregation order, and my reflections are both positive and negative. Separate but equal was unconstitutional, but having access to educational resources and openly receiving them are two separate things. What still resounds most was the resentment many of these students voiced as to how the school tolerated them because it was the law. Imagine walking the halls not in 1957, but in 1995, and still feeling as if one does not belong or have a right to the same amenities as one's peers.
It is now 2019, and we still have gaps in educational achievement because of economic deficits, linguistic challenges, religious differences and failure to accept diverse learning capabilities. How can education leaders, teachers, parents and advocates articulate, as plaintiff Cheryl Brown Henderson's father did in the 1950s, what is needed to ensure that all students receive an equitable education? All stakeholders must take a stance and shift from professional goals to professional focus to embrace inclusion, equity and advocacy for all students.
Alicia Ramsey is vice president of administration at New Life Worship Center in Indianapolis and a longtime educator.
Get stories like these delivered straight to your inbox. Sign up for The 74 Newsletter