Raising the 'Red Flag' in School
In New York and elsewhere, educators are using new state laws to remove firearms from students deemed dangerous. Gun-rights advocates say they've crossed a line. But could the statutes prevent mass school shootings?
By Mark Keierleber | June 22, 2020
Bright Red Modern Hand Gun 3d Illustration 3d Rendering
Over the next several weeks, The 74 will be publishing stories reported and written before the coronavirus pandemic. Their publication was sidelined when schools across the country abruptly closed, but we are sharing them now because the information and innovations they highlight remain relevant to our understanding of education.
Riverhead, New York 
Under oath in a sterile, wood-paneled courtroom, Babylon Schools Superintendent Linda Rozzi implored a judge to prevent every educator's worst nightmare: Barring immediate action, she testified, one of her students could become the next school shooter.
The Black student, a rail-thin 17-year-old at Babylon Junior-Senior High School, watched silently. But to Rozzi, a message he posted on Snapchat in late November spoke volumes.
"When I kill everyone, know it's my dad's fault," the teenager allegedly wrote on the social media website, accompanied by an irate selfie with a "crazy face," in the words of the judge.
Rozzi's journey to the Long Island courtroom began with a new law approved amid heightened anxiety over mass school shootings. New York's controversial law, championed by Gov. Andrew Cuomo, went into effect last August and allows judges to confiscate — or restrict access to — guns from people they believe may harm themselves or others.
Roughly a third of states have statutes permitting extreme risk protection orders. Most of the statutes, commonly known as "red flag" laws, were enacted after the 2018 mass school shooting in Parkland, Florida. The rationale is straightforward: Shooters often exhibit warning signs before they pull the trigger, and the laws allow courts to intervene before someone gets hurt.
But New York's law goes a step further: It is the first to give educators the ability to petition the courts directly — a right typically reserved for police and family members. Other states have taken notice. In January, Hawaii implemented a similar provision, and California will follow suit in September.
Mass school shootings have sparked a rise in school policing and student surveillance. But the efficacy of these efforts — and their disparate impact on youth of color — has been the subject of heated debate.
After the student's post appeared online, a classmate notified the Babylon principal, who lodged a formal complaint against the teen. A day later, and three days before the family's appearance in court, police searched their home for lethal weapons, confiscating two pellet guns.
Some view the New York provision as a positive move that puts more power into the hands of those who deal most directly with students. But critics, particularly gun rights advocates, say educators aren't qualified to determine when to take someone's guns, especially before owners have had the chance to defend themselves in court.
"As a country, we've been through far too many of these shootings, and in the aftermath, there's always a conversation about 'What can we do? What could have prevented this?'" said Shannon Frattaroli, an associate professor at Johns Hopkins University. "Extreme risk laws have emerged as one part of the solution, potentially."
For district leaders in Babylon, the provision empowered them to take action. In court, Rozzi, the superintendent, testified that the student was "bright" but struggled with mental health issues. He was suspended from school and temporarily banned from campus over the post, Rozzi said, but she still worried for the safety of other students and school staff.
The 74 is withholding the student's name because he was a minor at the time. The student's family didn't respond to interview requests, and Rozzi declined to comment outside of court.
"It's a concerning posting," she testified, as are "any kind of homicidal threats."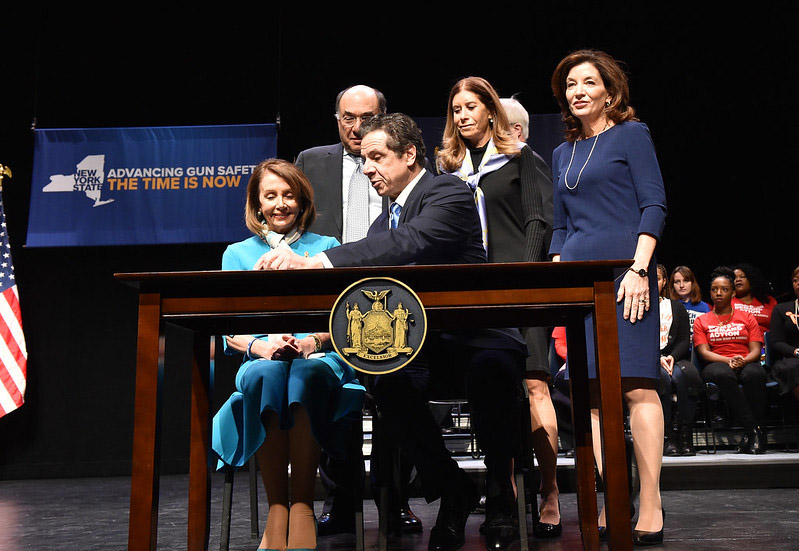 First-in-the-nation law
School shooters don't share a single demographic, according to the Federal Bureau of Investigation, but they often act in ways that could alert people around them to impending mayhem. Before the Parkland shooting, the alleged gunman worried people around him. He was the subject of dozens of 911 calls, two Federal Bureau of Investigation tips and a school expulsion. On social media, the accused shooter posted death threats and pictures of weapons and dead animals. After Parkland, Florida's then-governor Rick Scott, a Republican, approved the state's red flag law.
Since New York's law went into effect last August, judges across the state have approved hundreds of extreme risk orders, including cases against people who have threatened mass violence or expressed suicidal thoughts, according to state court records. Educators have initiated the process on multiple occasions.
Under the new rules, petitioners such as school superintendents can ask a judge to temporarily restrict firearm access if they have "probable cause" to believe that someone is likely to harm themselves or others. Such orders last up to six business days. Once a petition is filed, a judge can direct police to search the individual's home for guns and, after a court hearing, can extend the order for up to a year if there's "clear and convincing evidence" that serious harm is likely.
Parkland was the impetus behind the recent wave of laws, but such tragedies remain statistically rare, and schools have become markedly safer in recent years, according to federal education data. And the research picture on the efficacy of laws designed to prevent mass shootings is murky at best.
Reports suggest that red flag laws thwart suicides, but there is limited research on their ability to prevent murders. The best evidence of their effects on homicides is a recent analysis from researchers at the University of California, Davis. Between 2016 and 2018, officials took action in 21 cases involving mass shooting threats, confiscating 52 firearms. In one instance, a high school assistant principal reported a student who allegedly admired the Parkland gunman and stated that "school shooters are gods" before threatening a mass shooting and bombing during a school assembly. That attack never happened, and by August 2019, none of the threatened shootings studied by researchers had been carried out.
Gun control advocates, meanwhile, point to multiple examples as anecdotal evidence that the laws work. In 2018, for example, Vermont officials invoked the state's law after two high school students were allegedly overheard plotting a school shooting. One of the students planned to get guns from a relative, leading police to remove 10 firearms from the family member's home.
An extreme
Jill Andali understands the rationale behind New York's law. If someone is "a danger to society," she said, then "it's a good thing to have a red flag up." But first, she believes that officials should thoroughly investigate.
That's not what happened with her son, she said. In December, police filed an extreme risk petition against the 17-year-old boy, a student at Bellport Academic Center, an alternative Long Island school where he receives special education services for behavioral issues. While at school, the teenager told teachers he wanted to blow up a dam and a federal courthouse and shoot himself, and made comments about airplanes crashing into the World Trade Center in Manhattan, according to court records. Stephen Braslow, the judge, approved a one-year order against the boy, which prevents him from possessing guns.
"What really got my attention was 'I'm going to blow up the federal courthouse in Islip,'" Braslow said in an interview with The 74. "That's as specific as they get. Not good."
But some context is necessary, the boy's mother said. Andali said her son has attention deficit hyperactivity disorder and Tourette's syndrome.
"My son is a 17-year-old with behavioral issues who blurts out crap," she said. "They took it to an extreme that they shouldn't have."
Andali said her son's social worker, who recognizes his impulses, wasn't at school the day he made the comments. When the boy acted out, school officials alerted police, who transported him to a psychiatric center for evaluation. The next day, after filing an extreme risk petition, a handful of police officers showed up on her doorstep with a warrant. They found no weapons.
"My entire house got searched, and I feel like it was an invasion of my privacy," Andali said, "to go through my personal belongings when there's no crime committed here, when there's a child with special needs and is getting help."
Across the country, critics share similar concerns and have filed numerous lawsuits in response. Gun rights advocates such as the National Rifle Association, which has called extreme risk laws "confiscation schemes," are the most vocal critics.
Tom King, executive director of the New York State Rifle & Pistol Association and an NRA board member, said the law in his state tramples constitutional rights "for the sake of making someone feel good," but he declined to specify how it could be improved. School officials, he said, aren't qualified to petition courts in gun-removal cases.
"It's not my place to help anti-gunners produce better anti-gun legislation," King said. "The fact is, you should go to court before your guns are taken away from you."
In September, a federal appeals court rejected claims that the Florida statute lacks due process protections and noted the state's interest in thwarting "the mayhem and carnage contemplated by would-be perpetrators."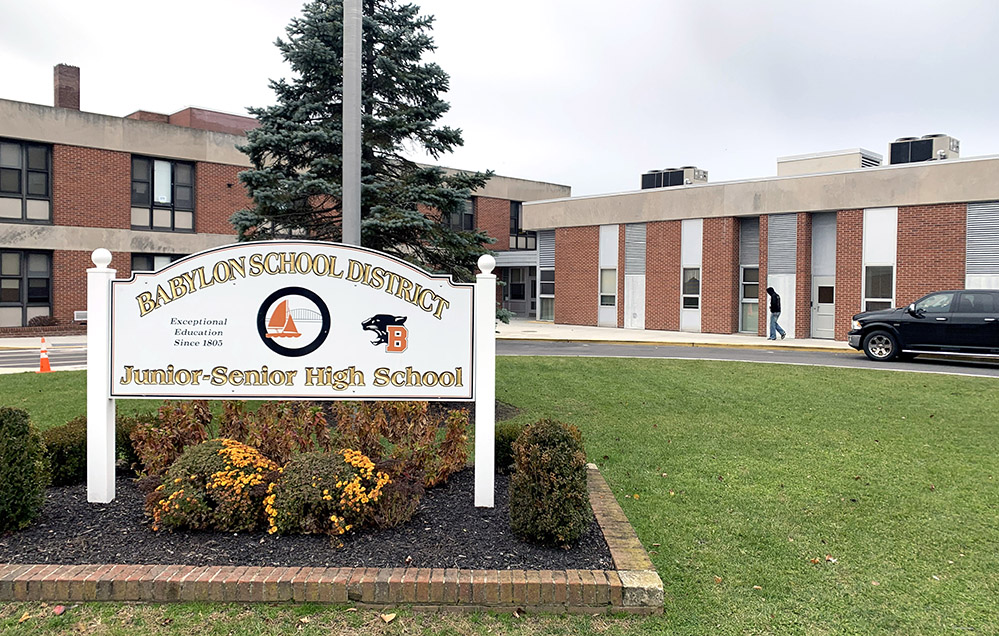 'Serious business'
Back on Long Island, the case against the Babylon student accused of threatening to "kill everyone" was not difficult, Braslow, the judge, said. Across the country, he noted, school shootings have become "commonplace," and this was no time to take chances.
"To me, it was a viable threat," he told The 74. "When you've threatened to harm people physically and you post that on the internet, you're really courting a problem — especially if you're a student at a school and other students are going to see that or school officials are going to see that."
In the courtroom, Braslow's demeanor was stern. The student's father — mentioned in the Snapchat post as the motivation for mayhem — acknowledged reluctantly that his son had uploaded the picture to the social media site. In a hearing that lasted less than 30 minutes, the judge sided with the school district. Although police didn't find any weapons in the family's home except the two pellet guns, the court order prohibits the student from purchasing or possessing any firearms for a year.
"This is serious business," Braslow told the student. "You can't be doing this anymore, son."
As the boy and his parents hustled out the doors in the back of the courtroom, a teardrop fell down his father's cheek.
Support The 74's year-end campaign. Make a tax-exempt donation now.