Rafal-Baer: In Education, Preparing Next Generation of Leaders Shouldn't Be a Revolutionary Idea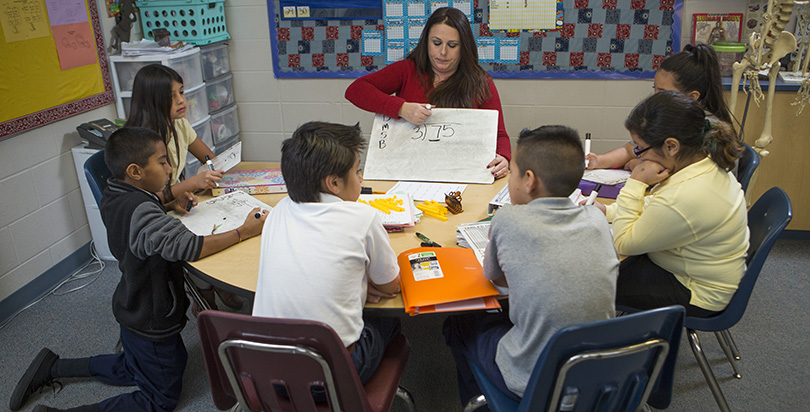 When Starbucks CEO Howard Schultz decided to step down, the juggernaut company's board didn't have to look far for its next leader. The successor, Kevin Johnson, wasn't just already serving as the company's No. 2 — Schultz's office was literally
connected
to Johnson's, the better to pass on lessons and foster continuity.
Likewise, when the Atlanta Hawks needed a new coach, they knew exactly where to go: Gregg Popovich's coaching tree, the network of assistant coaches Popovich had trained and groomed. That's where the team found Mike Budenholzer, who had ascended from a video coordinator over 18 years of learning under Popovich.
When success is non-negotiable — in business, in sports, in the military — succession planning is understood as critical. Yet for top leadership positions in education, perhaps the most vital engine of our nation's economic strength, succession is generally haphazard. With such high stakes for the leaders responsible for the education of hundreds of thousands of children, can't we do better?
The answer is a resounding yes. And an effort piloted at Chiefs for Change, working to prepare more than a dozen up-and-coming educators for state and district leadership roles, has lessons for people who care about leadership inside and outside education.
Our effort was born of worries over the state of leadership preparation in education. Nationally, few pathways exist to help identify and prepare excellent candidates — and to bring desperately needed diversity into executive roles. While more than half of U.S. students are children of color, people of color make up just 6 percent of district superintendents and 12 percent of state commissioners.
Because there's so little practical preparation, too many leaders are isolated once they are in their roles, lacking a community of results-oriented peers or access to all the resources they need to hit the ground running.
It's a situation that flies in the face of the importance of the task. State and district superintendents have enormous influence over what America's 50 million public school students learn, how schools function, and how they attract, support, and keep strong teachers and principals. The impact on whether our children go on to live productive, happy lives, and how they contribute to the economy, is similarly huge. Our failure to prepare people thoughtfully and systematically for those roles is crazy.
That's why we created our Future Chiefs program, which identifies promising leaders and enables them to learn from some of the nation's most effective and boldest-thinking sitting chiefs — bringing them together as a group and providing them with hands-on learning experiences. What's more, 75 percent of our Future Chiefs are leaders of color, and more than half are women.
The experience of Kunjan Narechania offers a window to how it works. Narechania served under Louisiana State Superintendent John White, a Chiefs for Change founding member who actively mentored her for the job. As part of our inaugural Future Chiefs cohort, she joined a series of conversations with current and future chiefs dedicated to better understanding the impact of school improvement and governance strategies, approaches to deeper stakeholder engagement and better family engagement, and how to redesign our education system so all schools prepare kids for today's world and tomorrow's.
Vitally, she shadowed Chiefs for Change member Antwan Wilson, now chancellor of DC Public Schools, when he was superintendent of the Oakland Unified School District. Then, in March 2017, she was named chief of the Louisiana Recovery School District, overseeing the unification of schools in New Orleans amid intensive statewide school improvement efforts. Her experience getting ready for the job ahead of time paid off, she says: "Being well-prepared, and knowing that I have a community of the most effective education chiefs to turn to for support, has made a world of difference for me."
One of the key insights of our first two years supporting these growing leaders has been the wide range of development needs they bring, perhaps not surprising in a field where there are so many routes to leadership. Some are instructional experts — often longtime teachers who rose to oversee academic departments or curriculum offices and ultimately served as district chief academic officers. Others have started on the less visible operational, logistical, and financial sides of education, rising because of their management skills. And still others are steeped in scholarship, politics, and policy, coming to the notice of school boards, mayors, or governors as public intellectuals or policy advisers.
In truth, all these paths blend in the top job. State and district chiefs must be at once experts in the work of their schools, policy wonks, and public leaders capable of making their case to a school board and an electorate. In that way, education leaders are not so different from other leaders of public systems, or indeed, from any executive.
For us, the big takeaway has been that we need to be supple and flexible in helping these leaders grow in the areas that are not their original skill set. And though it's widely understood that people who came to the field as classroom teachers may need to develop their skills in operations and finance, what's less well understood is the importance of support in becoming a public leader.
The striking fact is that leadership in systems where kids of color and low-income, immigrant, and special-needs students have been served poorly is an act of courageous change and will-building. Helping nascent leaders learn to use their voice to explain and advocate for that kind of change isn't any less essential than training in budget planning. It's all part of getting ready for one of the hardest, and most important, jobs in America. And that's a task we as a country need to learn to do far better.
Julia Rafal-Baer is chief operating officer at Chiefs for Change. She previously served as assistant commissioner of the New York State Education Department under former education secretary John B. King Jr. when he was commissioner there. She began her career as a special education teacher in the Bronx.
Get stories like these delivered straight to your inbox. Sign up for The 74 Newsletter