The Question I'd Ask Betsy DeVos: Two Dozen Education Leaders Preview Tuesday's Confirmation Hearing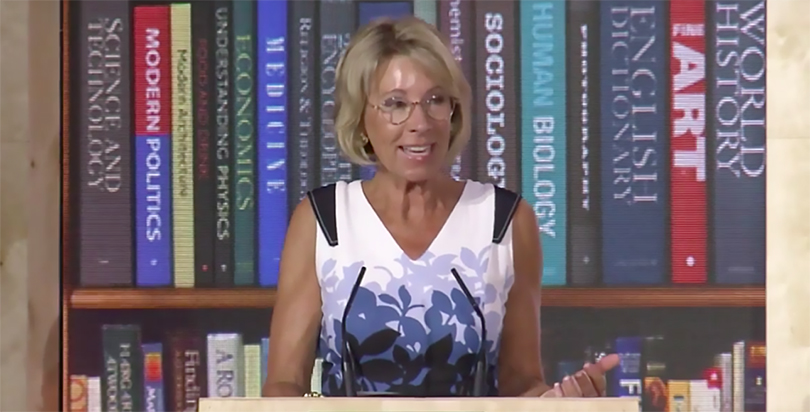 This is an update to the previous list of questions for Donald Trump's Education Secretary–designate Betsy DeVos, who will appear at her confirmation hearing Tuesday. Follow @cphenicie for updates from the proceedings.
Congressional hearings, particularly to examine controversial subjects or consider high-profile nominations, often serve as much as a venue for legislators to score political points and garner social media mentions as to investigate real, substantive policy issues.
This Tuesday's hearing of the Senate Health, Education, Labor and Pensions Committee to consider the nomination of Education Secretary–designate Betsy DeVos is shaping up to be much in the same vein. So The 74 reached out to education advocates and experts across the ideological spectrum with a request: Given time limits and Twitter-bait-type political concerns for both parties, what are the policy questions DeVos should be asked?
We published a first round of these questions last week; below is the updated queue, beginning with the most recent additions. They have been edited slightly for length:
Rashad Anthony Turner, education reform advocate and former leader of Black Lives Matter St. Paul
"Secretary [designate] DeVos, thank you for taking my question, and congratulations on your appointment. The AFT and NAACP are engaged in a campaign to eliminate charter schools. What steps will you take to make sure they are unsuccessful?"
Turner would also like DeVos's advice to ed reformers "like myself, who are fighting for the future of children across the country."
Dan Weisberg, CEO, The New Teacher Project
"Do you believe the Education Department should intervene when states fail to meet their basic obligation to give all students a fair shot at an excellent education? If so, what action would you take in such a situation? What would your priorities be for the Office for Civil Rights?"
Weisberg would also like to know what actions DeVos will take "to ensure that kids don't lose learning time because of biased and overly punitive student discipline policies" and whether she acknowledges "that many states have a poor track record of providing equal educational opportunities to minority groups." He'd also like to know if she agrees that states have an obligation to protect LGBTQ students, at higher risk of bullying, assault and suicide, and what role she would play in ensuring their safety.
Nate Bowling, high school government teacher and 2016 Washington state Teacher of the Year
"What mechanisms and systems will you create or maintain in order to get input from effective, practicing teachers in formulating your policy choices?"
Charles Sahm, director of education policy, The Manhattan Institute
"In exchange for autonomy from many district regulations, charter school operators agree to be held accountable for results. There is a great deal of confusion as to where you stand on the accountability side of that equation. Some have suggested that you were opposed to efforts by the Michigan legislature to tighten the oversight of Detroit's charter schools. Could you clarify your stance regarding charter school accountability, both generally and specifically in regard to Detroit?"
Sahm is also interested in DeVos's position on career and technical education and how the U.S. could follow the lead of other nations, like Germany, that seem to be doing a better job preparing young people for in-demand jobs in skilled trades.
Eugene Hickok, former deputy education secretary, George W. Bush administration
"I'm willing to bet no one asks this question, which I think is a long overdue one, not just for Betsy DeVos, but for all of us: 'What can she do, or a secretary of education do, to encourage Americans to rethink the whole idea of American education?' … It's a system that was designed a long time ago, and it's inadequate for the modern age. What we need is some dramatic new thinking."
He'd also like to know what she will do to keep higher education costs down while delivering "documented results."
Cami Anderson, former superintendent of the Newark, New Jersey, public schools
"What is Ms. DeVos's opinion about why African-American students do worse than their peers in all settings, including those who attend private schools (through vouchers, scholarships, or paying full tuition)? What can the federal government do to reverse the pervasive black-white achievement gap?"
Anderson, while describing herself as "an unabashed supporter of charters," also warned of "the unintended consequences of rapid and poorly planned growth." In Newark, she recounted, migration to charters forced the district to rapidly downsize, "laying off large numbers each year in a city where the school system is the largest employer, and where many of those impacted had also attended failing local schools and were not likely to find other work.
"Facilities for traditional students were literally crumbling, and the district had to right-size according to seniority because of antiquated labor laws, leaving students who most needed support in dilapidated buildings with the most senior — but not necessarily good — teachers and fewer and fewer students.
"Community frustration and anger wasn't necessarily an ideological problem with charters, in other words, but a visceral and real reaction to being stuck in what was left."
Anderson asks: "Does Ms. DeVos acknowledge that choice and competition alone will introduce another form of scarcity into communities that have very little, and how will she account for it?"
Liv Finne, director of the Center for Education, Washington Policy Center
"As secretary of education, are you planning to reduce the federal regulatory burden in traditional schools, particularly with respect to the overtesting of children, so that teachers can spend more time on instruction?"
Lisa Snell, director of education and child welfare, Reason Foundation
The intent of the federal Title I program was to give extra resources to disadvantaged students, but a 2011 report from the Department of Education found that more than 40 percent of schools receiving Title I funds spent less in state and local dollars on teachers and other personnel than non–Title I schools in the same district, Snell wrote. This is because current law allows districts to use average salaries in reporting school-by-school data, which masks the fact that high-poverty schools receive less money because they often have less-experienced, lower-paid staff even when the total number of educators are equal.
"If Title I remains intact, how would the next administration ensure that school districts uphold the intent of Title I and ensure that Title I dollars are reaching low-income students? Although the new ESSA law alludes to some transparency and encourages a weighted student formula pilot, will future Title I policies more explicitly require funds to follow students through funding portability policies or weighted student formulas and require districts to report all school level spending in actual dollars? Would the department encourage school districts to use portable federal school funds as a lever to encourage more local school choice policies?"
Catherine Brown, vice president of education policy, Center for American Progress
"Eighty percent of Michigan's charter schools are run by for-profit organizations. For context, the next highest state has only 17 percent of students in for-profit-run charters. A 2015 federal review found an "unreasonably high" percentage of charter schools on the list of Michigan's lowest-performing schools, and the number of charters on that list has doubled since 2010. Yet even when charters in the state perform poorly year after year, it is nearly impossible to shut them down because you and others have aggressively fought against any reasonable authorization and accountability system to protect students. How would you ensure that for-profit charter schools don't proliferate nationally, lining the pockets of their owners with taxpayer dollars while providing a substantially worse education to the often-marginalized students that they prey on?"
Carol Burris, executive director, Network for Public Education
"You have often stated that you support online learning, including for-profit online schools, in which your husband was an early investor (K-12). The graduation rate for online charter schools is a dismal 40 percent. Why do you continue to embrace learning systems that have proven to be failures and have been associated in Pennsylvania and in California with fraud?"
Burris would also like DeVos to address her donations to Michigan lawmakers who then "gutted a bill that included accountability measures for charter schools in Detroit," which DeVos opposed. "Why don't you think that children should also be protected by sound regulations of their schools, especially the for-profit schools of Detroit?"
Kim Cook, executive director, National College Access Network
"Given our country's need to grow talent and the fact that the 'growth opportunity' exists among low-income students who complete at staggeringly low rates now, how will we build a solid talent pipeline by enabling more low-income students to complete college?"
Cook would also like to know DeVos's priorities for the upcoming reauthorization of the Higher Education Act.
Noelle Ellerson Ng, associate executive director of advocacy and policy, AASA: The School Superintendents Association
She would like to see questions on DeVos's commitment to supporting and strengthening traditional public schools, and how they play a role in school choice.
"A philosophical way to look at that is to say, to what extent does Mrs. DeVos acknowledge that, to date, the conversation about school choice is unnecessarily or arbitrarily limiting, because it seems to not actually include public schools as a viable option?" she said.
Ellerson Ng would also like to see questions about DeVos's commitment to rural schools and to federal technology programs. The latter are funded primarily through the E-Rate and Lifeline programs, under the jurisdiction of the Federal Communications Commission.
Mike Hansen, director, Brown Center on Education Policy, Brookings Institution
"ESSA [the Every Student Succeeds Act] hands much authority back to the states, though state education agencies are not equally well qualified to make evidence-based policy decisions, analyze their own data or scale up good practices. What does the department plan to do to help states — particularly those that have historically lagged in education outcomes — build the capacity to analyze and learn from their own experiments in order to implement strategies for better educational outcomes in their states?"
Rick Hess, resident scholar and director of education policy studies, American Enterprise Institute
Hess is interested in DeVos's views on ESSA implementation, particularly Obama administration regulations like the proposed supplement-not-supplant spending rule. He'd like to know how much work she sees has yet to be done on ESSA implementation from the federal level, and how important it will be to redo supplement-not-supplant and other ESSA regulations.
Hess also would like to know which Obama administration Office for Civil Rights rulings DeVos finds problematic and what she intends to do about them.
Robert Kelchen, assistant professor of higher education, Seton Hall University
Kelchen said he'd like to know DeVos's views on higher-ed data transparency, everything from loan-repayment data to the Obama administration's college scorecard, which provides cost, financial aid, graduation, earnings and other data to help students make more informed comparisons when enrolling in higher education.
"These are aspects that sit well with a conservative philosophy of choice, where the federal government just provides information, but there is a regulatory burden to doing so, and colleges might not want to provide that," he said.
He's also curious about her views on income-based loan-repayment programs and whether there should be limits on how much students should be able to borrow for higher education.
Amy Laitinen, director of higher education, Education Policy program at the New America Foundation
"Higher education has never been more important, nor more expensive. The federal government spends hundreds of billions of dollars a year to help students go to college. And while college is definitely 'worth it' on average, there are too many poor-quality programs that leave students either in debt with no degree or with a credential that leaves graduates stuck in minimum or low-wage jobs. What will you do as secretary to ensure that taxpayer dollars are spent at institutions that provide students a quality education? And what will you do to ensure transparency about college outcomes so that students and families can make informed choices about where to spend their valuable time and money?"
Elizabeth Mann, fellow, Brown Center on Education Policy, Brookings Institution
"Many have interpreted the recent election results as an indication that many Americans see few to no opportunities to support themselves and their families. What role could workforce development programs, along with career and technical education, play in expanding job opportunities for Americans? What role should the department play in providing accessible, high-quality options for career and technical education through community colleges, both for recent high school graduates and for adults?"
Mann would also like DeVos to answer questions about how she plans to engage a "healthy mixture of voices" when making decisions and how she'll ensure states have flexibility while still holding them accountable under the ESSA.
Kelly McManus, interim director of legislative affairs, Education Trust
McManus is interested in bigger-picture, philosophical issues, such as "What is the role of the secretary in addressing resource inequities and inequities in opportunities to learn?" and "What does an equitable school system look like?"
On ESSA, she'd like to know DeVos's views on accountability and the federal role in ensuring it, as well as her commitment to continued use of disaggregated student data — breaking out results for poor students, students of color and those with disabilities, etc. — under ESSA for school accountability.
Kris Perry, executive director, First Five Years Fund
"A high-quality early-childhood education can take place in a classroom, a church basement or even a neighbor's home. What can be done to partner with states and communities so they have the tools and resources they need to ensure early learning and care programs are high-quality?"
Perry would also like DeVos to comment on how she would support governors and state legislatures making strides in early-childhood education.
Mike Petrilli, president, Thomas B. Fordham Institute
Petrilli would like to know how DeVos will evaluate state accountability plans that must be submitted next year under ESSA.
"Can she give examples of proposals states might make that she can imagine refusing to approve? Get her on the record saying what, if anything, would she not be willing to allow states to do as she implements the law," he said.
Petrilli is also interested in her views on the Institute of Education Sciences, the research arm of the Education Department — specifically, whether she believes it's important that the agency be independent and well funded. Petrilli wonders what DeVos would do if, hypothetically, officials tried to produce a report showing negative results for one of her policy priorities.
Gerard Robinson, resident fellow at the American Enterprise Institute and former adviser to President-elect Trump's campaign on education
"One question they should raise of her that they've raised of others: What are your plans to improve traditional public schools?"
Robinson would also like to know how she will advance school choice in rural areas — places that voted heavily for Trump but don't have the bevy of private and charter school options and other educational choices that exist in larger cities and suburbs.
In addition, Robinson would like to know how she plans to make higher education more affordable and how she would help historically black colleges and universities. The schools were particularly hurt when the Obama administration in 2011 changed criteria for a parent loan program, leaving more than 14,000 students ineligible for the additional aid despite having been approved previously.
Elaine Weiss, national coordinator, Broader Bolder Approach to Education campaign, Economic Policy Institute
"Decades of rigorous evidence make clear that the majority of factors driving achievement gaps are based outside of schools and are associated with family and community poverty and segregation. The 1966 Coleman Report suggested that roughly two thirds of race-based gaps were attributable to these factors, and no serious research since has indicated otherwise. Given that reality, what should top priorities be for education policy and changes to it? In particular, how should we broaden education policy to address the larger set of factors impeding academic success for many of our children, especially in a time of such high poverty rates among them?"
Weiss would also like DeVos to discuss whether and how she'll follow Obama administration efforts to end racially disproportionate discipline practices and expand early-childhood education. She's also interested in DeVos's views on how to remedy teacher shortages and how states can use ESSA to improve equity in schools.
The Dick & Betsy DeVos Family Foundation provided funding to The 74 from 2014 to 2016. Campbell Brown serves on the boards of both The 74 and the American Federation for Children, which was formerly chaired by Betsy DeVos. Brown played no part in the reporting or editing of this article.
Get stories like these delivered straight to your inbox. Sign up for The 74 Newsletter