Quality Early Learning Programs Are a Key to Future Success. Why Don't States Put Them in Their ESSA Plans?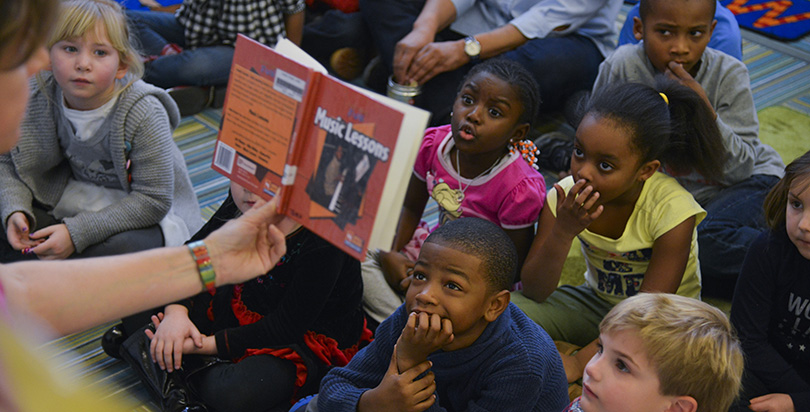 Grades are a touchy subject. Understanding how students are doing, and how well schools are serving their students, is an imperfect science. But as states rethink what success looks like, they can use more holistic measures of school quality to improve school and student performance.
The Every Student Succeeds Act (ESSA), the main K-12 federal education law, gives states this opportunity. The new law requires states to look beyond test scores to design school ratings with the whole student in mind. States can use different measures for different grade spans, using age-appropriate ones where it makes sense, and are limited only by their imagination (and some technical requirements of the law).
States can and should take advantage of this flexibility to focus on early learning, which can improve students' education well beyond childhood.
However, CAP's analysis of the 17 submitted ESSA plans — from 16 states and Washington, D.C. — found that most focus mainly on college and career readiness in high school. Ten plans, for example, will use performance on college entry exams, such as the SAT or ACT, to classify schools. Eleven states plan to use measures of career preparedness, such as participating in career and technical education courses or earning industry-recognized credentials. Five states intend to use a measure of postsecondary enrollment in high school ratings.
These indicators will help schools better understand whether students are prepared to enter college and the workforce. But preparation for success after high school begins much earlier. In fact, policymakers can look no further than preschool.
Research finds that high-quality preschool and childcare can address the achievement gap before it even begins. In fact, participation in early learning programs increases school readiness by 9 percentage points and improves school success, including increased high school graduation. Children at a greater risk of failing benefit the most: According to a recent study, comprehensive early childhood programs show a 13.7 percent return on investment for disadvantaged children. As adults, they are more likely to stay out of trouble, finish college, and earn higher incomes than their peers.
As a result, high-quality early learning paves the way for college and career readiness and success. Yet of the 17 submitted ESSA plans, only three will use some type of early learning indicator to measure how well schools serve their youngest students.
The District of Columbia, for example, will use a measure of pre-K classroom quality that focuses on teacher-child interactions. New Mexico will begin to track pre-K attendance in its chronic absenteeism measure and plans to use a new climate measure that includes a version for pre-K to third grade. And Illinois is developing an indicator for preschool through second grade, which will count for 5 percent of school ratings.
Using these kinds of indicators to classify schools signals to local leaders that early learning matters. But measures of preschool quality or outcomes may not be the right fit for every state plan. Some states do not give preschool programs any funding, and few offer universal access to these programs. And those that intend to are not always able to meet their goal.
But states can and should consider other measures of early learning as they design well-rounded systems. For example, students in kindergarten through third grade build critical reading skills that determine future success, from the likelihood of graduating to future earnings. To this end, Arizona schools can earn up to five points for improving third grade proficiency. States should also be sure that schools foster the right environment to support this development.
Collecting and publicly reporting this information is a first step. States must be sure that data are valid and reliable before using them to classify schools. They must keep in mind that schools will focus on what gets measured, so picking the right indicator that supports student learning will help guide what happens in the classroom. And just as high school measures should not exclusively drive ratings, neither should the early learning experience be responsible for measuring K-12 success.
School ratings, however, are just one small part of an effective accountability system. Measures of early learning can and should be used to drive improvement at the state, district, and school levels. Some states are developing data dashboards with a broad array of data to inform improvement efforts at every level of the system. Measures of early learning can help states achieve these goals.
The remaining 34 states have until mid-September to submit their ESSA plans to the U.S. Department of Education for review. Before states finalize their plans, they should consider whether their school classification and accountability systems focus on the entire education continuum, or just the later years. And states that have already submitted their plans can learn from those doing this work to improve their systems down the road. Only then will states take steps toward bringing the critical years of early learning to the forefront.
Support The 74's year-end campaign. Make a tax-exempt donation now.