Q&A: TED Fellow Heejae Lim on Using Tech to Strengthen Family-School Engagement
Lim channeled her Korean immigrant upbringing in founding a communication app that aids multilingual & underserved families connect with teachers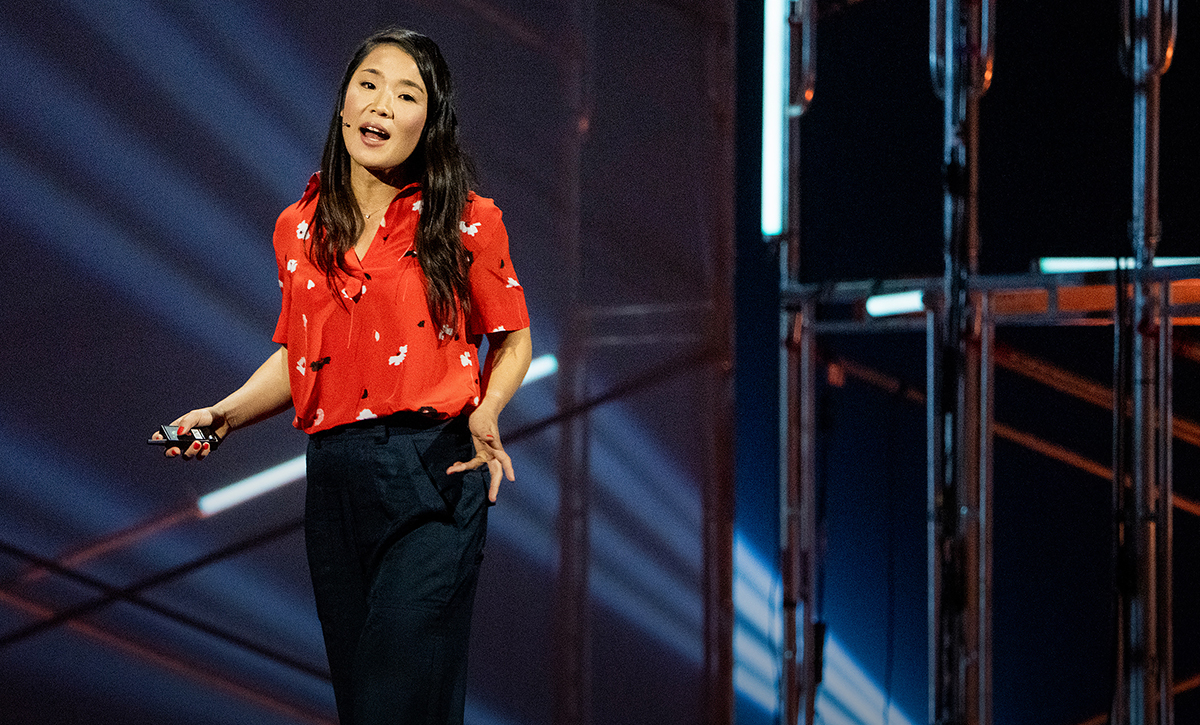 Get stories like these delivered straight to your inbox. Sign up for The 74 Newsletter
Swarmed after school by concerned Korean parents, Heejae Lim often found her mom acting as an unofficial liaison between her teachers and friends' families who spoke little to no English.
Lim, an education technology entrepreneur and TED Fellow, watched as her mother would answer questions every day about how to support their child's learning, parent-teacher conferences and cultural barriers around school jargon.
Growing up in an immigrant family, Lim resonated with their struggles and later explored solutions to family-school partnerships as the founder and CEO of TalkingPoints, a communication app that helps multilingual and underserved families connect with their child's teachers.
"Education is one of the biggest issues we need to solve in this country," Lim tells The 74. "And how can we solve this through technology?"
TalkingPoints has supported more than 600 schools and districts – over 3 million families and teachers, where 70% of students served are students of color and 89% come from Title I schools.
Lim delved into this further at the TED2022: A New Era conference during her TED Talk: "The most powerful yet overlooked resource in schools."
"We're playing the role my mom had for the school and my friends' families — the communicator, the explainer, the coach, the translator and the go-between," Lim said in her TED Talk. "When teachers and families work together everyone wins."
This interview has been edited for length and clarity.
The 74: What key takeaways would you want someone watching your TED Talk to understand about you and TalkingPoints?
I think the biggest takeaway about me is that my personal background drives a lot of the talking points in my TED Talk. I'm Korean and moved to England when I was eight. My mom became that communicator, translator and go-between in the public elementary school I went to. I saw the impact that had on me and my sister's education, so I think a lot about that when it comes to family-school partnerships as the central driver of student success.
But it's not just the experience of myself. Research really shows that when families and schools partner with each other and build relationships that are meaningful and collaborative, that really drives student learning and well being.
The 74: How does it feel to be the only education leader selected as part of the class of 2022 TED Fellows Program?
I'm really excited and inspired to be part of this program and to talk about the state of education in the U.S., especially when it comes to highlighting the mass media's view around education, the achievement gap and the potential of families driving student success. I'm also excited to have this platform to bring to life the research we have at TalkingPoints. You might have seen in my TED Talk about the 40 million children that come from under-resourced and/or immigrant families. People gasped at that number as well as the two year achievement gap and the trillion dollars lost in the economy.
I think education is one of the biggest issues we need to solve in this country, and we haven't found the silver bullet to the learning and opportunity gap. COVID-19 really exacerbated it and there's a long way to go. With the leaders in the TED community, we're able to connect with others also trying to solve these complex social problems.
The 74: You mentioned how COVID-19 exacerbated the learning and opportunity gap for students. Did COVID-19 have an impact on TalkingPoints ability to tackle this?
When COVID-19 hit us in March 2020, we actually saw a 20x increase in communication volume. Within the span of three to six months, we saw a fixed increase in the number of families that we were reaching. And all the school districts that we were partnering with started reaching out saying that they needed TalkingPoints for the entire school district instead of just a subset of students.
We also did a research report that said family-school partnerships was more important than ever during COVID-19 to drive student learning and well being. It was a silver lining moment for us in terms of how we can serve these communities and really get TalkingPoints in the hands of many more school districts and families who need it. But more importantly, it highlights how family-school partnerships continue to be a critical component to student learning.
The 74: Tell me more about TalkingPoints growth. How have languages expanded since the organization was founded?
In terms of languages, we started off with around 20. Now we're offering translations in more than 125 languages with support from real human translators for instant translations. We also include dialects that are not supported by other apps, like Dari which is a language spoken in Afghanistan, Odia which is an Indian dialect, Kata which is a Russian dialect and Uyghur which is spoken in a region of China.
We have also piloted a language for Cape Verdean Creole. We're the only organization to support a language like that. Boston Public Schools were really excited about it because they have a significant Cape Verdean population and have been really struggling to support that set of families and students in the past. We've really expanded and plan to expand even further down the line.
The 74: What would you say has been the most impactful story you've heard from someone that uses TalkingPoints?
So we had a teacher based in Georgia. She's an elementary school teacher and she's taught in the same elementary school for more than 10 years. She used to teach kindergarten three years ago, but last year she started teaching third grade. Because of this, she ended up teaching the same kid that she used to teach in kindergarten. She wrote to us specifically to say that the mother of the student, who is a Spanish speaking student, has never felt so included in their school community after using TalkingPoints.
If you think about it, this is a natural A/B experiment so to speak. It's the same school, the same teacher, the same student and the same family. This is a really special story because we can attribute the impact of TalkingPoints specifically to this before and after story. It's really, really touching and amazing. And the fact that the teacher specifically wrote to us to tell us that at the request of the mother is also special. That's one story I love sharing.
The 74: What does the future look like for TalkingPoints? For instance, do you see TalkingPoints delving into other ways to engage and connect families?
I think there's a couple of things to know. We're already working on a lot of exciting things around in-house research to see what the impact of TalkingPoints has on student outcomes. For example, we have research coming up that actually shows a direct-causal relationship to engage families around improving student achievement, grades across subjects, attendance and student discipline. I'm really excited to share that.
We've also been working on making sure that the family-school connections are equitable and accessible to all. TalkingPoints is open to all adults who support student learning within a school system – including teachers, counselors, bus drivers, coaches and psychologists, so a student's full learning team can engage with families regularly.
We also have reading flags whenever a teacher is writing above a fifth grade reading level. We offer suggestions to simplify so parents can understand them better. We also have tools for families to demystify education terms, like Individualized Education Program (IEP) or parent-teacher conferences. Like what are they and why are they important? As well as allowing families to engage with their teachers via video with closed captions translated.
So I guess the reason I bring this all up relates directly to the future of TalkingPoints. We are on a mission to systematically remove the barriers to family-school partnerships. We are looking to develop a next generation platform that gives coaching and support to teachers, school administrators and families to talk to each other in a positive, connecting way.
The 74: As a Korean immigrant, what does it mean to you to be a part of the education technology space?
My personal experience and identity really drives the way that I think about the role of education technology as a tool. It can really unlock behaviors and thoughts that schools and families can have to drive student success. But it has to come from an inclusive, accessible and equitable lens. The way that education technology is designed, thought about, used and implemented can be a make or break moment. If done well, there's incredible potential to improve student success. But if not, it can further widen the learning loss gap we've seen from COVID-19.
As a Korean immigrant, I think a lot about product development and education technology that is inclusive, accessible and caters to the needs of under-resourced and immigrant students and families. That goes not just for me but a lot of our TalkingPoints team. They've grown up as English language learners, come from immigrant families, are first generation college goers and have taught in the classroom. Our team really understands the communities we serve and how we think about our vision to further support them.
Get stories like these delivered straight to your inbox. Sign up for The 74 Newsletter