Q&A: DC Principal Jessica Cunningham, Winner of the 'Oscar of Teaching,' Talks Educational Excellence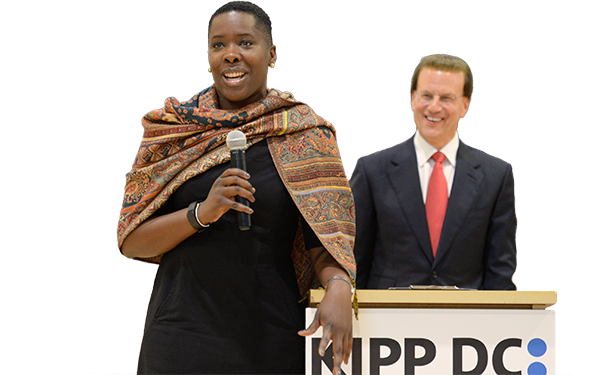 Last week, the Milken Family Foundation bestowed the first of its 2015 Milken Educator Awards — often referred to as the "Oscar of Teaching" — to Jessica Cunningham, a principal at KIPP DC College Preparatory.
A longtime school leader with the KIPP organization, Cunningham has served in the network since 2003. Since taking the reins at DC College Prep in 2012, she has boosted test scores in reading and math by 19 points. In 2014, the school posted a math proficiency rate of 95 percent, reading proficiency rate of 71 percent, graduation rate of 99 percent and college matriculation rate of 89 percent.
"To put it in sports terms, Jessica Cunningham is our franchise quarterback," said KIPP DC founder and CEO Susan Schaeffler, in a statement released by the foundation. "She not only leads and prepares our high school students for college, but she also inspires our entire KIPP DC region to care more and do more because of her excellence. She knows that our students' futures depend on what we do today and she is in it for the kids, with the kids, year after year."
The award was presented to Cunningham on Oct. 8 in a surprise ceremony. (She thought she was attending a ribbon cutting — just watch her face, as the news hits her!)
---
---
Cunningham spoke with The Seventy Four about her school, what makes a great educator, and what she does when not changing DC students' lives:
T74: Your school has improved by leaps and bounds since you took the reins, what do you attribute that to?
Jessica Cunningham: Good teachers, absolutely. We have a great team. And the team has just gotten stronger over the past 4 years. And I have a very strong leadership team and always have, and have been very fortunate in t that way. Adults make the difference for kids. And the adults here are super committed and driven to do whatever is in the best interest of the students.
What makes that great teacher for you, when you're looking for new staff?
You have to be smart. Not only a strong formal education but also what we would call "with-it-ness." A combination of common sense and self-awareness, a high EQ as well as high IQ. You have to be committed to this type of work. It's not enough to just want to teach or work in education, when you teach in under resourced community, whether it's urban or rural, the kids and family have a particular set of needs that require more time and attention and work and you have to not only be willing but excited to do it.
What are you most proud of at your school?
The progress our students have made both academic and socially. It's not enough to just be book smart. Having great test stores or strong GPA is wonderful — and needed to be a good scholar and strong college applicant — but you also have to have some strong character and social skills. And that's something we've struggled with and helped our kids develop more. And we are certainly not perfect there but we've come a long way and I see a certain level of maturity and respect from our students that wasn't always there. And we have miles to go with pretty much everything here but it's nice to see them progress so well on a daily basis.
If you could impart one piece of wisdom to each student before they left the school, what would it be?
Finish. Finish. Getting into college is not enough, you have to finish. The reason our mission is college completion is we believe firmly at KIPP that when first generation kids to college or kids who live in poverty earn their college degree, it's not only game-changing for them but also their families. It changes the trajectory for the kid and potentially the entire family. So finish what you start, no matter how hard it is, no matter what trials and tribulations you may go through, finish.
What is your favorite part of each school year?
Interacting with the kids on a daily basis. They are fun and funny and it is impossible to be bored with them. And they always have new challenges. Every time you think you've figured it out, or you've figured one kid out, there are always new challenges right around the corner. You are going to have to rise to the occasion in a different way every day. It keeps me on my toes and keeps me engaged and invested as well. And graduation is always my favorite day. To see kids achieve that milestone. And for some of our kids they are first generation high school graduates. It's so important to the families. Not only for moms and dads to see but little sisters and little brothers. It's just joy and smiles on that day. And I used to work at a KIPP Middle School so many of the children I've known since fifth grade. It just feels great to have been on this journey with them and seen them grow while they've seen me grow. It is very humbling and pretty spectacular.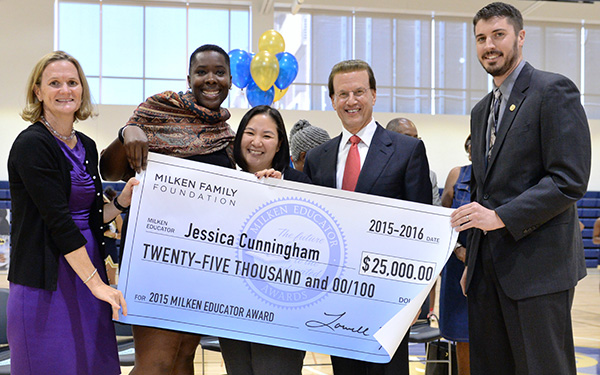 How do you get yourself excited every day for school?
It's just being there and knowing that too many of our kids, certainly not all, many come from awesome homes, but still too many of them have inconsistent adults. Adults should be rocks in a kid's life. I'm very much inspired, no matter how grumpy or tired I am in the morning, that I have to be someone's rock today. Some of the kids have no one to say good morning to them in the morning, so just being properly greeted by an adult, being checked in on by an adult, it matters to kids that other people care about them.
Complete the following sentence for me: When I'm not at school I am ….
Exercising or spending time with loved ones!
Is there a teacher from your own life and education that you can point to as really standing out for you?
Too many to name. If I had to – if I was forced – I could narrow it down to two. I had a spectacular high school English teacher who not only taught me how to write well but helped me see how powerful words are. And what a blessing it is to use words to describe with precision exactly what you're feeling or seeing. Language as a tool to express so many things. And then my elementary school principal Dr. Dandridge was like a superhero.
Support The 74's year-end campaign. Make a tax-exempt donation now.