Q&A — 3 Minutes With Elevate Academy Co-Founder Monica White, on How Her Idaho School Reopened — With Many Health & Safety Precautions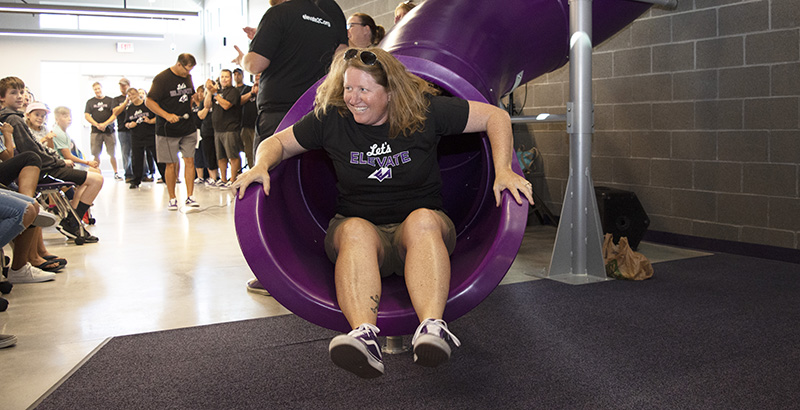 This is one in an ongoing series of brief conversations with education innovators led by Greg Richmond, a strategic adviser at the Boise, Idaho-based nonprofit Bluum, founder of the National Association of Charter School Authorizers and former chair of the Illinois State Charter School Commission. His "Three Questions For" series also appears on Medium. Today's edition: three minutes with Monica White, co-founder of Elevate Academy in Caldwell, Idaho, which reopened to students, teachers and staff June 1. Elevate serves 314 students in grades 6 to 10 with a focus on career and technical education and a mission to serve the most disenfranchised learners in the community. 
Richmond: What major modifications did you make at your school to reopen this spring?
White: To stay compliant with social distancing regulations, we're seeing only half of the students each day. We're kind of in a blended learning model now, which is much better for our students. That relationship with the teacher in the classroom is so paramount to what we do. We were missing that over the break, and it just wasn't good for anybody. So half the students come Mondays and half Tuesday, and then do it again Wednesday and Thursday. That trickles all the way down to how many students are on a bus, how many are getting dropped off, all those kinds of things, so we're able to just keep kids as separated as you can keep kids.
We send an extra adult on every bus now to help keep the distancing for students, so the bus driver doesn't have to manage that. They take the temperature for kids as they get on the bus. If any student has a temperature, they send them straight back home. We check the temperatures of all staff members and students every morning when they come into the building.
We've hired an additional custodian whose sole purpose is to wipe down the commonly used surfaces within the building periodically throughout the day. You know, the handrails, doorknobs, the entrance doors, things of that nature. Everything in the building is done by appointment now. You used to be able to just drop in and meet with anybody you wanted to in a school, and that's how we want it to be again. But just to control traffic within the school, even if a parent is picking up a student, we have them call and then we meet them out front to sign the student out.
For lunchtime, we release the students in small waves where they have time to go and wash their hands with soap and water before they go to eat lunch, and then we [marked off] chairs in the cafeteria. That works to spread students out, and we really try to encourage all students when the weather is good to eat outside, so that when they are closer together, it's outside.
What's really been impactful in my mind is we're really working on this new normal. Hopefully, it's not the forever normal, but it's our current normal. It's really been a nice platform to teach students empathy, to teach them boundaries, to teach students it's about more than just you as an individual; it's about us as a collective group. Now we have this new culture of what it means to respect other people's space and how that needs to look because it's really about a health crisis. You know, one of the biggest changes is just that continual finding that balance of really teaching with the kid — teaching the kids to be mindful of all of that and not making the school a place that feels like a prison.
What have you learned from this experience?
All our students are disenfranchised learners anyway, and we provide this opportunity to change their world and education, and then we had to go online. With the students we're working for, and I would argue all students — my own kids — struggled with this online. That personal connection between a great teacher and a student can't be replaced by anything in the world.
While we were out those weeks that we weren't in school, we had five suicide attempts that resulted in students staying in hospitals and in long-term facilities. We had several children taken from their home and put in foster care. So there's a great risk in disrupting the routine that we have for students for education.
Throughout the country, I think education is a great equalizer, and when we sent students home for 12 weeks, we minimized the equalizer. That was one of our big driving forces for coming back. A lot of this we knew anecdotally, but to see it play out in real life was almost tragic. So it drove us to take the very calculated risk to come back to school. We know we know what the risks are in our local area, and they're relatively low compared to many areas of the country.
As far as being back in school, I don't think we learned anything earth-shattering other than kids are kids and it's going to take a lot of work to keep them off of each other. They like to play, they like to roughhouse, it's just how we're wired innately. It's funny because we take a lot of the healthiest parts of being a kid and we're trying to separate that now for health reasons. We're still learning every day about: What does that balance look like? How do we strike it? How do we make sure that we're doing what's best for kids socially, emotionally and academically, while still working to keep them healthy from this invisible enemy that's surrounding us?
What qualities or values have you relied on as you prepared to open the school and now in the time it has been open?
If I had to boil it down to the main qualities, I think empathy is probably the biggest one. I have 22 teachers and several other staff members and 300 students and families, and all those people come from 300 different backgrounds. Plus, they watch probably 300 different news channels or news sources. They have many different living situations, and the variables go on and on and on. So in order to get to this point, you have to care about the people you're serving and the people that are working with the students to ensure that you're putting their needs first. You have to do that from a nonjudgmental lens and respect where they're coming from, because none of us can really understand where somebody else is coming from through this pandemic. So the biggest thing is to take the time, understand and absorb all those different situations.
The next one is to be responsive, and responsive enough that you can react to the situation. At the end of the day, our main goal is to provide the best education that we can for kids. We need the adults in the building to be able to do that. The adults can do that only if they feel safe and cared for. Everything that we did revolved around a lot of deep conversations, understanding people's fears. Not minimizing any of the fears, not minimizing any of the people who didn't have the fears, so we could come back and everybody would be on the same page and ready to go for students. We sat back and worked together as a team to find that place for them that made sense to be here because they wanted to be here.
Get stories like these delivered straight to your inbox. Sign up for The 74 Newsletter