Q&A — 3 Minutes With Charter School Founder Jessica Nauiokas on Helping Students Deal With Trauma and the Child Welfare System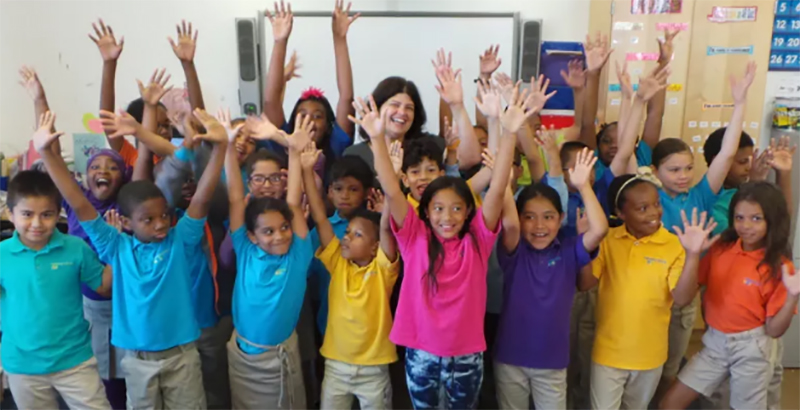 This is one in an ongoing series of brief conversations with education innovators led by Greg Richmond, founder and former CEO of the National Association of Charter School Authorizers. Today's edition: three minutes with Jessica Nauiokas, founder and head of school of Mott Haven Academy, a New York City charter school that serves just over 500 students in pre-K through 8th grade, with a focus on kids in or at risk of entering the child welfare system.
Greg Richmond: Why is it important for Mott Haven Academy to exist?
Nauiokas: Haven Academy began because of our partner organization, The New York Foundling's, deep history and commitment to serving families in the South Bronx. Back in the early 2000s, they recognized that kids in the child welfare system, specifically in foster care, were being underserved by traditional school settings. So they came up with the idea that, if we created a learning environment that better understood child welfare-impacted youth, we may be able to stabilize that educational experience and hopefully reverse some of the negative outcomes.
In 2008, we opened in the Mott Haven section of the South Bronx, which is rich with culture and history, wonderful people and food. But it also happens to be a community that has struggled historically with poverty, and with a number of other factors that have made it difficult for families to find quality schools.
We intentionally save seats for kids in the child welfare system: one-third children from foster care, one-third children from the prevention system and one third children from the general Mott Haven community.
We spend almost as much time thinking about students' social and emotional needs, and skills, and learning as we do the academic needs, and skills, and path to success.
We specialize by having staff members that are a little different than traditional schools': behavior therapists, art therapists, crisis workers, mental health counselors and intensive academic interventionists.
By having specialized staff members, we're able to isolate and identify what those barriers are for kids in the child welfare system and traditional school systems, and make sure that we're offering a program that's a bit more tailored to their specific needs.
Almost all schools serve students that have been impacted by foster care or students that are receiving prevention services because of an instance of abuse and neglect. However, most schools don't have the training, the knowhow and the staffing to truly be able to meet those children's needs. As a result, well-intentioned educational environments end up misidentifying child welfare-involved kids with more special education needs. Perhaps they misdiagnose deficits in learning to be a special-needs issue versus really being disruption to schooling and kids needing more time to be able to catch up on that content.
For a whole host of reasons, our country has always let zip code be a determining factor on where a child goes to school, and for children in foster care, their zip code changes frequently. And each time that zip code changes, they're asked to meet a new school community, and new friends, and a new teacher at a time when they're having the most disruption to their home life. I do feel it's our responsibility as educators to say that if we have the ability to try to stabilize something for a child who's going into crisis, then if schools can be the place we do that, we ought to make sure that we're having that happen.
2020 has been pretty tough on everybody. How have the pandemic and the recession affected your students?
Students in the Haven community have been significantly impacted by both the health crisis and the world pandemic, as well as the race pandemic that we're experiencing in our country right now.
Some of the biggest challenges our families have faced have been around food insecurity, child care, health crisis, access to health care and true impact from losing family members from the coronavirus.
We've had several students whose parents have died, or grandparents, because of coronavirus. And so immediately, Haven Academy mobilized our crisis therapy systems. We've made sure that we've been able to give cash grants to families to help with those immediate costs that are associated with a big crisis like that. We've made sure that we've done the follow-up support needed, and kept and leveraged our relationships with students and families to make sure that we were aware of their needs and connecting them to resources.
Beyond health and safety, there are basic needs — shelter, making sure you have a roof over your head, making sure you have food, making sure you can pay bills. Through generous donations by partner organizations, our work with The New York Foundling, our work with a number of other nonprofits, we've been able to give cash grants, give food pantry items, do deliveries of basic and essential supplies to families — you name it. Our team has been creative on how to get that into the hands of our kids and families.
Then, the next category, which is just as important, is attending to the children's educational experiences and their need for social connections. While we were taking care of all of those other primary needs, we had to make sure we were establishing a program where kids wanted to log on virtually, had the equipment and the technology to be able to connect virtually with teachers and friends. And then, once they're logged on, we need to make sure they have ample opportunities to engage both with their learning and with their peers. That's been our primary focus over the past couple of months.
What can other schools and other educators learn from Haven Academy?
At the core of our success, I truly believe our commitment to creating and maintaining a safe, predictable learning environment that holds kids to high expectations has helped anchor our work. That is coupled with our deep belief that understanding empathy, teaching empathy and showing kids how to practice empathy toward others has helped them not only make sense of their own challenges and struggles, but build relationships with important peers and teachers through the building. Those are two principles that I really think have anchored our work.
In addition to that, I believe schools haven't been places where we've done a lot of teaching around what attachment theory looks like and means, and what understanding the arc of trauma means for learning. Educators should start to investigate whether that body of knowledge for their staff and their team could help them.
From the start, both The New York Foundling and Haven Academy have acknowledged that if we get this right, if we get this experiment of working on making a school for kids that have been impacted by the child welfare system correct, then it is our responsibility and duty to share our learnings. I invite anyone who has large groups of students who are either living through foster care experiences or at risk of being placed in foster care to reach out to us, because we welcome the opportunity to be thought partners and to think about how we collectively, as educators, can make better experiences for kids.

Get stories like these delivered straight to your inbox. Sign up for The 74 Newsletter