Puzzles Are Bringing Families Together During the Pandemic — They Are Also a Boon to Young Children's Developing Brains
By Zoë Kirsch | May 12, 2020
Courtney Tetreault and her daughter Hadley work on a puzzle (Courtney Tetreault)
Two-year-old Maddyn Robinson picked up her backpack, slung it over her shoulders and marched over to the steps leading to her family's garage. "I'm going to school!" she said.
By "school," the toddler meant the licensed day care center that she's been attending since the age of 3 months — a place where she normally whiles away the hours learning about shapes, finger painting and cooking make-believe meals in a make-believe kitchen.
Maddyn's mother Liz smiled and steered her daughter back into the living room, toward her little play table, reminding her about the virus and explaining that they wouldn't be going back to Memories Begin Here anytime soon. It had been a week since the pair had taken the 20-minute journey from their home in Clarksburg, Maryland, to the Rockville-based center.
Like many day care centers in Maryland, Memories Begin Here has closed to stem the spread of the coronavirus, and when it will reopen is anyone's guess. In the meantime, Liz Robinson is among the countless parents nationwide who have to find ways to keep their toddlers busy while working remotely. Robinson is a guidance counselor at Thomas S. Wootton High School, tasked during the lockdown with ensuring that kids are registered for next year's classes, helping juniors navigate the college admissions process and advising seniors on their college decisions.
Liz directed Maddyn's attention to one of the toddler's favorite toys: a six-piece wooden jigsaw puzzle bearing a cheerful lion. The toddler picked it up, screamed with delight and dumped its contents on the floor. Maddyn might not have been able to go to day care today, but until she could, at least she and Liz had jigsaw puzzles.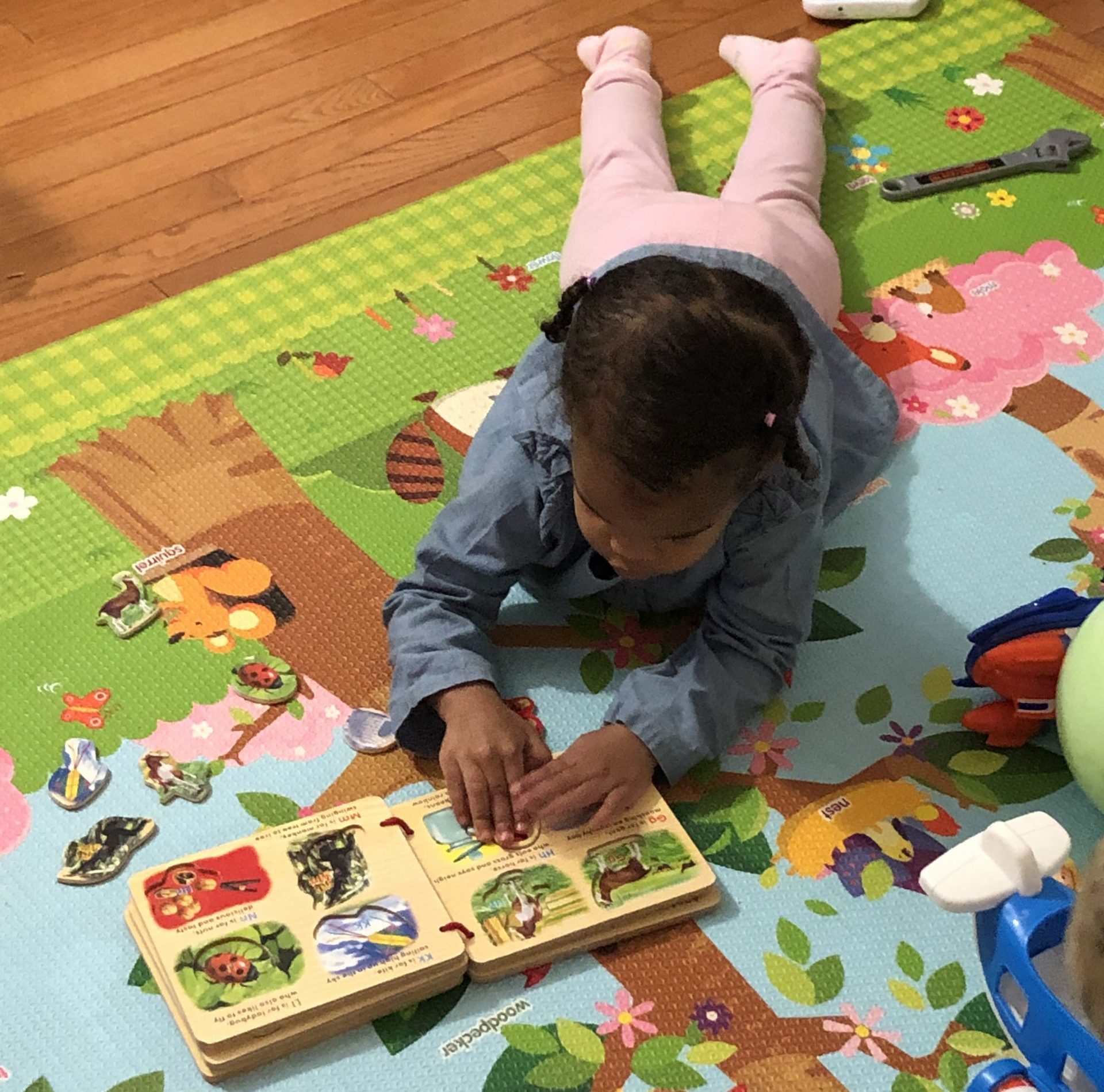 In these painful, disruptive times, many families are turning to the soothing repetition of jigsaw puzzles to bond and to calm the nerves. Puzzle sales worldwide, including in the U.S., have exploded. Major manufacturer Ravensburger, for instance, reported a 370 percent increase year over year in the past few weeks. Beyond their pandemic-driven popularity — and fortunately for parents with young children — the toy can provide a range of educational benefits.
Susan Levine is a professor in the University of Chicago's psychology department, where she researches child development. A 2012 study that she and her colleagues ran found that, among a group of 53 parent-child pairs observed at home, young kids who played with puzzles fared better than their peers on a task requiring them to reconfigure "target pieces" to match one of four shapes. The analysis controlled for parent education and income level.
"It's evidence that early puzzle play can build spatial thinking," Levine explains, meaning the ability to recognize, understand and manipulate the position of objects and how they relate to each other. "And math and science skills are bolstered by strong spatial thinking."
That's not to say that every toddler or young child who plays with puzzles is going to become a scientist, she adds — "But hopefully every kid would have the skills to entertain that possibility."
Seven-year-old Hadley Slyter, a second-grader in Daly City, California, has loved playing with jigsaw puzzles since she was just a few months older than Maddyn.
Hadley's early interest in the hobby came as a pleasant surprise to her mother, Courtney Tetreault, who began puzzling with her paternal grandfather after he retired from a job printing papers at the San Francisco Chronicle.
"I pretty much had them going all the time," says Tetreault, a homeschooling mom pre-coronavirus. "When my daughter was 3, she got a bunch of small puzzles as a gift. She really liked them, so I started buying her own in a smaller size."
Tetreault and Hadley played with puzzles frequently before the pandemic, but lately they've been doing even more of them — most recently, finishing a 500-piece garden-themed project in a day and gluing it together as a Mother's Day gift for Tetreault's mom.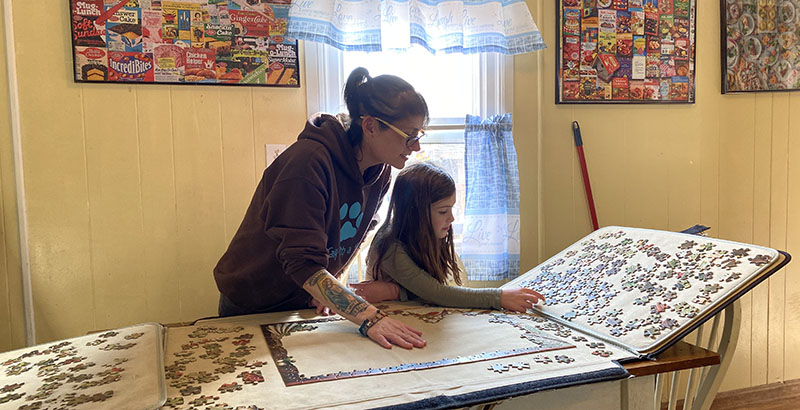 Both Robinson and Tetreault echo what many parents have said is drawing their families to puzzles these days: They're calming.
"I find them relaxing," Robinson says — puzzles let her momentarily forget the crisis gripping the outside world in order to concentrate on the miniature one before her.
Tetreault says that Hadley finds them similarly pacifying. "She gets really focused. She'll get started and work on them for a really long time, without stopping or getting bored. It helps her calm down."
Levine, the UChicago professor, has noticed anxiety induced by the pandemic among the graduate students and postdoctoral researchers she works with, many of whom are young parents.
"They're stressed because they're supposed to be working from home, and they have these young kids who need attention," she says. Puzzles can be one source of relief. For instance, Levine's own son just sent her a video of her toddler grandson doing an animal-themed puzzle not dissimilar from the one Maddyn was working on.
Although puzzle play gives kids some independence, Levine says there are ways that parents can engage with their young ones around puzzles that promote spatial thinking.
"The puzzle invites parents to say things like, 'You need a piece with a straight edge,' or 'That's curved,' or 'That's a corner,'" she explains. "There's a lot of spatial language that goes along with puzzle play, which goes along with spatial skills."
In other words, puzzle talk can be a real teaching opportunity. For instance, if a toddler doesn't know what "corner" means, parents can form the meaning in a gesture with their hands.
"Gestures and language go together when you're talking to kids," she says. "We think that it helps them." She explains this further by laying out a scenario. "If you have the words that correspond to certain concepts, then you'll notice those concepts more when you're walking around in the world."
Robinson and Tetreault have been engaging in these practices with their daughters. "Either my husband or I are there with Maddyn when she's doing a puzzle," says Robinson. "When we say, 'Turn it,' or 'Flip it,' she understands those instructions and will do it. Sometimes she needs help making the connection. She'll say, 'You wanna help me?' We guide her when she's stuck."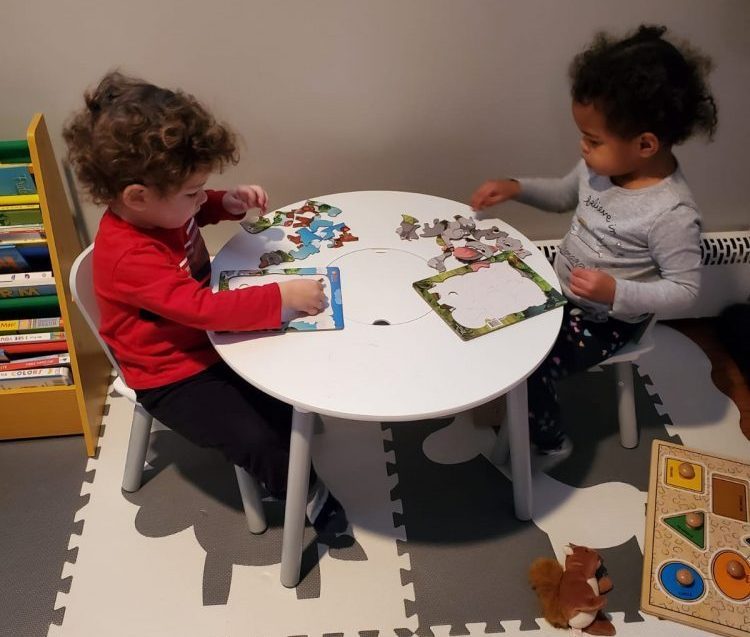 Parents can do a few more things to cultivate a love of puzzles in their toddlers and to maximize the activity's impact.
---
"Some people hold the folk psych belief that you're spatial or not. But spatial skills, like all skills, are malleable, so we should focus on the experiences that foster them."
—Susan Levine, University of Chicago psychology professor
---
First, they should understand that a child's skill level will depend on past experiences, not on age alone. If possible, they should choose puzzles with images that their child is inherently interested in, whether it's animals, trucks or ballerinas. If a kid gets bored or frustrated, caretakers should swap out puzzles accordingly.
Given that — at least on some days — more Amazon shoppers are looking for jigsaw puzzles than Clorox wipes, finding an affordable one during the pandemic might be a challenge. When the need has arisen, parents have been getting creative — some have even been wiping their puzzles down and trading them with their neighbors. Levine suggests making new puzzles by cutting up hand-drawn pictures and putting them back together again.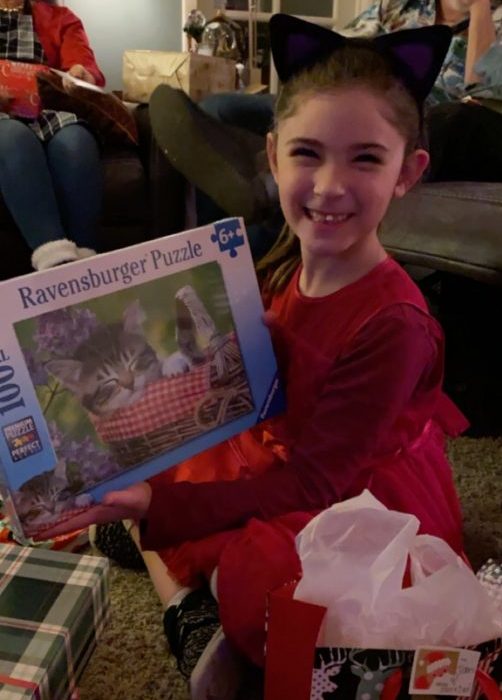 Overall, parents should avoid doing puzzles for their children. Instead, they should prompt kids with questions and celebrate them with encouragement like, "Good job, you worked hard on that," rather than declarations like "You're so good at puzzles." The first statement, which praises effort, has been associated with persistence later in life; the latter, on the other hand, identifies a skill as inborn and has thus been associated with kids giving up when a task gets too hard.
"Some people hold the folk psych belief that you're spatial or not," Levine says. "But spatial skills, like all skills, are malleable, so we should focus on the experiences that foster them."
SPATIAL LANGUAGE FOR PARENTS TO TRY
"Dimensions, features and shapes of objects": shape names, plus words describing size and geometric features. Examples: "square," "triangle," "long," "short," "straight," "corner."
"Orientation and transformations": words describing the act of moving things or relative orientation. Examples: "flip," "turn," "upside down," "sideways."
"Location and direction": words describing the location of puzzle pieces. Examples: "right," "left," "top," "under," "between."
Source: "Early Puzzle Play: A predictor of preschoolers' spatial transformation skill," by University of Chicago professor Susan Levine
---
Lead photo: Courtney Tetreault and her daughter Hadley work on a puzzle. (Courtney Tetreault)

Get stories like these delivered straight to your inbox. Sign up for The 74 Newsletter