Purdue University President Mitch Daniels Looks to Expand His Indy Charter School, Saying 'We Would Wait Forever' If Relying on K-12 System to Improve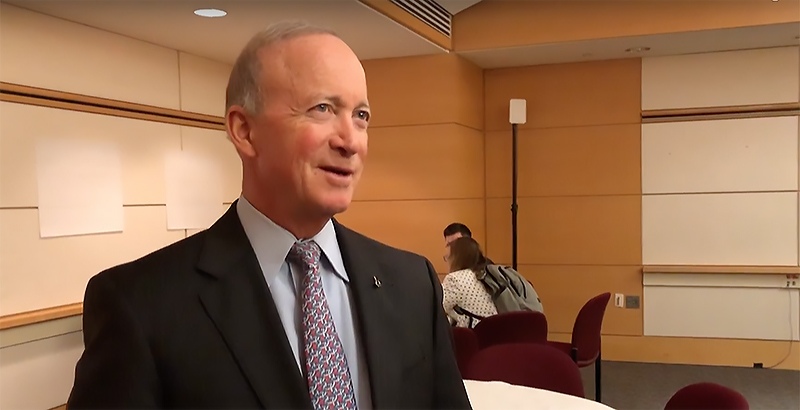 Washington, D.C.
See all our coverage tied to National Charter Schools Week
Former Indiana governor Mitch Daniels, who championed a host of education reforms during his eight years in office, now comes at it from a different role: that of university president and charter school operator.
Daniels, who has been president of Purdue University since 2013, wants to help improve K-12 education to diversify the students who meet the school's admissions criteria, he told the American Federation for Children's national policy summit in Washington Thursday. The group, founded and previously led by now–Education Secretary Betsy DeVos, advocates for charter schools and private school choice programs.
Only about 135 African-American students in the whole state this year would meet Purdue's general admissions targets in terms of grade point average and standardized test scores, Daniels said. The middle 50 percent of this year's freshman class had GPAs between 3.6 and 4.0 and SAT scores of 1160 to 1360, according to the school's website.
The number meeting benchmarks for the top 15 percent of this year's class is even smaller: about nine African-American and 25 Latino students, he said. Purdue, a public land-grant university, enrolls about 31,000 undergraduates at its main campus in West Lafayette, Indiana. It's known for its engineering and science programs.
"If we were to wait on the K-12 system to produce the numbers of first-generation and lower-income and minority students that we are seeking to educate and prepare for better lives, we would wait forever," Daniels said.
The former GOP governor helped found Purdue Polytechnic High School, a charter school in Indianapolis serving mostly low-income students of color. It opened this school year with 150 freshmen, and it will have 600 students when it reaches capacity in fall 2020.
"The assignment is to take young people who have spent eight years in a struggling — I'll be kind — school system, and four years later when they walk across the stage somewhere, I want there to be an admission to Purdue University in their diploma," he said.
The goal is to prove that this charter model, which is STEM-focused and has "lots of business involvement," works in Indianapolis, and then expand it elsewhere across the state, he said. Daniels hopes to expand to Fort Wayne, South Bend, and Evansville, and the school has partnered with businesses as varied as the city zoo and the Indianapolis Star newspaper, Politico reported.
Daniels's speech was also part call to action for the dozens of school choice advocates assembled in the ballroom of the Mayflower Hotel.
The term "social justice" has often been used — and perhaps misused — in public debate in recent years, Daniels said.
"I can't think of a more crystalline example of social justice than enabling poor families to have the same rights, the same power, the same decision-making over their kids' education, as rich people," he said.
Of all the "socially just" causes, school choice is perhaps the "noblest and the hardest," Daniels said.
He also touted other education reforms he pursued while in office, including requiring students to read by third grade in order to be promoted to fourth, shifting standardized testing from the fall to the spring, and giving college scholarships to students who finish high school in three years.
Disclosure: The Dick & Betsy DeVos Foundation previously provided financial support to The 74. The Walton Family Foundation provides funding to Purdue Polytechnic High School and to The 74.
Support The 74's year-end campaign. Make a tax-exempt donation now.