Protesters Join Family of Father Arrested by ICE Agents Outside His Daughter's School at Rally in Downtown LA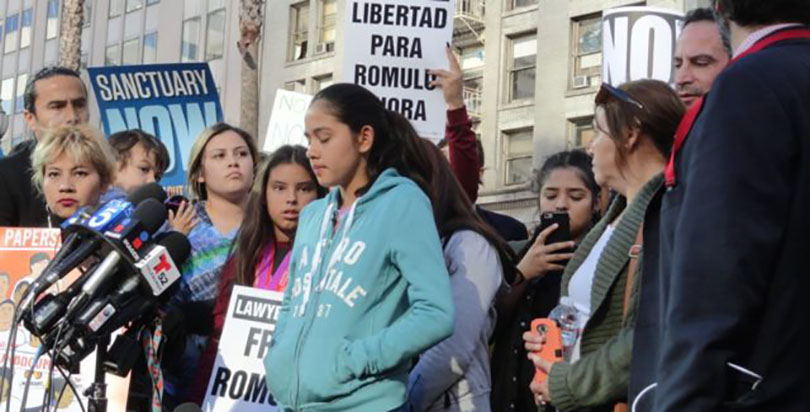 More than 100 parents, educators, and students on Monday rallied and chanted outside the Homeland Security and Immigration and Customs Enforcement offices in downtown Los Angeles to protest the arrest of a father who was taken from his family outside his daughter's school.
"We're better than Trump. We deserve better than this. We are not leaving," said an emotional Jocelyn Avelica, the 19-year-old daughter of Romulo Avelica-Gonzalez, who was arrested last week by ICE officials wearing jackets emblazoned with "police" after he dropped his 12-year-old daughter off at school. His 13-year-old daughter, Fatima, watched crying from a car and recorded the arrest. The
video
has received more than 4 million views.
Fatima tried speaking to a crowd of dozens of cameras at Monday afternoon's rally in Pershing Square but kept breaking down in tears and was unable to speak. Her mother, three sisters, and other family members attended the rally and joined in the chanting.
The protest was held on the same day that President Donald Trump issued a
revised travel ban
, which the speakers vowed to fight as well as ICE arrests. It was organized by the National Day Laborer Organizing Network and Academia Avance, the Highland Park charter school the 12-year-old daughter attends.
"I call on all educational leaders to stand up," said Zenzontl Kuauhtzin, a principal at PUC Schools in the northeast San Fernando Valley, who said he went immediately to Academia Avance after the Feb. 28 arrest to offer help. "We must continue to deliver a safe education to the schools that I send my children to, and they must be able to come safely to school. All educational leaders must stand up to this and make our schools sanctuaries."
---
---
The principal of Academia Avance told LA School Report while walking with the protesters to the federal offices that he is afraid the school may eventually suffer a drop in attendance because of parents' fears of deportation.
"Right now, the parents and students are standing strong together, and they are afraid, but they are still coming to school," said Principal Ricardo Mireles. "But they are not scared to the point of being paralyzed, because we have vowed to keep them safe. The problem is, how safe are we able to really keep them? How much worse will this get?"
LA Unified schools have not seen a drop in attendance, but lawyers at the rally and some of the principals have said it is only a matter of time. A few years ago, a noticeable drop in school attendance occurred merely because of rumors of ICE raids that were unfounded, according to
LA school police
.
Immigration lawyer Alan R. Diamante, who is representing the family, said at the rally that he doesn't want to see the same situation repeated in schools throughout Los Angeles, California, and the country. ICE agents said they
arrested
the father because of "multiple prior criminal convictions, including a DUI in 2009, as well an an outstanding order of removal dating back to 2014." A fugitive operations team conducted surveillance to confirm his identity before arresting him near the charter school.
"They were wearing jackets that said 'police,' and why did they have to lie?" Diamante said. "Now it will just make people more fearful of local police. It is a legitimate question why he was arrested near the school. Not only is it illegitimate, it is immoral. They should have considered the best interest of the children."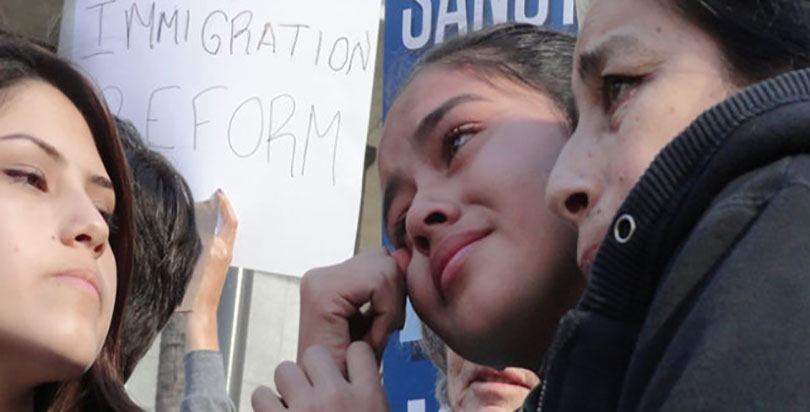 On the day of the arrest, a field trip had been planned to the Museum of Tolerance by Academia Avance, said St. Claire Adriaan, the school's director of instructional support and student achievement.
"We were delayed because someone told me what happened to Fatima and her father," Adriaan said. "These people are really living The Diary of Anne Frank. It is part of my job to take care of these children and protect them."
Adriaan spoke about how he was raised in apartheid South Africa and how he helped fight it by becoming an educator.
National Day Laborer lawyer Emi MacLean said, "If we don't act [to stop this deportation] then we are complicit with this administration. We know that we can't shame this administration … because it is shameless."
The family said the father was their sole provider. A
crowdfunding page
has been set up to benefit the family.
Political pressure forced ICE to
abandon
its attempt to place the father on a bus to Mexico, but he remains in immigration detention and continues to face deportation. The protesters are calling on ICE to permanently stay his deportation or grant him bond so he can be with his family while he fights his case.
---
---
Get stories like these delivered straight to your inbox. Sign up for The 74 Newsletter