Professional Development Leader Learning Forward, NCTAF Merge to Promote Better Teacher Training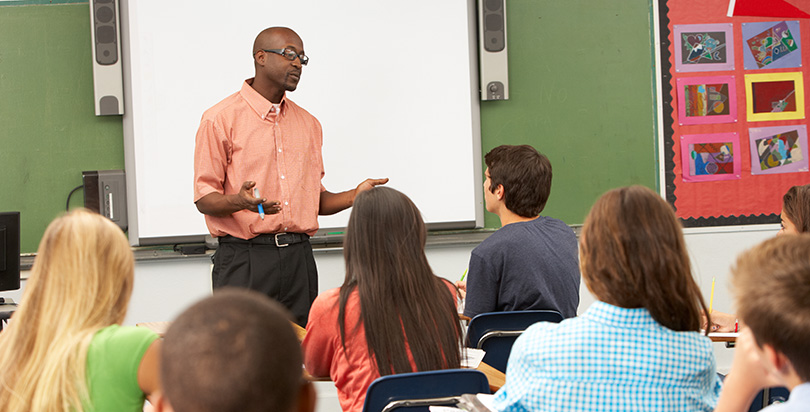 Two leaders in the field of professional development are merging, as Learning Forward acquires the National Commission on Teaching and America's Future, combining their efforts to improve teacher quality.
Stephanie Hirsh, executive director of Learning Forward, spoke exclusively with The 74 about the new partnership and what it means as states write implementation plans for the Every Student Succeeds Act.
"One of the reasons that this was perfect timing for our organizations to come together was because we were both concerned about the implementation of ESSA," Hirsh said. "I feel like we're one of the few organizations that are actually talking about how ESSA can really improve teaching and learning."
ESSA was written to give states renewed power over how they measure accountability. But Hirsh said that during talks with state education leaders, she was disturbed by how little professional development figures into those plans — even though, she said, the federal ESSA guidelines use the words "professional development" more than 60 times.
"I was in total shock. I didn't know how to respond to that," Hirsh said. "I'm not sure if states are spending their time focusing on the right thing…. If we want new outcomes for our students, then we've got to think about how teaching is going to change."
Learning Forward is a Dallas-based nonprofit that offers professional learning standards and advocates for high-quality teaching practices. Virginia-based NCTAF, originally headed by Learning Policy Institute President Linda Darling-Hammond, is dedicated to researching how to improve recruitment, training and retention of quality teachers. As part of the merger, NCTAF will fall under the Learning Forward banner, and the commission's two decades of research will be showcased on Learning Forward's website. NCTAF commissioners will serve on the Learning Forward Board of Trustees, and two commission co-chairs will be international advisory team members.
The combined organization's first project will bring together state education departments, school districts, state boards of education and higher-education representatives to implement NCTAF's most recent report, What Matters Now, which calls for better teacher support.
"It's a broad coalition of stakeholders who have an interest in education coming together to determine what changes need to take place in practice as well as policy in order to make teaching and learning what it needs to be," Hirsh said.
Professional learning, she said, needs to be the work of teachers every day — a trend she sees in countries like Finland and Canada. But persuading states to make professional development a priority is a challenge, as is getting schools to find time to put professional development in their schedules.
The group's ideas will be tested in a handful of states over two to three years, Hirsh said, with the goal of showing states that the best way to improve their accountability systems is through better teacher training.
"We're really excited because it combines all of the strengths of both organizations, and we both wanted to have an impact on teaching and learning," she said. "We don't have to compete; we can work together."
The Bill & Melinda Gates Foundation, which supports Learning Forward, also supports The 74.
Get stories like these delivered straight to your inbox. Sign up for The 74 Newsletter