NYC Pro-Charter Group Sets Sights on Abusive Teachers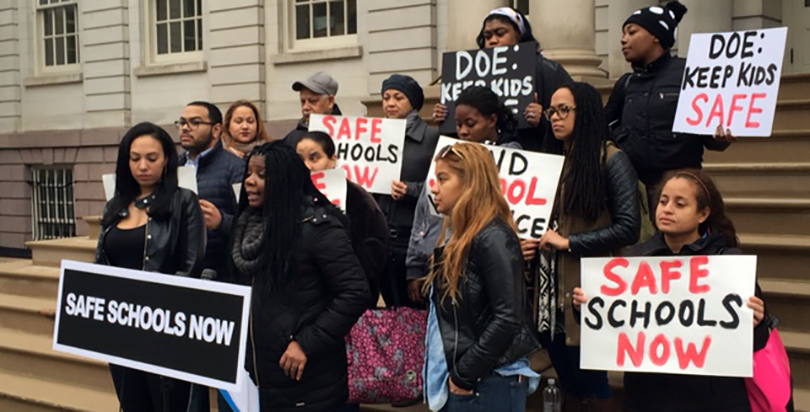 New York City
When Osman Couey was accused of throwing a 7-year-old special needs student down a flight of stairs in 2013, he had a history of physically punishing students dating back almost 10 years.
The veteran educator received a letter in his file but returned to P.S. 194, a struggling elementary school in Harlem where he had taught since 1993. On Tuesday, Couey was
arrested
for allegedly throwing another 7-year-old boy across a hallway.
"What angers me the most is the fact that this information was not given to parents," said Shamona Kirkland, who was among a small group of protesters outside City Hall Thursday calling for the city to crack down on teachers and school staff who physically abuse students.
"For 10 years a teacher was able to do that? Who knows what else happened, and how are the kids supposed to feel when nothing is being done about someone hurting them?" Kirkland said.
The protest was organized by the pro-charter group Families for Excellent Schools, which released a
report
last week finding that violence by public school employees against students in New York City increased by 23 percent during the last school year. The organization demanded that education officials release the names of "abusive teachers" with disciplinary records and address "a systematic culture of violence that puts children in danger" by allowing teachers found guilty of corporal punishment, like Couey, to return to classrooms.
A longer study by the American Enterprise Institute, a right-leaning think tank, found that 61 percent of New York City teachers convicted for incompetence, excessive absence, verbal abuse, corporal punishment, or sexual misconduct between 1997 and 2007 were
allowed to return to classrooms
. The report contended that due process protections for teachers led hearing officers to be lenient when punishing misconduct or incompetence.
There have been steps taken to reform the teacher disciplinary process since the study but Katharine Stevens, the research fellow who did the work, said Thursday that the basic principles governing the process once it reaches the hearing phase remain unchanged.
Devora Kaye, a spokeswoman for the NYC Department of Education, said the existing process does allow school officials to properly protect children.
"We have procedures and tools in place to remove teachers who don't create safe and supportive environments for students and families," she said. "We'll continue to use these procedures to thoroughly investigate and address complaints, and ensure students are safe and secure in New York City classrooms."
Earlier this week, FES released a "
misconduct roundup
" highlighting news reports—culled largely from the New York Post and the New York Daily News—involving alleged teacher misconduct between August 2014 and February 2016.
While some of the incidents cited by FES are relatively benign, its list includes a litany of items describing serious sexual abuse, including a Bronx high school teacher who convinced three teenage boys to send him nude photographs; a teaching assistant who groped a 13-year-old girl with Down syndrome; and a Brooklyn teacher accused of sexually harassing at least seven teenage students, taking a student to a nude beach, and asking students to engage in lesbian sex with each other.
The group said it has filed a request under the state Freedom of Information Act to obtain the names of teachers who have committed violent incidents on school grounds.
"At the bare minimum, the Department of Education needs to release the names of every teacher who has a record of committed violent incidents against students," Kirkland said. "These records should be public and accessible to parents, because parents deserve to know their children's teacher has abused children, and they deserve the opportunity to remove their child from a violent classroom"
The shift in attention by FES to school safety comes near the end of a news-filled month relating to teacher misconduct and school discipline. In mid-February,
a video
of a teacher tearing up a student's work at a Success Academy charter school was released by The New York Times, sparking debate about school discipline policies.
Success Academy founder Eva Moskowitz subsequently released a letter to The New York Times alleging that the paper failed to report on dozens of more serious examples of physical and sexual teacher misconduct.
At a City Hall press conference the same day, the reform group Educators for Excellence called on Mayor Bill de Blasio to implement changes to school discipline programs that his own task force proposed last year. The proposals include expanded restorative justice programs, de-escalation training for teachers, and the removal of metal detectors.
A
small group of counterprotestors
from Alliance for Quality Education attended the FES event Thursday, claiming that its school safety numbers were unreliable.
New York City Councilman Daniel Dromm, who serves as chair of the council's education committee, said the number of violent incidents in New York City public schools doesn't differ from other major cities across the country, adding that FES' advocacy in this space is disingenuous.
"This group, Families for Excellent Schools, is only looking for ways to attack our public school system," he said. "And they always find something to try to tear it down."
(Disclosure: The 74's Editor in Chief Campbell Brown is a member of Success Academy's board of directors.)
Get stories like these delivered straight to your inbox. Sign up for The 74 Newsletter