Possip Text-Messaging Service Enables Easy Two-Way Communications Between Families and Schools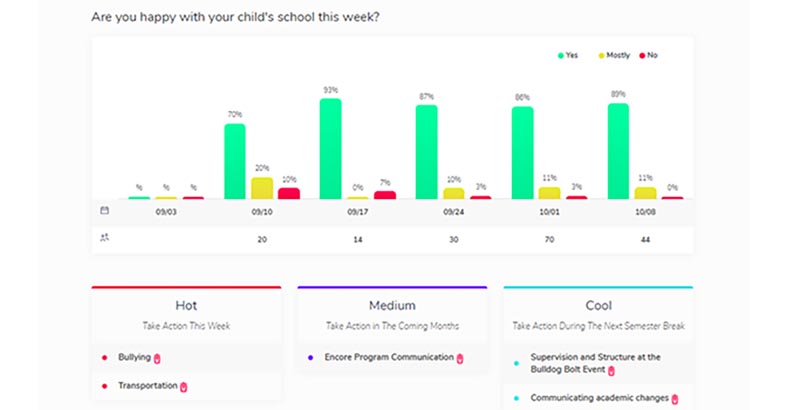 Parents have plenty to say about their children's schools. But those comments, whether praises or concerns, don't always make their way to principals or teachers. Possip — a mashup of "positive gossip" — aims to change that, opening a two-way conversation between schools and parents via a text-messaging-based program.
During a pilot run of Possip, principals found that not only were parents more active in providing positive comments about teachers, but school administrators learned about potential areas of concern much more quickly than if there were no formal two-way communication between the school and families.
"Possip allows us to stay abreast of how our families are feeling and their current perspectives on how we are serving them," says Watechia Lawless, executive principal of Napier Elementary School in Nashville and a participant in a Possip pilot program. "Not only did we need to improve how we provided information to families, we needed to establish two-way communication that allowed families to provide feedback on current practices. We have that with Possip."
That was the goal of Possip creator Shani Dowell. The program sends parents a text every Friday afternoon asking if they were happy with school that past week. Depending on the response, Possip follows up with a prompt inviting parents to either provide positive comments about something a teacher did that week or to bring up a concern. Possip then gathers the responses for each school and sends the principal a report on Monday, so the information can be shared with the school or addressed.
The idea was born during a dinner-table discussion between Dowell, an educator whose career includes a stint with Teach for America, and her husband, a principal, about a minor issue at his school that had turned into a larger problem. "As we talked, I was trying to understand how do we help parents identify issues when they are just mildly annoyed and before they are really, really angry," she says.
Possip launched in 2017 as a pilot in 15 schools across six states — primarily by word of mouth through Dowell's network of educators — and has expanded to 80 schools across 16 states.
Using the simple texting platform, schools can hear from more parents in one month than in a typical year, Dowell says — and the format invites parents to give the full story behind their answers. "You get information quickly, you get a lot of information in a little bit of time, and you don't have issues that sit and fester," she says. "School principals really love that it feels actionable. When a principal gets a response, here is a parent you can follow up with."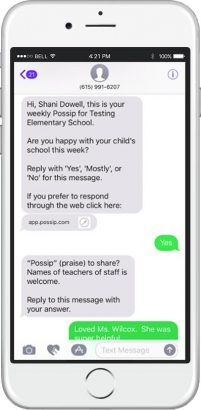 Principals tell Dowell that the positives and the concerns carry equal weight. The encouraging comments "help fill teachers' buckets" and give school leaders an authentic way to build up teachers, she says — and they help make constructive criticism easier to digest. With both types of feedback flowing, the conversation helps build trust, Dowell says. "Once you don't just hear from the squeaky wheels and start hearing from a lot more parents, it makes it easier for schools to open themselves up to feedback and get the totality of all the information, not just the complaints," she says.
"Anytime that we receive information from families, it is always helpful," says Lawless. "It provides us with an opportunity to get better."
For example, a parent can text about a child's personal struggle outside of school to help a teacher relate to an in-school issue, or give feedback about a recent event and what could be improved for the next time.
Lawless says that about 27 percent of Napier parents participated in Possip during its first year — in a district where 92 percent of students are considered economically disadvantaged. The number of incidences of families coming to the school emotionally charged "diminished a great deal because they are given opportunities for their voices to be heard consistently," she says.
At Napier, 88 percent of the comments received through Possip were parents happy or mostly happy. "The praise notes and positive feedback were definitely a pleasant surprise," Lawless says. "We always share the positive notes with teachers because it reinforces best practices and helps boost morale throughout the building."
The negatives have a place too. For Lawless, feedback specific to the school's Family Suppers prompted the school to expand presentations to cover topics that were of interest to families. Interactions with Spanish-speaking families increased as well. One issue raised through Possip was a lack of aftercare for pre-K students. "With the help of one of our community partners, we are now one of the only schools that offers a pre-K aftercare program," Lawless says.
One example that stands out in Dowell's mind involved a parent whose child was new to the school and notified staff through Possip that her son didn't seem to be making friends and was coming home sad every day. The feedback was passed along to the teacher, who intervened by helping the shy boy connect with some of his classmates. The parent wrote the following week in her Possip survey response to thank the teacher for helping the boy make friends.
"I have never worked with a platform that provides so much valuable information and requires so little work on the school's end," says Alix Gessouroun, a Possip school partner in Nashville.
At first, Possip focused on enlisting individual schools and letting principals share their experiences. That has grown to entire districts signing onto the platform, which also allows a bird's-eye view of more than one school.
The interactions through Possip help schools meet the ESSA requirement of showing increased parent engagement. "For schools to demonstrate hearing from more parents is really exciting," Dowell says. "One of the schools we worked with last year saw increases in the number of parents coming to family events. They are now having more parent engagements as parents have found a voice in the school."
Support The 74's year-end campaign. Make a tax-exempt donation now.