Poll: Oregonians Unsure or Unconvinced School Boards Represent Their Values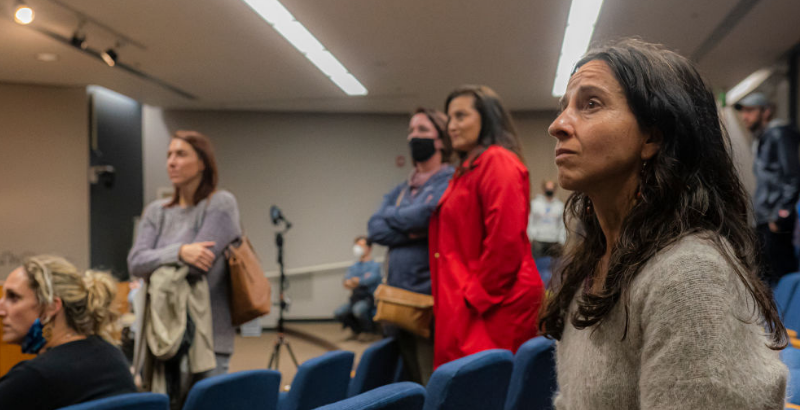 Get stories like these delivered straight to your inbox. Sign up for The 74 Newsletter
A survey of more than 1,500 Oregonians found nearly 40% did not feel their values and beliefs were represented by their local school boards and more than a quarter were unsure. 
In March, the Oregon Values and Beliefs Center, an independent nonprofit research group, sent the online survey to Oregonians ages 18 and up. 
School boards have increasingly become sources of political and community controversy. In Oregon last year, about half of Oregon's 1,400 school board positions were up for election and many were filled by new members, according to the Oregon School Boards Association. 
Some of those new members campaigned on platforms against the teaching of critical race theory or opposed Gov. Kate Brown's pandemic-related mask mandate for students and school employees. The high-profile firings of several school superintendents by their boards for enforcing mask and vaccine mandates, as well as ideological battles over political symbols in schools, student equity initiatives and certain classroom lessons on racism, led to the Oregon Legislature passing the Superintendents Protection Act. That law forbids school boards from firing superintendents for following laws and executive orders. Another bill that would have required training for new school board members did not pass during the February legislative session.
Among survey respondents, Democrats were more likely to feel their views were represented by their school boards, along with those making $100,000 per year or more and those with a college degree. Oregonians 75 and older were more likely to feel their values and beliefs were represented on their local school board compared to any other age group. 
There were equal proportions of rural and urban Oregonians who did feel they were being represented by their school boards. 
In an email, Jim Green, executive director of the School Boards Association, wrote that, "School boards are unique in that they are relatively easy points of entry into politics as far as cost, but have enormous influence on our communities because they set a course for our young people. So it follows that when we have such a huge political divide that trust will erode, especially across political lines.
Other survey questions concerned what grade levels are most important for investing state tax dollars and what curriculum is most important for students and the future of Oregon.
The Values and Beliefs Center found that Oregonians want the greatest state investments to be made in high school, above all other grade levels. This was especially true among rural residents. 
Democratic respondents said school curriculum that teaches about mental health and relationship building is more important than standardized curriculum, more important than parental choice in curriculum and more important than getting curriculum "back to basics." Among respondents, 
Half of those 18 to 29 said a social and emotional education is the most important part of school curriculum. 
Nearly half of Republican respondents said getting curriculums "back to basics" is most important.
Oregon Capital Chronicle is part of States Newsroom, a network of news bureaus supported by grants and a coalition of donors as a 501c(3) public charity. Oregon Capital Chronicle maintains editorial independence. Contact Editor Les Zaitz for questions: info@oregoncapitalchronicle.com. Follow Oregon Capital Chronicle on Facebook and Twitter.
Get stories like these delivered straight to your inbox. Sign up for The 74 Newsletter