Poll: More Than Half of New Yorkers Say They Would Prefer to Send Their Kid to a Public Charter School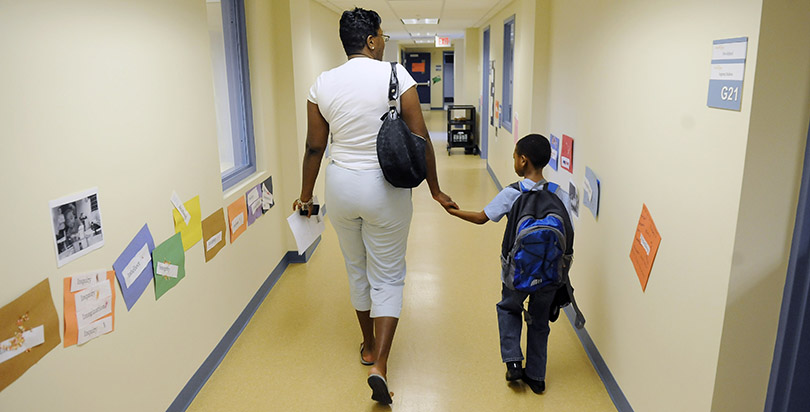 Three in five New York City voters are dissatisfied with their city's public schools and many would prefer to send their child to a charter, according to a
poll released this week
by Quinnipiac University.
One in four New Yorkers said they were satisfied with their child's education. To compare, nearly one in two (48 percent) Americans said they are satisfied with U.S. public education in 2014, according to a
Gallup poll
.
More than half (51 percent) said they would prefer to send their child to a charter while more than one in three (37 percent) said they would send their child to a public school. The demand for charters was highest in the Bronx, where two in three (66 percent) parents said they'd prefer to send their child to a charter school and lowest in Manhattan, with less than one in two parents saying their would exercise that choice (44 percent).
However, the number of residents looking to expand charters in the city has decreased from last year. Currently, 45 percent of residents want to expand charter schools compared to
58 percent in 2015
. The 2016 survey differed in that it allowed respondents to say if they wanted to keep the number of charters the same — with which 27 percent agreed.
"Today's Quinnipiac poll reveals a majority of New Yorkers are dissatisfied with public schools and are supportive of charter schools," said StudentsFirstNY Executive Director Jenny Sedlis in a prepared statement. "When 66% of Bronx residents would rather send their child to a charter school, the Mayor must finally start listening to the people and expand charter school options. Mayor de Blasio must also address parent dissatisfaction and work with urgency to improve traditional district schools."
While one in four respondents (25 percent) thought the de Blasio administration was blocking the expansion of charters, far more New Yorkers (63 percent) said they didn't know enough about the issue to answer the question.
"We encourage families to visit schools — district or charter — and walk the building, meet with teachers and staff, and get a sense of what makes sense for their child. We remain focused on ensuring that every child, in every classroom, has a bright future," Austin Finan, a mayoral spokesman, said in an email when asked for comment on the Quinnipiac results.
Overall, the survey found that 46 percent of those polled disapproved of de Blasio's handling of the schools, while 37 percent approved. Of Schools Chancellor Carmen Farina's job performance, 33 percent approved, nearly the same percentage disapproved (31 percent) and the largest number, 36 percent, didn't know enough to answer the question.
De Blasio has twice argued for a long-term deal on mayoral control of the city public schools to state lawmakers only to be granted one-year extensions with conditions. When asked by pollsters whether de Blasio should retain complete control of the schools, 23 percent said yes while 65 percent said the mayor should share that power with other elected leaders.
The announcement comes after the New York City Department of Education celebrated a recent series of
education victories
. Students in grades 3-8 improved by 6.6 percentage points in reading on the New York state tests, with 37.9 percent proficient. That edged out the state's ELA proficiency rate of 36 percent for the first time. Math proficiency also rose by one percentage point.
The city's charters saw even greater improvement on their scores, achieving 43 percent proficiency in reading (up 13 percentage points) and 48 percent proficiency in math (up 4 percentage points).
The DOE also reduced its persistently dangerous schools list from 27 to four in one year.
While the poll was released Aug. 2, the results were collected July 21-28, a week before city schools' string of good-news announcements. When asked, the DOE didn't specifically comment on whether it thought the results would have been different had it been conducted after its public successes.
One other twist of timing involved New York City Police Commissioner William Bratton, who enjoyed his second-highest approval rating, at 57 percent. Bratton made the surprise announcement Tuesday that he was resigning.
Live interviewers from Quinnipiac called the land lines and cell phones of 1,310 registered voters during the last week in July, polling them on questions surrounding crime, police corruption, and education. The poll had a margin of error of plus or minus 2.7 percentage points.
Get stories like these delivered straight to your inbox. Sign up for The 74 Newsletter