Poll: HS Students Need Good Data to Plan Their Futures. Here's How to Help
States must ensure schools have solid data, and schools must help students use it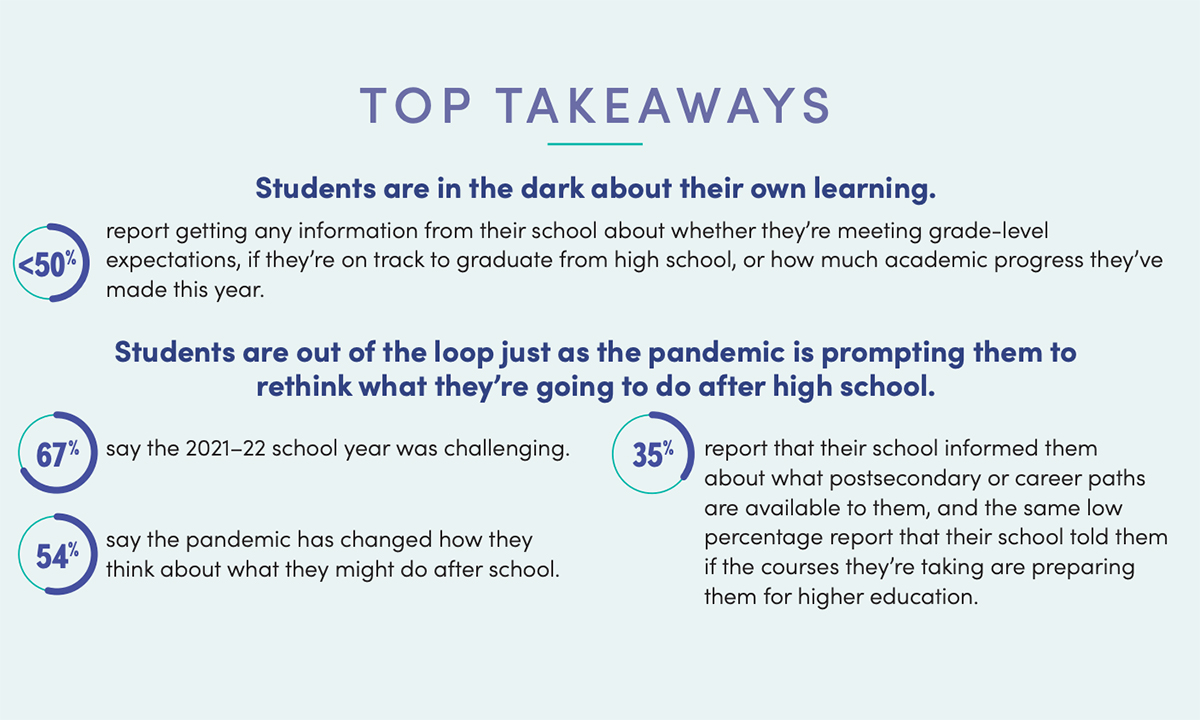 Get stories like these delivered straight to your inbox. Sign up for The 74 Newsletter
Would it shock you to learn that 67% of high school students say the 2021-22 school year was challenging, or that 54% say the pandemic has changed how they think about what they might do after graduation? I suspect not. But as students return to class this school year, these and other findings from the Data Quality Campaign's new national poll of high school students are important indicators of how students can be supported through their education and into the workforce. What education leaders and advocates need to do now is listen to what students are saying about how to help them.
This year, in a survey conducted by The Harris Poll, DQC partnered with the Kentucky Student Voice Team to ask high school students across the country about their experience with data in their pathways through K–12 education and into college and the workforce. The respondents said loud and clear that they are in the dark about their own learning.
Just 35% reported that their school informed them of what postsecondary or career paths are available to them, and the same percentage of students reported that their school told them whether the courses they're taking are preparing them for higher education. Fewer than half said they received the most fundamental information they need to understand whether they are achieving basic standards for success in high school, let alone to make decisions about their futures — including whether they were meeting grade-level expectations, whether they were on track to graduate or how much academic progress they had made during the year.
Students also lack information they need — including data on outcomes for students like them at different postsecondary institutions and in various careers — to determine their options after graduation. Eighty percent of students agreed they would feel more confident about their path if they had better access to information.
Even worse, school leaders working to support students don't have all the information they need, either. This year, DQC also partnered with AASA, The School Superintendents Association to ask district leaders about how they use data. Almost all respondents (98%) said they would feel more confident in their abilities to make decisions for their district if they had better access to information. Even more telling is that 93% of superintendents have started collecting new data during the pandemic; 94% of them agree that the new data is giving them useful information and insights. Despite their own efforts, one in four superintendents are still looking for greater access to data to support students, reporting that they have some of what they need to understand their district. Of those, more than half want data from their state on the outcomes of their district's students after they leave high school.
If the leaders working to support students don't have the right data, how can students be expected to navigate the changing postsecondary landscape and the shifting economy? The task is clear: give students access to data about their own progress and potential pathways, and make sure they are able to use it to make decisions.
Students need information to feel confident about their academic progress and the decisions they're making for their futures. They need information on how they are doing in school today. And they need information about their education and workforce options and how their peers have fared on different college and career pathways. Otherwise, students are being asked to cross their fingers and hope they arrive at the best solution for their future.
To make this happen, states need to invest in their data systems so students and superintendents have access to the information they need in real time. Right now, the best information often lags, tracking how previous students did rather than how current students are actually doing. Students know exactly what they need to make important life decisions easier and these transitions more clear. It's time for leaders to make sure they're getting it.
Get stories like these delivered straight to your inbox. Sign up for The 74 Newsletter