Pokemon Go's Popularity Might Not Slow the Summer Slide But It has Other Powers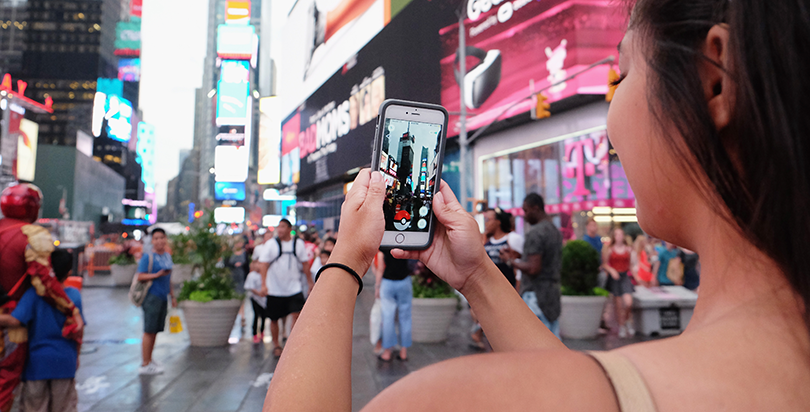 The game-changing release of mobile app Pokémon Go, has obsessed kids everywhere trying to "catch em' all" this summer. The game, released several weeks ago, eclipsed a phenomenal
75 million downloads
Tuesday.
Because the app requires players seeking to level up to walk around and explore their surroundings — while trying not to trip over each or get hit by a car —it does provide a healthier alternative to the couch-potato requirements of traditional video games.
The game uses players' GPS location and augmented reality to blend the real and virtual worlds, allowing players to catch Pokémon and collect virtual goodies at designated landmarks called Pokéstops.
While the game is helping kids stay somewhat physically active, making them at least leave the house during their summer break, does it also have the potential to keep their minds active while they're out of school?
David Uttal, a psychology and education professor at Northwestern University in Evanston, Illinois, is a little skeptical that Pokemon Go can counter the summer slide, where the school year's academic gains slip away, particularly for disadvantaged kids.
"I can't make a convincing argument that playing Pokemon Go is going to make up for being out of school for three months," he said.
But that's not to say the game doesn't have its redeeming features. Uttal, whose daughter plays Pokemon Go, says he still sees a great deal of educational value in the app.
"I do think it has engaged children a lot. It has provided some opportunities for types of learning that are very difficult to do in traditional school settings; being outside, translating maps to real spaces, problem solving in a real world context, reasoning… I think it has potential for that and I think those things can be quite difficult to teach in school." he said. Uttal also feels that the app may act as a positive form of enrichment over the vacation for children who don't have access to formal summer programs.
Although it may not be a magic fix for boosting math and reading skills during summer break, with all the positive attention it's received, educators are understandably scrambling to find creative ways to promote Pokemon Go's learning benefits.
There's the teacher in Australia who developed a course using the app to teach social awareness to kids with autism, and the library in Skokie, Illinois that's offering a Pokémon Go safari program where kids can learn about the history behind local Pokéstops, to name a few.
Despite the excitement the app has spurred among those in the edtech world, others are less than enthusiastic about hopping on the Pokémon bandwagon. Some experts are concerned that the negative aspects of Pokémon Go are being overlooked.
"Even though a child may be playing this game outside, his brain is functioning in the exact same way it would if he were spending hours in an arcade. The only difference is now he needs sunscreen," writes brain development expert Kristen Race in The New York Times. "Imaginative play is critical to brain development and staring at a phone waiting for Bulbasaur to appear is far from a healthy substitute."
In an article for Quartz, neuroscientist Colin Ellard suggests that any cognitive benefits that come from exploring the world around you while playing Pokemon Go are cancelled out by the time spent staring at your phone screen.
"With those types of games, there is increased activation of a part of the brain called the caudate nucleus: This is a part of the same brain system that is strongly invoked during GPS-guided navigation," Ellard writes, "…And that's worrisome. "
The reason is that the strong activation of that part of the brain could dampen down another part "that helps us to map and understand our relationship with places," he said. So rather than giving kids a better understanding of their surroundings, Pokémon Go might actually make them more reliant on technology to master skills like navigation and spacial awareness.
Like most adult debates about children's games, they can miss the simpler truth of the experience for kids, such as 11-year-old Rocco Luciano of Eastchester, New York, who readily admits, "It doesn't feel like I'm learning anything."
"I just started playing because I saw everyone else doing it and it looked fun," he said. "I like that there's always a new Pokemon to go find. It keeps me interested."
Get stories like these delivered straight to your inbox. Sign up for The 74 Newsletter