Photos: Teachers Across the Country Turn to #ADayWithoutAWoman as a Teachable Moment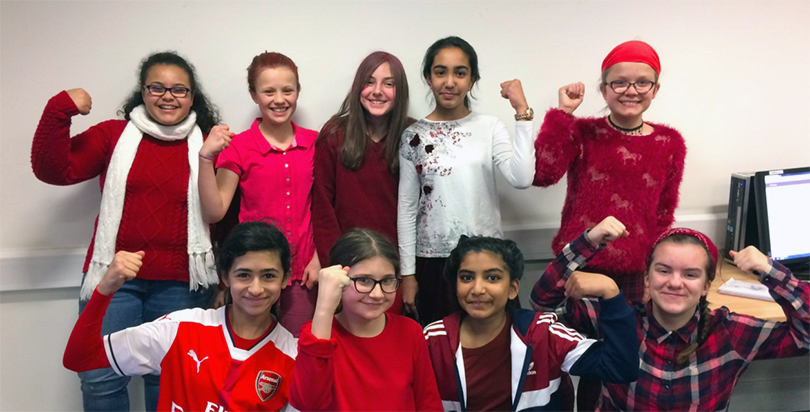 Americans woke to morning news broadcasts reporting school closures across the country, prompted by female teachers who took the day off to celebrate International Women's Day. But many more educators made it to class today, using the occasion to teach valuable lessons to their students.
The classroom conversations coalesced around celebrating International Women's Day, as well as discussing A Day Without a Woman, both movements which are aimed at helping people recognize the enormous contributions women have around the world.
Today's rallying cry came more than six weeks after women's marches across the globe, which drew more than 2 million people to support women's rights and, in the U.S., to protest Donald Trump's election.
From inspiring writing assignments to educating children on the importance of the holiday, students and teachers took to Twitter to share stories about the teachable moments we could all learn something from:
How we honor a Day Without Women ❤❤ #womenareawesome #internationalwomensday #loveja @JATrojans @womensmarch pic.twitter.com/ECROBsa016

— Kate Alwon Brenner (@DCSchoolTeacher) March 8, 2017
a guy in my class said "why don't we have a day" and my teacher said to him "everyday is your day" #InternationalWomensDay

— madison (@coldwataah) March 8, 2017
When your English teacher gives you the task of writing about the most influential woman you know on #InternationalWomensDay ?

— Alex Caldwell (@acaldwell_16) March 8, 2017
He called #internationalwomensday international women get in the kitchen day & my teacher made him wear this sign, i love my English teacher pic.twitter.com/DXb01SN3Be

— n (@dnaIeigh) March 8, 2017
Just had a 3rd grade boy ask me if there's a comparable day for men. Had the whole talk about equality in our society.

— Jennifer Orr (@jenorr) March 8, 2017
My English teacher just let all of the girls in class leave early and made the guys stay. Happy #InternationalWomensDay

— Soph (@pezzmachine) March 8, 2017
My science teacher is honoring #InternationalWomensDay?????❤️❤️❤️❤️❤️❤️ pic.twitter.com/fzhnUTAZBX

— Sydni Cooley ? (@AaliyahSydni) March 8, 2017
happy #InternationalWomensDay
just know that my english teacher just dragged a boy in my class for saying 'why do men not get a day'

— maddi (@kickasskendrick) March 8, 2017
I will wear red and teach my students about Susan B. Anthony today. #InternationalWomensDay

— Laura Quigley (@laura5801) March 8, 2017
Only people I'd hurt by calling out would be children, so I'm going to teach today, but I stand in #solidarity with #ADayWithoutAWoman pic.twitter.com/2eeTOim5uI

— Kate with a Y (@pinkatydid) March 8, 2017
There is so much red in my building today ?
One child, one teacher, one book, one pen can change the world.#IWD #InternationalWomensDay pic.twitter.com/h2DMDkzm9V

— KatBrezler (@KatBrezler) March 8, 2017
#ADayWithoutAWoman #WearRed I must go to work as I am a public school educator & my students are my priority but in my ❤️I am striking! pic.twitter.com/pMpkoP8rO5

— Natalie Corvino (@MrsCMathTeacher) March 8, 2017
Get stories like these delivered straight to your inbox. Sign up for The 74 Newsletter