Photos: Parents Took Their Kids to the Immigration Protests — and Created a Teachable Moment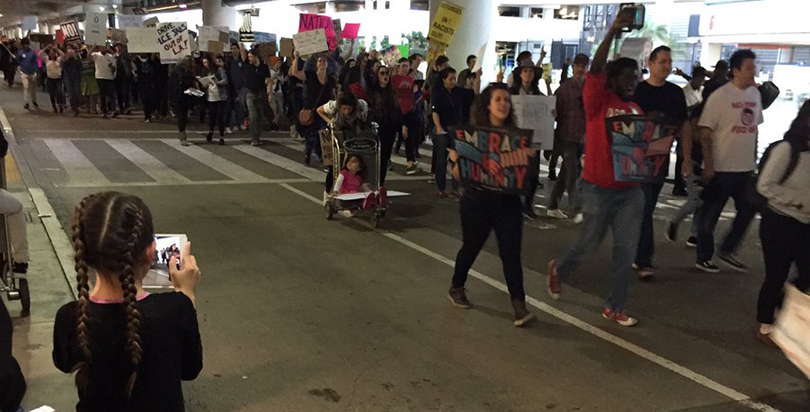 The East Coast protests started haphazardly enough Saturday afternoon. Washington, D.C., residents started gathering at Dulles International Airport around the same time New Yorkers were trekking to JFK's international terminal — rallied by Facebook Live videos and social media posts that decried President Trump's new executive order temporarily banning travelers from seven majority-Muslim countries, including Syrian refugees, from entering the United States.
It was a few dozen, then a few hundred. Then a few thousand spread out across the country, as spontaneous demonstrations popped up further west — notably at Chicago O'Hare International Airport and San Francisco International Airport.
Within hours, a full slate of Sunday protests had been announced, going viral on Twitter as people encouraged their followers to turn out the following day. Boston's Copley Square, New York City's Battery Park, D.C.'s Pennsylvania Avenue and, of course, the airports: Philadelphia at 2 p.m., Chicago at 6, Los Angeles at 5, Boston at 7, Seattle at 5, JFK all day.
If Saturday evening's protests were notable for their speed and spontaneity, Sunday's protests were notable for the complexion of the crowds. Cutting across races, nationalities and age groups, uniting those who have birth certificates with green card holders, Americans took to the streets on Sunday.
---
I love how many ppl are bringing their kids to these protests. These will be good memories for those kids to have.

— Andy Richter (@AndyRichter) January 29, 2017
---
At several airport actions Sunday, the sidewalks were dotted with kids — some grown, some small — as parents turned a peaceful protest into a teachable moment: about citizenship, community and free speech. In particular, the protest at Los Angeles International Airport saw families turn out in force. Several kids spoke about their own immigrant experience with parents or family members who came to the U.S. to start a new life.
If you attended or livestreamed protests over the weekend and either brought a child or saw kids in attendance, we'd love to hear more about your experience. Email us at
info@the74million.org
.
Below, a few of the sights and sounds of students taking part in the Los Angeles protests — as well as a few other images from across the country:
Emad, 6 years old, protesting with his family, refugees from Afghanistan who came to US in 1987 & live in Riverside #laxprotest #NoBanNoWall pic.twitter.com/bkeaKnMX8F

— jen yamato (@jenyamato) January 30, 2017
I love my Teacher! She is Muslim!
NoBan! NoWall! LAX now! #NoBanNoWall #laxprotest #MuslimBan pic.twitter.com/VDSugeyGsg

— Reza Caviani (@rcaviani) January 29, 2017
Many political kids at today's LAX protest. You gotta love this Hamilton kid. #NoBamNoWall pic.twitter.com/INAzIrSjgH

— Lisa Bloom (@LisaBloom) January 30, 2017
this little kid at the protest today was so cute. he was holding balloons that said "Refugees Welcome Here" pic.twitter.com/YS9dzXg8mw

— ivan (@Ivanibr) January 29, 2017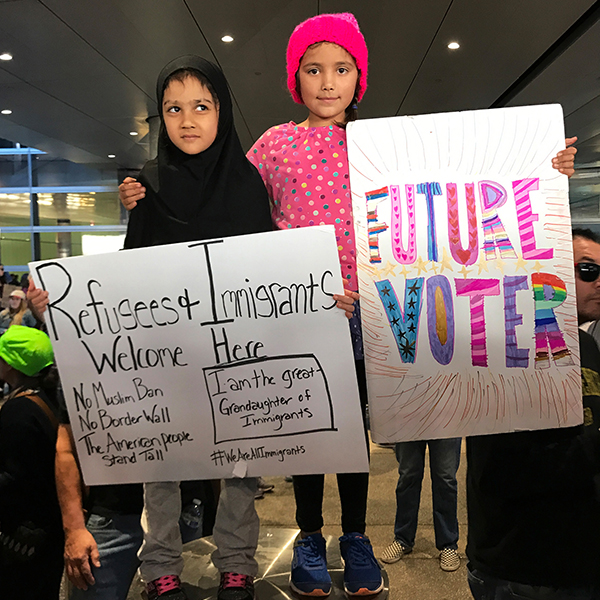 The youth – look at this kid yell with his heart. #laxprotest #resist pic.twitter.com/7nvDHhk9id

— Tchaiko Omawale (@tchaiko) January 30, 2017
Nine-year-old Emory read this sign out loud to me at the #laxprotest. She was also at the #WomensMarch. pic.twitter.com/MYiiVYFsOl

— Sanika Bhargaw (@sbhargaw3) January 29, 2017
Just ran into a @scscholars DACA kid at the protest. Stand strong.

— Alex Rubalcava (@AlexRubalcava) January 29, 2017
My batgirl here to show her support #NoBanNoWall #resist #laxprotest pic.twitter.com/FrZNqcW7xb

— Martin Ponce (@martinponce767) January 29, 2017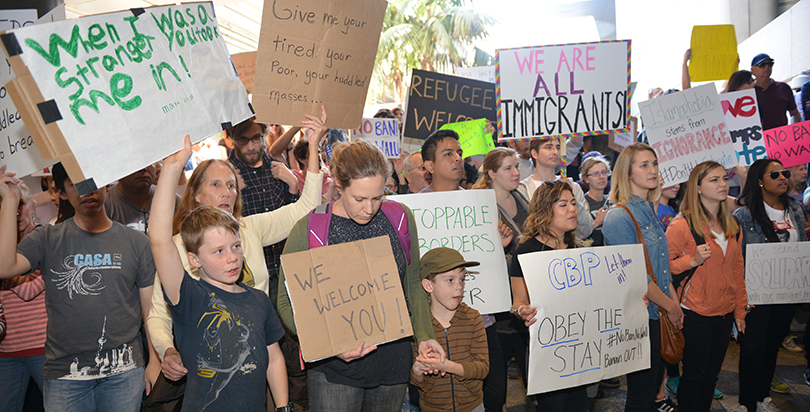 My son & I will stay home, but we're sending our sign & his dad over to #LAX to #Laxprotest against the #MuslimBan pic.twitter.com/OHcfKw6uRX

— Yan Sham-Shackleton (@YanShamS) January 29, 2017
Thanks for the help on the sign kids! Off to #laxprotest #NoBanNoWall #nomuslimban pic.twitter.com/L500WM1Xot

— Steve Sobel (@steve_sobel) January 29, 2017
#JFKTerminal4 protest getting yugee as the kid eats pizza pic.twitter.com/llukHfxE4q #MuslimBan

— Thinker (@SmellTheTea) January 29, 2017
#laxprotest pic.twitter.com/54jV5ZviFf

— Lil Ego™ (@EricGolstonII) January 30, 2017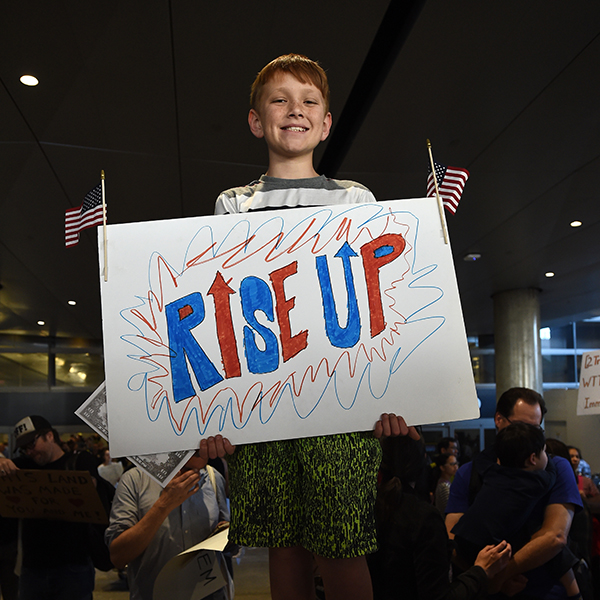 This brave girl showed up at #laxprotest Your voice and courage are needed. No child should live in terror and fear. #NoBan #NoBanNoWall pic.twitter.com/6GohzQf2Y1

— Jane Edith Wilson (@JaneEdithWilson) January 29, 2017
Another weekend, another kid, another protest, another sign. This time with my oldest at UIUC airport. #NoBan #BanBannon pic.twitter.com/IwiRz8XNAy

— Marianne Alleyne (@Cotesia1) January 29, 2017
There's a child pit at this protest! pic.twitter.com/U3i8kf3fI5

— Jim (@deathmtn) January 29, 2017
My friend's kid made his own sign for the protest in providence, today. ?#NoBanNoWall pic.twitter.com/m95jD24jQM

— Nicholas Kole (@FromHappyRock) January 29, 2017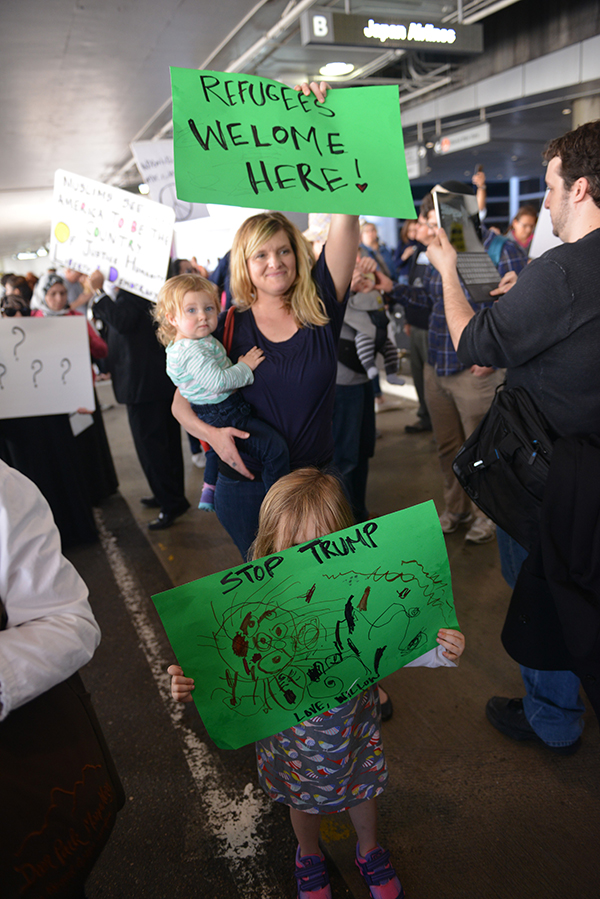 #A child sits A today's #MuslimBan #protest in #WilliamsportPA #NoBanNoWall #nomuslimban pic.twitter.com/XfZv5v0I9g

— Paul Weaver (@weaverphoto) January 30, 2017
This kid winning so hard at the Portland airport pic.twitter.com/tLQBaimHRU

— Laura Hudson (@laura_hudson) January 29, 2017
Support The 74's year-end campaign. Make a tax-exempt donation now.