Photos From #BikeToSchoolDay: Here's How Teachers and Cops Are Using a Trending Topic to Teach Kids About Safety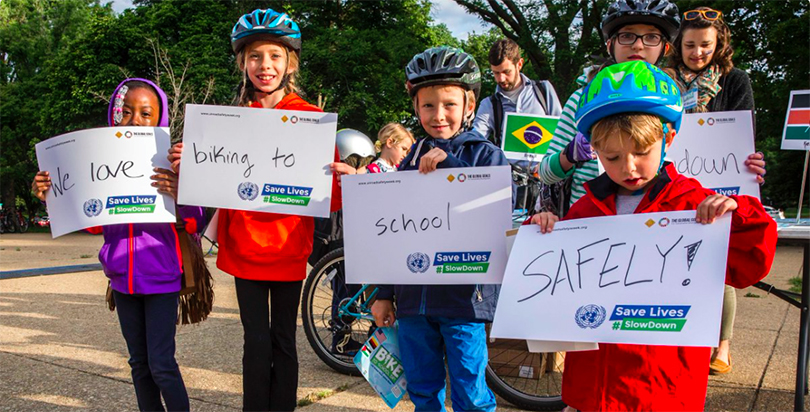 In a bid to promote physical activity and improve the safety of bicycle riders, cops and educators across America helped #BikeToSchoolDay go viral with their tips to help save lives.
The nationwide biking event, which started in 2012 following the success of Walk to School Day, used celebrations at more than 2,800 schools to harness a teachable moment for students.
Police and teachers pushed lessons on everything from helmet safety to mindfulness while riding in traffic. But cops not only emphasized alertness for riders; they also urged automobile drivers to be more aware and to use extra caution on the road now that the weather has warmed and more kids will be out riding.
Whether it was kids riding with a parent in tow, or others who met up to form pelotons pressing toward their schools, here's a taste of the action we saw on social media:
It's #Biketoschoolday! #SafeKids is at Lincoln Park fitting helmets to ensure kids ride safely. #GRSW pic.twitter.com/IfkU02kQeA

— Sheel Pandya (@SheelPandya) May 10, 2017
We had a great turnout for #BiketoSchoolDay! Awesome job to everyone who participated. Remember those helmets! pic.twitter.com/aSqnt2mT2M

— Duxbury Police (@Duxbury_Police) May 10, 2017
@TeachTigers 6th graders navigating the roundabout #BiketoSchoolDay #bikeATschoolday pic.twitter.com/GugvjLoSJ9

— Teach Tigers (@TeachTigers) May 10, 2017
Great morning educating @NorthmorePBC students about bicycle helmet safety & rules of the roadway. #BiketoSchoolDay @MyFDOT_SEFL @pbcsd pic.twitter.com/v5uquRXiJA

— West Palm Beach PD (@WestPalmPD) May 10, 2017
Tips on bike safety from Coach Barron#BiketoSchoolDay pic.twitter.com/tXnVGzAGSP

— Fienberg-Fisher K-8 (@FienbergFisher) May 10, 2017
Parkwood Upjohn Elementary's 110 kids took to the street this morning for #BiketoSchoolDay in Kalamazoo MI! Great morning ride! pic.twitter.com/ucZILXTtb1

— Kathy Schultz (@KSchultzKzoo) May 10, 2017
#BikeToSchoolDay #StrollintoSafetyProgram pic.twitter.com/vsee7HDNDe

— Lexlee's Kids (@LexleesKidsLA) May 10, 2017
Having an armed escort to get to school isn't usually how we roll, but there are crazy drivers out there #BiketoSchoolDay @fairfaxpolice pic.twitter.com/LAVqTJaVuL

— Jeff Anderson (@crazybikedad) May 10, 2017
Great bike safety trips from @IMPDnews! Thank you for safely escorting us to @ButlerLabSchool! #BiketoSchoolDay pic.twitter.com/ighuLyvKf2

— IPS (@IPSSchools) May 10, 2017
It's #BiketoSchoolDay! pic.twitter.com/ei16jEjtlY

— Gulf Shores Police (@GulfShoresPD) May 10, 2017
Fast Freddie Martinez speaking to #carsonvalley kids about bike safety for #BiketoSchoolDay #whycv pic.twitter.com/8uRWbaswJ7

— Carson Valley Nevada (@carsonvalleynv) May 10, 2017
#BiketoSchoolDay with Clara, students & Charleston, WV Bicycle Police @PowerOfBicycles pic.twitter.com/J7lL7HSEF5

— Jennifer Minnich (@jminnifer) May 10, 2017
Some CPD officers started today helping @normalparkmm students get to school safely. Please watch for kids heading home. #BiketoSchoolDay pic.twitter.com/L3B3535jMk

— Chattanooga Police (@ChattanoogaPD) May 10, 2017
It's #BiketoSchoolDay! Eagle Police rode with a group of kids from Eagle Library to Eagle Middle School this morning. #NationalBikeMonth pic.twitter.com/B3bb9vOYtP

— Ada County Sheriff (@AdaCoSheriff) May 10, 2017
---
---
Get stories like these delivered straight to your inbox. Sign up for The 74 Newsletter