Phil-ing In: Meet the Man Overseeing America's Schools While We Wait for a New Education Secretary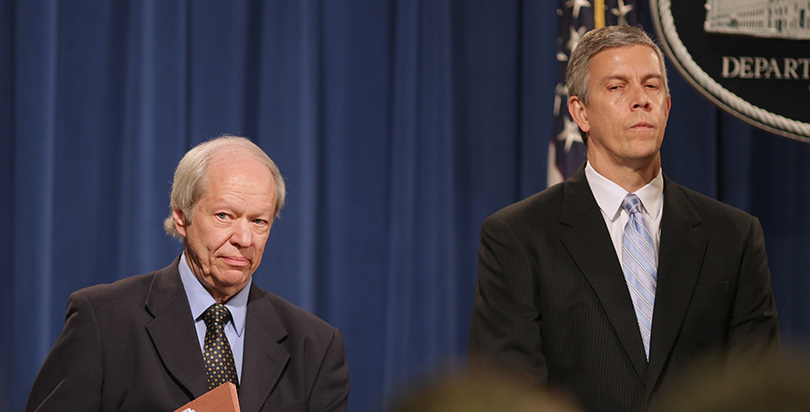 By the time a Senate committee votes Tuesday on the nomination of Education Secretary–designate Betsy DeVos, the nation will be 11 eventful days into the presidency of Donald Trump. If she's approved, as most expect, the entire Senate will vote on the nomination.
That vote will likely be arranged with little delay, though there's not yet a specific date. If DeVos is not approved, the confirmation process will have to start again with a different nominee.
Meanwhile, the Department of Education, the smallest cabinet agency but still a very large bureaucracy, with more than 4,000 employees and
a $75 billion budget
, is continuing to enforce laws, collect data and dispense funds to tens of thousands of schools for millions of children.
The picture that emerges is of career staffers ensuring that the department maintains its basic functions while Trump appointees trickle in.
Before leaving office on January 20, then–Secretary of Education John King designated as his interim successor Philip Rosenfelt, a veteran department attorney in the general counsel's office who began his government career in 1971 with the Department of Health, Education and Welfare — the precursor to today's education department, which wouldn't be created for another eight years. He has worked for the DOE since its creation,
according to his official biography
.
On several occasions Rosenfelt has been asked to work in an "acting" position during department transitions. Those who know him say that's not a coincidence.
Peter Cunningham, who worked closely with Rosenfelt during the first Obama term, when Cunningham oversaw communications under Secretary Arne Duncan, says Rosenfelt has encyclopedic knowledge of the department and an even manner.
"He's a fabulous guy, very, very knowledgeable, very coolheaded," said Cunningham, an occasional contributor to The 74.
In the weeks ahead of the inauguration, as Obama's senior education staffers prepared to hand off plans detailing implementation of the new federal K-12 law, the Every Student Succeeds Act, they assigned a team of career managers to continue working on each section; every team was responsible for relaying its section to Trump administrators.
"Regardless of how the election went, there was still work that needed to get done, particularly with this new law," said Anne Hyslop, a policy adviser at the department under Obama.
"The [career staffers] know how to do all the things that are needed," Cunningham said. "The actual day-to-day work, of putting out money and reviewing accountability proposals and plans, engaging with the states and districts for whatever reason, all that stuff continues. What does stop in the wake of the new administration is policymaking."
As the Trump administration's senior staffers do finally head into their offices, the career civil servants — led by Rosenfelt — are key to ensuring their new colleagues are up to speed.
"In the very early weeks [in 2009], we spent whole days, including Saturdays, sitting with career staff to understand exactly what the department does, how they do their work, and that was very, very helpful," Cunningham said.
He encouraged the Trump-DeVos teams to take the time to meet with career staff and "come to appreciate how much knowledge they have to offer, because they were absolutely critical to us when we first got there."
Get stories like these delivered straight to your inbox. Sign up for The 74 Newsletter