Perecman: Kids With Autism Often Wander Off. Avonte's Law Was One Step in Keeping Them Safe. Here's How Schools, Parents & Caregivers Can Help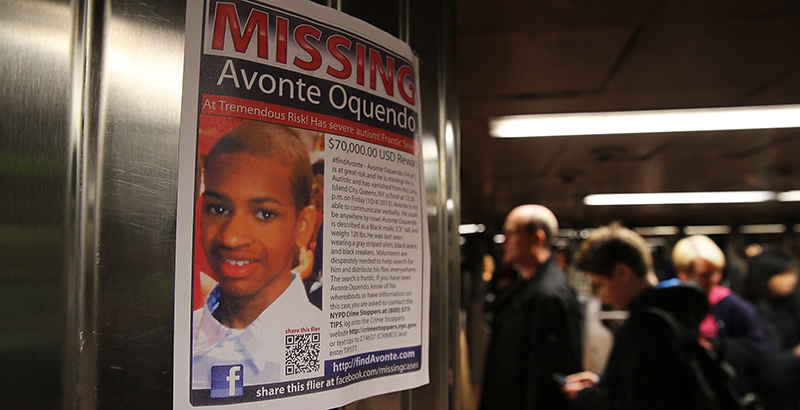 This month marks the five-year anniversary of the passage of Avonte's Law in New York City, legislation named for Avonte Oquendo, a nonverbal 14-year-old boy with autism who was allowed to walk out of and run away from his Queens public school in 2013, and was tragically found months later in the East River. The anniversary serves as a reminder not only of what was achieved with the passage of this law but also of what steps still need to be taken to ensure the safety of special-needs children and prevent future tragedies.
Under Avonte's Law, the New York City Department of Education is required to evaluate the need for alarms on exterior doors at elementary schools and schools serving students with special needs. By the end of 2015, nearly all New York City schools had alarms on their doors and other precautionary measures to prevent students from being able to exit the buildings unnoticed. Since Avonte's Law was passed in 2014, no autistic child has died after wandering away from a New York City school. And following passage of the local initiative, Kevin and Avonte's Law — federal legislation that allocates resources to law enforcement, educational institutions and other organizations to receive training to prevent and address the issue of wandering — was passed.
Elopement — wandering or running away — is common among children with autism. In a survey of parents conducted by the Kennedy Krieger Institute, about half of children with autism were reported to wander. About a quarter of those who ran away were missing long enough to cause concern and were most commonly in danger of drowning or being involved in a traffic accident. According to the National Autism Association, accidental drowning accounts for approximately 90 percent of lethal outcomes of elopement.
Given the prevalence of this issue among special-needs children, it is important that education institutions identify who is at risk of elopement and have proper, consistent protocols in place to help keep these students safe. While installing alarms on school doors is important for alerting faculty and staff that a child has left the building, by the time the alarm rings, it's already too late — the child is out the door. The goal of Avonte's Law is to have alarms be just one part of a larger, all-encompassing plan. Other precautionary measures should also be implemented to protect those at risk.
First, communication among parents, caregivers and faculty members is key to identifying those at risk of elopement. Parents and caregivers should be encouraged to share information about whether their son or daughter has had a past incident of running or wandering off. Likewise, staff members should inform parents if the child exhibits this behavior at school. With a parent or caregiver's permission, it is important to make all staff members aware of any students at risk of elopement, regardless of whether they have direct contact with the child.
Second, once identified, parents, caregivers and school personnel must work together to protect and provide support to those at risk. The Centers for Disease Control and Prevention recommends establishing a plan that includes:
● Monitor the child's behavior.
● Have an emergency protocol in place should an incident occur.
● Keep up-to-date information about the child (photo, description).
● Have proper security in place (school safety agents or monitors).
● Keep identification on the child (ID bracelet, information card).
In addition, schools should make sure the child is monitored by someone who understands elopement. The child should never be left unsupervised, even during lunch breaks and transitions between rooms. Parents and educators should collaborate on teaching children how to respond to safety commands ("stop," "walk with me") and reinforce through educational stories and lessons the dangers of wandering off.
Finally, schools should train all staff members on behaviors to watch for in students who are at risk of running or wandering off, and how to properly intervene. The training should include background on what behaviors are common among those with autism and how certain actions may trigger distress or extreme fear, prompting a student to flee. Personnel should also be trained on what actions to take should they see an unsupervised child near an exit. During school hours, all exits, doors and gates should be closed and monitored by trained staff members.
With elopement a common issue among children with autism, it is important that educational institutions, as well as local and state governments, take steps to ensure their safety. Schools must implement the technology, procedures and protocols to prevent special-needs students from leaving school undetected. Let the memory of Avonte Oquendo serve as a reminder that more needs to be done to keep special-needs students safe and prevent similar tragedies from occurring.
David Perecman is founder and managing partner of The Perecman Firm, P.L.L.C., a New York law firm.
Get stories like these delivered straight to your inbox. Sign up for The 74 Newsletter