Perdue: Technology-Focused Professional Development Can Help America's Teachers Bring Their Classrooms Into the 21st Century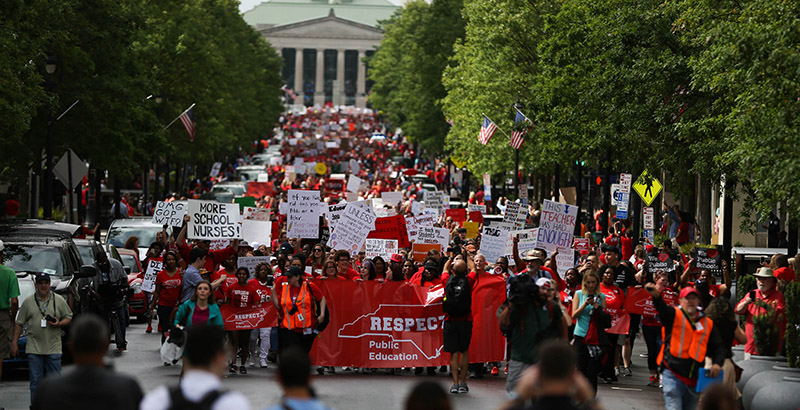 Last week, my home state of North Carolina became the sixth state where thousands of teachers took to the streets to make their voices heard. In a right-to-work state, teachers took personal days to fight for better pay and increases to per-pupil spending, both of which are well below the national average in North Carolina.
The demonstration was emotional. It was powerful. And it brought a laser-like focus to one of the biggest challenges facing education: Teachers are rarely included in efforts to reform our education system.
Lisa Goodwin, North Carolina's 2017 Teacher of the Year, made this clear when she addressed the crowd, saying she hears often from teachers across the state who say they feel invisible. "Today you are not invisible anymore," she said. "Look at you. I see you."
Change in education is driven by teachers, but teachers have been left out of the conversation. They know what their classrooms need, yet they don't feel empowered or emboldened by their school systems and their states, and they lack the tools and funding they need to help their students succeed.
Students are paying the price. Less than 40 percent of graduating high school students score at college- and career-ready levels. The U.S. faces a skills gap in which 6.9 million people are unemployed despite the availability of 6 million jobs. And fourth- and eighth-graders in the United States have made little to no gains in math and reading since 2015.
Throughout my career, I've focused on how to empower teachers to transform education. In this digital world, I believe one key component is technology — both increasing access to technology for schools across the country and training teachers to use that technology to personalize learning experiences for students.
Personalized learning helps students become active participants in the creation of their own learning goals and teaches them how to collaborate with others, think critically, and solve problems effectively — skills they will need no matter what their future career. And investing in teachers to drive personalized learning by empowering them to use technology in their classrooms in new ways puts schools and school districts on a trajectory of success.
Teachers agree. A survey of more than 1,300 North Carolina teachers showed that 85 percent believe that digital tools that provide immediate, ongoing information about student understanding increase learning. Yet most felt they lacked the skills and knowledge to use digital tools well and adopt personalized learning practices in their classrooms.
District and state leaders must give teachers the professional development opportunities they need to bring their classrooms into the 21st century, along with the infrastructure to support digital learning for all students, not just those from affluent districts. That means districts and states must provide access to high-speed broadband for all communities. They must also invest in meaningful professional development opportunities for teachers that let them explore new practices, such as digiLEARN's Digital Scholars Initiative, which enables teachers to take on leadership roles at the school and district levels while remaining in their classrooms and using them as learning labs so other teachers can observe and learn. It's change from the ground up — for teachers, led by teachers.
Change will happen only if we see teachers as the leaders they are, provide them with the tools they need, and give them permission to take risks and make change. Admittedly, providing teachers with access to technology and meaningful professional development opportunities is one piece of a large, complex puzzle of what teachers need to take the lead to reform our educational system. But it's a piece that has the potential to make a significant difference for our teachers, our schools, and our students.
Teachers across the country: I see you. And I firmly believe you have the power to help our students and our nation flourish.
Former North Carolina governor Bev Perdue is the founder of digiLEARN, a nonprofit dedicated to accelerating digital learning for all ages with a goal of increasing personal learning options for students and expanding instructional opportunities for teachers.
Get stories like these delivered straight to your inbox. Sign up for The 74 Newsletter