Peak: Trump Has a Plan to Improve STEM Education. To Do It, He'll Need International Students He's Trying to Keep Out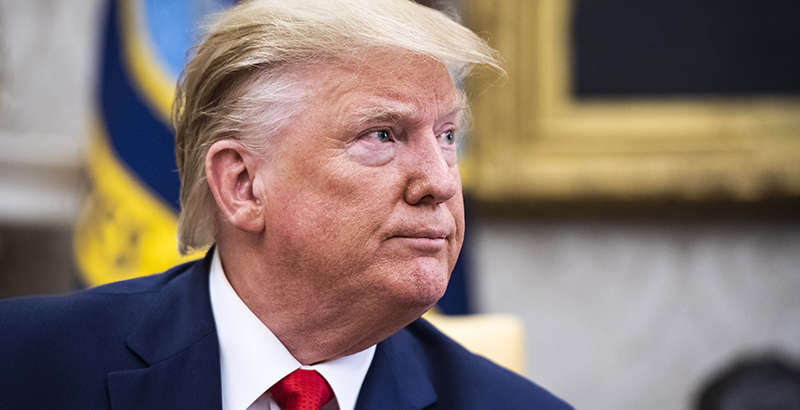 The U.S. Department of Education desperately wants more Americans to go into science, technology, engineering and mathematics fields. That's why the department invested $540 million in the latest fiscal year toward that very end. It's all part of President Donald Trump's five-year plan to make quality STEM education more accessible, and it's a plan that's definitely needed. According to a 2019 report by recruitment software provider iCIMS, employers have been able to hire only six people for every 10 open technology positions for most of the past four years. The report also points out that while there's an abundance of applicants for these positions, very few are actually qualified to fill them. But if the Trump administration's goal is to improve American STEM education, it'll need to recognize the critical importance of foreign students.
For years, foreign students have been the mainstay of American STEM programs. They pursue STEM degrees at far higher rates than their U.S. counterparts, representing over half of new enrollees in graduate engineering and computer science programs but only 20 percent of the total population of first-time graduate students. Some STEM department chairs have even warned that their programs couldn't operate as well if they relied solely on domestic enrollment. At the University of Florida, for example, 95 percent of the 288 graduate students studying computer science in 2015 were international.
Critics argue that foreign students impede U.S. educational opportunities by competing with American students for a limited number of seats. Research by economist Kevin Shih shows that this might be true for private universities, but the effect is very small and "not statistically different from zero." However, when accounting for public universities, Shih finds that, on average, an increase of 10 international students leads to the enrollment of eight additional American students.
Why? At public universities, foreign students typically pay two to three times as much tuition as their American counterparts; they are subject to out-of-state tuition rates and, depending on the university, additional fees that U.S. students are exempt from. Schools use this excess revenue to help enroll more Americans. At the University of California system, for instance, international students pay about $41,000 in tuition and fees. Roughly one-third of this funding goes toward financial aid for lower-income American students.
It's why universities across the nation are worried about their dwindling international enrollment. In February, the Trump administration extended processing for student visas from 60 days to 180 days, giving students very little time to enroll for March and causing some institutions to cut some STEM programs altogether. At the University of Central Missouri, the number of international students declined by more than 1,500 in the 2017-18 school year. School officials responded by cutting faculty from their computer science program, where many foreign students were enrolled.
Clearly, international students are a vital asset to American STEM education, and turning them away only hampers Americans' chances of success in the 21st century economy.
A look at the president's newly updated regulatory agenda indicates that America's problem with international students could get even worse. In addition to slowing down visa processing and increasing denials, the administration aims to curtail a popular program that allows foreign STEM students to work in the U.S. for a maximum of three years after graduating. It's also moving forward with a perverse policy that makes it easier for the U.S. government to ban foreign students from traveling to the U.S. for as long as a decade for minor infractions like forgetting to report a change in their dorm room.
Other U.S. policies toward foreign students have been nakedly antagonistic. In January, Immigration and Customs Enforcement lured hundreds of foreign students into attending a fraudulent school in Detroit called the University of Farmington. Thus far, according to recent reports, ICE has arrested about 250 students in the sting operation. The administration justified the arrests by saying the students violated their visa requirements in attending a school that provided work authorization but no opportunities to enroll in courses — an arrangement commonly known as visa mills. But it was ICE that deceived the students by including STEM curricula in advertisements for the "school." Students, of course, eventually found out there were no classes, but ICE agents posing as university administrators assured them classes would be offered soon. Then they arrested them.
Outside of the moral implications of such a practice, the president is pulling the rug out from under his own feet. The U.S. is home to much of the world's top university STEM programs, but it lags behind other wealthy countries at the K-12 level — as the Trump administration itself notes, less than a quarter of American college-bound students are ready for college STEM courses. In fact, after exposure to introductory classes, most undergraduate STEM students eventually switch to non-STEM majors.
Clearly, the United States needs to improve its high schools to match the quality of its university programs. But the Trump administration is closing this gap in exactly the opposite direction — by being needlessly punitive toward the international students who are holding these programs together in the first place. Instead, America needs to maintain the quality and scale of its university STEM programs to accommodate the future Trump is aiming for: one in which our secondary education system successfully prepares students for such demanding college curricula.
But doing so means remembering that cultivating talent at home depends on welcoming it from abroad.
Sam Peak is a tech and innovation fellow for Young Voices and a policy associate for Americans for Prosperity. The views expressed in this piece are the author's alone.
Get stories like these delivered straight to your inbox. Sign up for The 74 Newsletter