Patrick — Personalized Learning on the Rise: What I've Learned After Visiting 80 Schools Where Teachers and Principals Are Rethinking Their Classroom Culture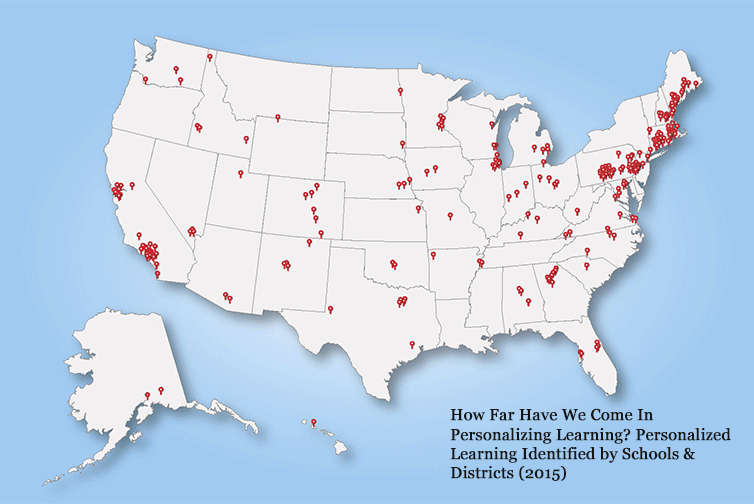 This is one in a series of articles and essays we're publishing around the annual South By Southwest Education conference. See our other SXSWedu posts; get our latest coverage delivered straight to your inbox by signing up for The 74 Newsletter.
Susan Patrick will be appearing at SXSWedu at the "CEO State of Play in Personalized Learning" on March 6.
I regularly visit schools as part of my work at iNACOL, but over the past two years, my 80-plus visits have been part of an investigation on the transformation of instructional practices toward personalized learning in schools across the United States.
We saw classrooms break free of stifling practices like uniform rows of desks, teachers standing and delivering lessons to passive learners, and students being dulled into submission by bells and other traditional cues. In their place at these innovative public and charter schools were teachers and students engaged in inquiry, students acting as active agents in their learning, and teachers working tremendously hard to create settings that catered to all their students' needs and crafting instruction to shape jointly developed learning experiences.
The level of excitement for personalized learning is high, as we reported in our national landscape scan. Teachers told us they incorporated personalized learning – or aspects of it – because it aligned to "what it means to be a teacher" and why they entered the profession in the first place. Students were blossoming, saying their teachers took time to get to know them personally and they were becoming more confident in voicing their needs and taking action to improve, a lifelong skill we know is required for success in our rapidly changing society.
While these practices grow and thrive in pockets all around the country, we are advocating to scale their efforts, build supports, and evaluate effectiveness – all of which requires redefining education as we know it and getting clear about its purpose. Educators are driving the changes to modernize and transform teaching and learning. They need systemwide support to realize the vision of powerful, personalized learning. It is unrealistic, and unfair, to expect that thousands of educators, working in isolation or in small groups in districts, can carry the weight of whole-system transformation. iNACOL and our partners work to foster the political courage and will to change, bolster the knowledge and skills to lead, and share information about how to innovate education to best prepare all our students for the future.
One persistent part of our mandate is dealing with the tensions around definitions in this movement. In reality, it is simply acting on the need to modernize our education system to prepare students for prosperous, healthy, and productive lives in an era of growing uncertainty.
Here's the promise of personalized learning embedded in our definition: Personalized learning tailors learning experiences to each student's strengths, needs, and interests. Students have voice and choice in what, how, when, and where they learn — to provide flexibility and supports to ensure mastery of the highest standards possible. It is a pedagogical strategy that draws on research about the science of learning, motivation, and engagement.
To get a sense of the depth of implementation of personalized learning, we partnered with the Center on Reinventing Public Education, NORC at the University of Chicago, and LEAP Innovations to expand on our qualitative research and conduct a national survey, sampling more than 3,600 teachers and 1,000 students. We measured the intensity of personalized learning instruction based on LEAP's Learning Framework along a continuum of three of four categories that describe the emergence and penetration of personalized learning practices, such as the degree to which students understand their needs, strengths, and interests, and how they progress through learning pathways.
It was instructive to get this 30,000-foot view of how personalized learning is taking shape across the country. Naturally, we found a great deal of variation in how deeply it was being implemented in general and across the elementary, middle, and high school levels. Briefly, the teachers leading the way with personalized learning were experts at the art and science of learning: They knew their students and used that knowledge to shape learning experiences. We were encouraged that black, brown, low-income, and other marginalized students tended to have positive experiences with personalized learning. In addition, supports for growing and sustaining personalizing learning, which include technology, were widely available.
However, teachers, members of a mostly white-female-dominated profession, have work to do to become more familiar with students' communities and to ensure that learning environments reflect all students' experiences. In addition, teachers expressed reluctance to give more control of pacing, content, and learning activities to students. This is a natural tension, born out of hardwired teaching models and the current system's bureaucratic demands. Our results show that nationally, most classrooms have a long road to travel to fully realize the promise of personalized, flexible, student-centered learning.
There is opposition, those with underinformed ideas about what exactly personalized learning is and how it supports systems transformation. Also, there is the unfortunate and misguided interchangeable use of the term to refer to software and other education technology tools that support learning. Add to that the risk the term "personalized learning" runs in being regarded as a buzzword to revile, or as yet another reform or fad that could peter out. We intentionally name personalized learning because of its power and simplicity, but also because it encapsulates our intentions to make education equitable. And in so naming, we take ownership and responsibility for ensuring that we say what we mean and mean what we say. Our goals are to close the communication gaps and bridge the gaps among ideas, policy, and practice.
While we are dismayed at the biggest areas of confusion between the big ideas encapsulated in personalized learning and the mistaken beliefs that personalized learning requires technology and/or essentially means computer-led instruction (it doesn't), we are encouraged by the inroads made by federal and state policy to support the higher ideals we're promoting. By making space for innovation, dismantling structural barriers to changing learning models, and getting creative in resourcing those changes, we are planting seeds in fertile ground to transform education from what it is to what it could be.
We're likewise encouraged by the growth in the number of educators and administrators who share their experiences with personalized learning at our annual symposium. All signs point toward K-12 education being at the beginning of what leading voices expect to be a systemic transformation. Across the nation, leaders are changing the way teaching and learning look. They are progressively dipping their toes in the waters of this reimagining of the learning experience (where other countries have been swimming for some time) and courageously seeking ways to make the educational experience meaningful and purposeful.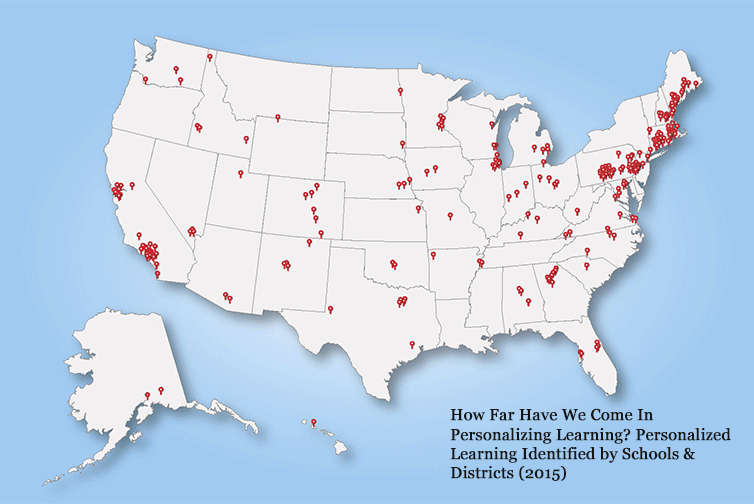 As much as policy and systems are creating space for personalized learning, we will have to do more to encourage teachers and school leaders to shift the culture in their schools toward personalizing, to take the risk of trying new strategies, and to identify the supports needed to move schools beyond tinkering at the margins. Personalized learning, as an enabling strategy, dovetails into a broader reimagining of school through competency-based education. To meet the needs of all students, we believe the foundational system needs to be competency-based, where all learners need to:
● Advance to the next stage of their learning only when they have demonstrated mastery — not based on a predetermined and often arbitrary model for delivering traditional curricula;
● Learn knowledge, build skills, and demonstrate competencies, which are explicit, measurable, transferable learning objectives that empower students;
● Participate in assessments that are meaningful and positive learning experiences;
● Receive timely, differentiated supports based on their specific needs;
● Achieve competencies that foster application and creation of knowledge along with the development of important skills and dispositions.
Personalized learning, build on a competency-based education system to ensure all students achieve the high levels of mastery, therefore, is intentionally designed to move the entire educational system away from the one-size-fits-all approach to learning with variable outcomes. It places a stronger focus on supports and learning per person — to personalize powerful learning experiences for our youth. Compared with traditional education models, in personalized, competency-based learning environments, students have more flexibility in the pathways they take toward mastery of standards and the ways they use time. Learning is untethered and can happen in communities and in internships anytime, anyplace. Student growth and achievement are not bound by grade level or whole-group content delivery that teaches to the middle.
In addition to changing the way learning is experienced, districts are rethinking qualifications, the definitions of student success, and what it means to earn a high school diploma. They are also considering better ways to dynamically assess students, and they are re-examining accountability as a tool for continuous improvement. They are modernizing teacher preparation and professional learning to adapt to newer learning models, and they are building the will and the capacity of communities for change. What models of education would we create where we lifted the upper boundaries of what students were able to know and be able to do — limitless learning?
These are the stakes. Our economy is changing and evolving. The robots are already here, and more than 50 percent of jobs are moving toward automation — quickly — according to the World Economic Forum. Young people's place in the future requires exactly what personalized, competency-based education delivers: the ability to take agency and learn how to learn new skills, to discern truth and create a more just and prosperous future that everyone takes part in. There is a massive mismatch between what our future requires and what our schools are offering. It is critical to transform K-12 education toward a system that is fit for the purpose of public education in the 21st century: for all students to graduate high school with the academic, core competencies and lifelong learning skills to be leaders in their communities and agents of their own success — in college, career, future workforce, and our communities — as well as navigate the opportunities and uncertainties they will encounter in their lives.
Next week at SXSWedu, I will join Helayne Jones, Dana Borrelli-Murray from Highlander Institute, Beth Rabbitt of The Learning Accelerator, and Elisabeth Stock of PowerMyLearning for a session titled "CEO State of Play in Personalized Learning." We will share our respective insights about the field, important trends along with challenges and opportunities inherent to movement-building, and erecting a bigger tent for the myriad unheard voices calling for change.
Susan Patrick is president and CEO of iNACOL, whose mission is to drive the transformation of education systems and accelerate the advancement of breakthrough policies and practices to ensure high-quality learning for all. She'll be appearing at SXSWedu at the "CEO State of Play in Personalized Learning" on March 6.
Get stories like these delivered straight to your inbox. Sign up for The 74 Newsletter