Parton: State Report Cards Are Very Important but Hard to Use. 3 Ways to Make School Data Easier for Parents to Read & Understand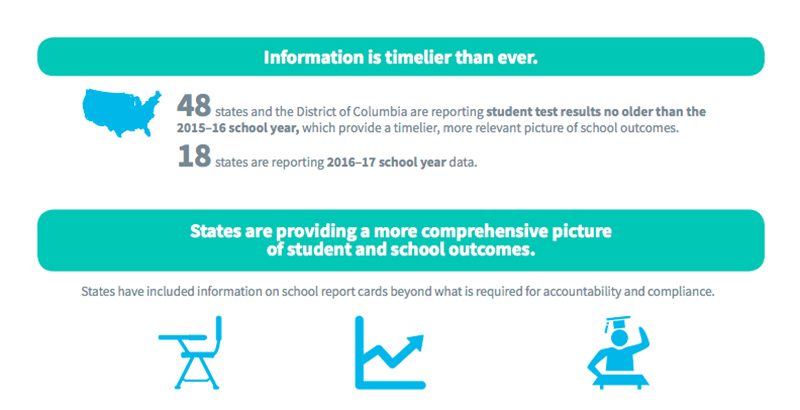 Show me the data! That's what we at the Data Quality Campaign were left asking states after reviewing their online report cards. These report cards — an online resource that states are required to produce so their accountability system and other measures of school quality are publicly available — should present an opportunity for states to communicate about student achievement and school quality with families and communities. Instead they are hard to find, use, and understand. State report cards have lots of jargon but little context, among other woes, making the wealth of useful information on them inaccessible to most people. This must change.
Why focus on state report cards? Because people deserve data — meaningful, high-quality data. Information about how schools are faring is not the states' to own, and making that information public should not be a mere compliance exercise. Every parent, advocate, mayor, and, yes, real estate agent should have an easy-to-use, one-stop source for information about school quality, provided by the leaders who are charged with holding schools accountable.
So where do we stand? By the end of 2018, every state must produce a report card that includes information about its new accountability system, as required by the Every Student Succeeds Act. States must use their report cards to communicate their priorities and are required to inform the public about school quality. Parents and educators demanded that this information include more than test scores, and they are getting their wish on the new report cards. Rounding out the picture of school quality will be new indicators like student growth, college enrollment, workforce preparation, and chronic absenteeism.
Over the past couple of years, I have heard many people wonder, rightly, whether report cards have too much information to be useful. When it comes to education data, we find that once you give people some data, they soon want more and better information. People see the power of the questions they can answer and actions they can take when they're armed with information. In fact, recent research found that 91 percent of parents liked report cards that provided more details about a school's performance better than those with less information. I think this is because people want to dig in and form questions and conclusions. (For more information on how states can improve report cards today, check out DQC's Show Me the Data report.)
The good news is that states have an audience for this information — in a national poll we conducted in September, 58 percent of parents reported using a school or district report card. That's more than I was expecting, and it means that states must ensure that their report cards meet parents' needs. Still, while many parents report using online report cards, states have their work cut out for them to reach the rest. Of parents who said they didn't use an online report card, 40 percent said they didn't know it existed and 32 percent said they couldn't find it.
States have invested significant time and resources to work with stakeholders to figure out what data are most important for accountability and transparency. Wouldn't it be a shame if people missed out on this more robust picture of school quality because a website was hard to find or read?
By the time this year's state report cards come out, it will be too late to inform families' decisions on schools and programs for the current school year. Nevertheless, we are hoping to see states increase transparency and improve accessibility in 2018.
What will it take for states to make their data more accessible, useful, and meaningful? How can states ensure that their investments in collecting and reporting information about school quality will pay off? Here are some things states can tackle right now:
● Simplify language. Many report cards are written at a grade 15 reading level (in other words: college-level) and feature confusing acronyms and jargon. Who would use report cards to inform their decisions if they can't understand the information being presented? I wouldn't.
● Build a one-stop shop. Right now, you need to understand the details of a state's organizational chart to know where to find all the pertinent data. That's not a realistic expectation. Further, hard-to-navigate data reports make state priorities look opaque and out of reach. Useful and complete data can and must go hand in hand.
● Disaggregate data. This sounds wonky, but at its core, breaking down information by various groups of students shines a light on whether schools are failing to support some kids. Some states are still missing this federally required information.
Even as states release new report cards this year, the work cannot stop. If the goal is to create — and constantly improve — a resource that meets the needs of parents (or educators or business leaders or any other stakeholders), states must work with parents to find out what they want. By focusing on meeting user needs, improving state report cards is possible.
As we have in previous years, DQC will be taking a look at every state's report cards in early 2019, and we're eager to find bright spots that can help inspire and inform other states' efforts. In the meantime, I encourage everyone to take a look at your state's report card and see if it answers the questions you have about schools and students in your community. While you're at it, get leaders in your state to take a close look at the report card and ask themselves whether it meets people's needs (we have a helpful scavenger hunt that can help you go deeper). Let us know what you find!
Brennan McMahon Parton is director of policy and advocacy at the Data Quality Campaign, a nonprofit policy and advocacy organization leading the effort to ensure that educators, families, and policymakers are empowered with quality information to make decisions that ensure students excel.
Get stories like these delivered straight to your inbox. Sign up for The 74 Newsletter