Parents Cheer after Judge Denies Second Request to Dismiss New York Teacher Tenure Case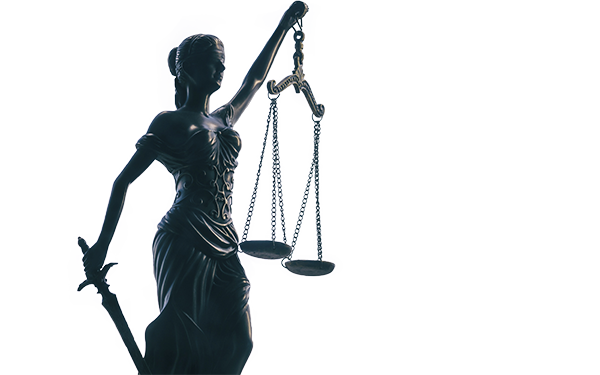 New York City | Story updated on Oct. 26
Three days after a state judge denied a second request from unions and officials to dismiss a lawsuit challenging teacher tenure in New York public schools, about 30 parents and activists gathered in front City Hall to celebrate.
"We know it's not an easy fight but so far we've passed the first leg," said Keoni Wright, one of the parents who brought the lawsuit charging that tenure and other teacher job protections harm New York's public school children.
"We're tired of waiting for the politicians (who are) making broken promises … Hopefully it will get better for our children."
State Supreme Court Justice Philip Minardo ruled last week that new education laws the state legislature passed after the lawsuit was filed do not alter teacher tenure and seniority protections enough to make the parents' original complaint moot.
Last year, two separate groups of parents filed lawsuits against the state education department challenging teacher seniority protections. Their complaints were consolidated into one alleging that the long and costly process of removing ineffective teachers, the "last in, first out" rules governing teacher layoffs and other aspects of tenure violate students' constitutional right to a "sound basic education."
The complaint is supported by two activist groups, the New York City Parents Union and the Partnership for Educational Justice, a nonprofit founded by former CNN anchor Campbell Brown. (Brown later founded The Seventy Four, where she currently serves as editor-in-chief.) During Monday's rally, organized by the partnership, parents chanted, "Two, four, six, eight, we want teachers that are great" and "What do we want? Great teachers."
Tauana Goins, 28, said she joined the lawsuit after her daughter spent two years at P.S. 106 — dubbed the infamous"School of No" because its students lacked such basics as books and gym or art class — with a teacher, Goins said, bullied her daughter and called her "a loser." The Queens mom said she tried unsuccessfully to get her daughter a different teacher — she had the same instructor for both second and third grade.
The school's principal was ousted in February 2014, reportedly on charges of fraud and misconduct, and is no longer on the city's payroll but the teacher remains — her daughter has her again for fifth-grade, Goins said.
"We're not anti-teacher," Goins said. "We just want effective teachers and we want tenure to be performanced based."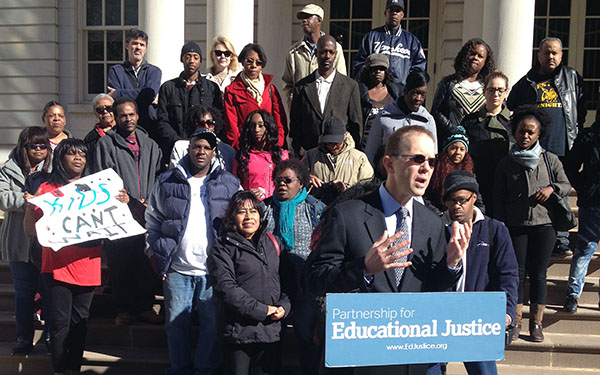 Partnership for Educational Justice Executive Director Ralia Polechronis called Minardo's decision a "major victory."
"The fight for educational justice must continue in order to give our students the education they are guaranteed under the state constitution." she said in a statement.
Nick Paolucci, a spokesperson for the New York City law department, said Friday officials were considering next steps.
"We believe this suit should have been dismissed in light of the significant changes the legislature made to the teacher tenure laws," he said in a statement.
United Federation of Teachers lawyer Adam Ross said last week in a brief statement that, "Judge Philip Minardo's procedural ruling is not the final decision in this case."
Minardo's decision in March allowing the case to proceed to trial is being appealed at the state Appellate Court, Second Department. The defendants in the case made a renewed argument to Minardo to dismiss based on what they maintained were new, stricter rules governing tenure — rules that the teachers unions have fought to undo. (Read The Seventy Four's story on the tenure lawsuit parties court appearance this summer.)
New York Gov. Andrew Cuomo approved a deal made earlier this year during the state budget process to require school districts to overhaul teacher evaluation systems to more effectively determine teacher quality, putting heavy weight on student tests scores.
The new rules mandated a time frame under which school boards had to decide whether to fire teachers consistently rated as ineffective and increased from three years to four the length of the probationary period leading up to tenure.
The UFT, with the support of city and state officials, asked Minardo to dismiss the lawsuit, saying these changes addressed the issues raised by the parents.
The plaintiffs argued that the revisions were minor and not enough to alter a system they say leaves ineffective teachers in the classroom.
"They have changed it from three to four years but they haven't changed the ingredients of what goes into (tenure)," PEJ lawyer Jay Lefkowitz said in court in August.
In a five-page ruling, Minardo agreed, essentially affirming his earlier decision.
"In this case, the legislature's marginal changes affecting, e.g., the term of probation and/or the disciplinary proceedings applicable to teachers, are insufficient" as a basis for a dismissal, the Staten Island judge wrote.
Minardo did halt the discovery process — the plaintiffs intend to seek teacher personnel records — until the Appellate Court rules. Lefkowitz said Monday the defendants may appeal Minardo's second ruling but hopes the Appellate Court makes its decision on whether the lawsuit can proceed by the end of 2016.
"We are looking forward to our opportunity to put our evidence on trial," he said during Monday's rally.
A state education department spokesman declined comment, citing the ongoing litigation. New York City education department representatives did not respond to requests for comment.
EDITOR'S NOTE: Seventy Four Editor-in-Chief Campbell Brown had no role in the reporting or editing of this story.
Get stories like these delivered straight to your inbox. Sign up for The 74 Newsletter