Parent Power: Key Strategies for Developing Leaders and Advocates in Schools
Dec & Cassidy: From voter education to school choice, how Rocketship works with families to boost engagement and build partnerships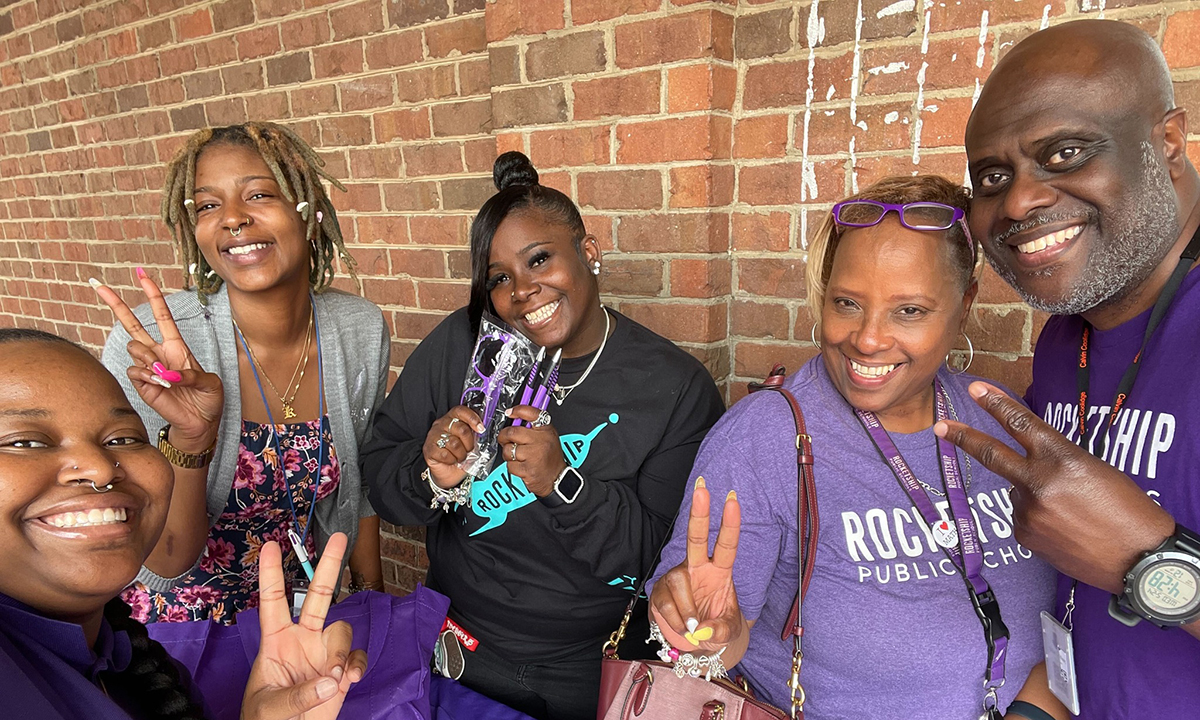 No paywall. No pop-up ads.
Last spring, Rocketship Public Schools, a national network of charter schools, and staff from City Forward Collective, a Milwaukee organization focused on eliminating educational inequity, brought together 30 parents from public, private and charter schools to co-host a virtual mayoral forum ahead of a special election. More than 1,000 families attended the event to learn about the candidates and their position on topics, including education.
As this event shows, parents are extremely interested in shaping the educational experiences of their children and those in their communities. The COVID-19 pandemic heightened the role of parents in their children's learning and challenged the traditional model of how educators and families interact. It was a shift no one was prepared for, yet a late 2021 Learning Heroes report found that over 90% of parents surveyed planned to be as or more involved in their children's education than during the 2020-21 school year, when the effects of the pandemic on at-home learning were still being felt deeply.
At the same time, an increasing number of parent-based advocacy groups, such as The Oakland Reach, PAVE, Atlanta Thrive, Moms for Liberty and the National Parents Union, have been reshaping how families engage with the education system. These parent advocates are helping families select high-quality schools, providing leadership training, examining district policies, sharing information about key education issues and investigating what is being taught in classrooms.
As a result, educators are realizing the need to strengthen relationships with parents.
Parent power is a core pillar of Rocketship's model. Organizing committees of 10 to 15 parent volunteers each lead advocacy work at each of the network's schools with the support of full-time school staff dedicated to building parent leaders. These committees have led campaigns on issues ranging from school-specific concerns to those that impact families across the country. Along with hosting mayoral forums, Rocketship families have pushed for better traffic safety measures, raised awareness about the importance of voting, participated in marches and rallies, and advocated for policies that are supportive of charter schools. For many parents, these experiences have led to increased self-confidence, lasting friendships and, in some cases, jobs in advocacy and government. And, as a recent SRI Education brief shows, by participating in these activities, Rocketship parents are learning to use their voices to influence local and state policies that impact their families and communities.
Rocketship's approach points to several key strategies for building and supporting parent leadership and advocacy.
Create a strong family engagement culture. Developing an environment where parents feel welcome, contribute to decision-making and have opportunities to get involved sets the foundation for later participation in advocacy efforts. Rocketship engages parents by asking them to complete "parent partner" hours, which they log for activities such as hosting school staff for home visits, reading with their children at home and attending community events. Through these interactions, parents build relationships at the school, which are critical for developing trust and making them feel comfortable transitioning into advocacy activities. Education organizers meet with parents for one-on-one meetings where they learn more about the advocacy program. Parents also decide on the advocacy issues they address, leading to buy-in and sustained efforts over time.
Commit to prioritizing parent leadership and advocacy across the organization. Advocacy is most effective when leaders at all levels understand and champion the work and provide the necessary structures and resources. Principals connect with families and encourage parents to participate in organizing initiatives (for example, by sharing information and providing food, child care and translation services). Network or district leaders allocate critical resources, such as funding for full-time staff positions like education organizers and ongoing professional training. Building school-level support requires parent advocates and education organizers to clearly communicate with school leaders about the purpose of the advocacy and provide opportunities for school staff to observe these activities in action.
Tailor advocacy efforts to meet the needs of the local community. The ability to respond to local needs and engage community members and organizations is a critical component of advocacy. Parents need the opportunity to learn about local concerns, and education organizers need to be familiar with cultural traditions, the local political landscape and other specifics so they can effectively assist with researching issues and organizing campaigns. Rocketship uses the People Improving Communities through Organizing model to structure its work with families and has found this model effective because it provides a common framework across the organization, yet is flexible enough to account for local needs. Additionally, collaborating with other organizations engaged in similar work affords access to more resources and connections, and expands reach of advocacy efforts.
These strategies form the basis for how Rocketship school staff engage with families and encourage them to participate in advocacy efforts. As parents' interest and involvement in their children's education continues to increase, schools can leverage these strategies to build stronger family-school partnerships and robust, meaningful opportunities for parent leadership.
Get stories like these delivered straight to your inbox. Sign up for The 74 Newsletter