New Data Show Ohio Charter Schools Have Seen 8% Jump in Student Enrollment During Pandemic, Fueled By 38% Surge in Students Seeking Online Programs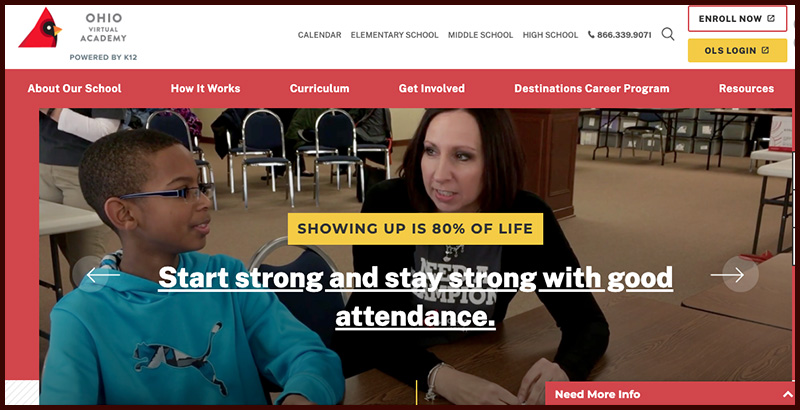 Enrollment has soared at online charter schools in Ohio this fall as the COVID-19 pandemic creates uncertainty and confusion at traditional school districts.
Nearly 8,000 more students are attending Ohio e-schools this fall compared to last academic year, a 38 percent increase, according to new data released Wednesday by the Ohio Department of Education.
The increase at e-schools dominates the increased enrollment in all charter schools in the state, up more than 8 percent overall.
It's a major turnaround for a charter school sector that has come under fire the last several years for academic failures and attendance scandals. But with classes at many traditional schools going online to keep students and teachers safe during the pandemic, the e-schools' experience teaching online has gained value.
Leading the way is Ohio Virtual Academy, where enrollment jumped nearly 5,700 students from about 11,800 last year to 17,500 this fall. That 48 percent spike in enrollment makes Ohio Virtual Academy, run by for-profit K12 Inc., one of the largest charter schools in the nation and the largest in Ohio history.
Head of School Kristin Stewart said many parents prefer schools with a track record of teaching online to school districts that are still figuring out how to offer remote classes.
"Parents, and even school districts, wanted proven solutions for continuous education, as opposed to places that may have been ramping up online school for the first time," she said.
Ohio Connections Academy, the state's second-largest online charter school, added about 1,200 students, boosting enrollment from 4,200 last year to 5,400. The school is run by the for-profit Pearson company.
Ohio Connections Academy Executive Director Marie Hanna agreed with Stewart about the appeal of online charters, particularly after attempts by districts to move classes online in the spring often went poorly.
"The teachers did a wonderful job and the very best they could under the circumstances, but I think those experiences were not always perfect," said Hanna. "I think a lot of those families decided that they'd rather go to an e-school that's been doing this for a long, long time."
She also said parents don't want to switch between online and in-person classes, as many school districts are moving toward a hybrid model this fall.
"The families are looking for consistency," said Hanna.
Led by e-schools, Ohio's total charter school enrollment rose eight percent this fall, its greatest increase in at least the last 10 years. Online schools made up 90 percent of the total charter increase.
But statewide charter enrollment of about 113,000 is still well below its peak of nearly 121,000 in 2013-14, right before a state crackdown on poor-performing charters and their authorizers.
That crackdown led to the closure of the Electronic Classroom of Tomorrow, where peak enrollment over 15,000 made it the largest in Ohio history until now.
State Sen. Peggy Lehner, chair of the Senate Education Committee and a sponsor of the 2015 bill that tightened regulations on charters, said she understands why charters might appeal to parents now. Many charters are offering in-person classes while school districts do not. Online charters have experience with remote classes. But parents, she said, might return to districts when they can re-open fully.
"What remains to be seen is what happens when we come out of COVID," she said.
There's also a question of whether students are better served at online charter schools long-term. The e-school sector came under heavy fire in 2015 after Stanford University's Center for Research of Educational Outcomes (CREDO) found that students at online charters lag far behind students in traditional schools academically.
The National Alliance for Public Charter Schools (NACSA) blasted e-schools in 2016 because of those results.
"If traditional public schools were producing such results, we would rightly be outraged," a NACSA report stated. "We should not feel any different just because these are charter schools."
Critics say online schools rely too much on parents to supervise children, don't offer enough support for students and have low standards.
A follow-up study by CREDO in 2019 of Ohio's charters found that e-schools continued to drag down the state's charter performance. Students at Ohio's online charters fell behind traditional schools so much, CREDO found, that it was as if they skipped 47 days of reading classes in a year and 136 days of math classes.
"The poor performance of online charter schools drags down the overall charter impact on student academic growth," the CREDO report said.
Chad Aldis, who head's Ohio efforts of the Fordham Institute, an advocate for charters and school choice, said it's hard for parents to figure out how to measure results at online charters versus school districts just starting online classes.
"We don't yet know what the academic achievement is like in the district-run online school," Aldis said. "We don't have that data and parents are trying something different."
He's also interested in how the academic results of online charters changes as the type of students enrolling changes. In the past, many e-school students have struggled at traditional schools before coming to an e-school. Students that were excelling at traditional schools had little reason to change and attend an online school.
But different students may be attending e-schools now than before, Aldis said, which could alter test results.
Though the new data from the state is the best to make year-to-year comparisons, it may understate the number of students shifting to e-schools. The new data show the expected number of full-time equivalent students for state funding purposes. Students that attend for only half a year only count as half a student in these numbers. But because students at charters enroll and drop out throughout the school year, the enrollment at any moment may be higher or lower.
Both Stewart and Hanna said they have many more students right now than this data shows. Stewart said that her school has more than 20,000 students attending today and Hanna said she has more than 5,800.
"It's kind of a moving target," she said.
Support The 74's year-end campaign. Make a tax-exempt donation now.