Pandemic Relief Funds Long-Overdue Broadband Improvements For Native American Reservations; Big Boost For Rural Schools and Remote Learners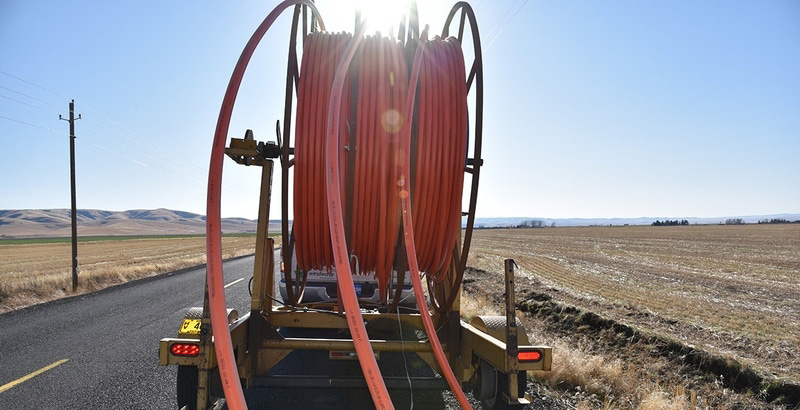 Get essential education news and commentary delivered straight to your inbox. Sign up here for The 74's daily newsletter.
LaDonna Squiemphen has a satellite dish from Warm Springs Telecom and a mobile broadband hotspot from her grandchildren's school district. But even with both devices, Squiemphen said that internet access at her home is still spotty, especially in high winds or snow, which aren't unusual on the Warm Springs Reservation.
"We're out in the open. We have very little shelter from the wind when it comes," said Squiemphen, a member of the Confederated Tribes of Warm Springs who works as a juvenile prosecutor for the tribal government.
Squiemphen lives with her husband and four of her grandchildren — a 15-year-old freshman, a 13-year-old seventh-grader, and two fourth-graders who are both 10, but four months apart in age — 18 miles from the town of Warm Springs.
Sometimes her grandchildren can't access the internet to attend online classes at the Jefferson County School District, she said. They get marked absent if they're not logged in, even when it's not their fault.
"I've had to fight for them because it's not perfect reception," Squiemphen said. "It's hard because the tribe lacks the up-to-date equipment to make the internet work."
Broadband access in rural areas, and particularly on reservations, has been a problem since the 1990s, when the internet went from being a niche network for scientists and academics to something ordinary people accessed for work, school, and entertainment.
According to a Census report released in 2017, a vast majority of Oregon households — between 79.6% and 84.5% — subscribed to a broadband internet service, numbers similar to the rest of the U.S. By contrast, just 67% of Native Americans nationally had broadband access, and just over half — 53% — of Native Americans on tribal land had broadband subscriptions.
That chronic lack of access became acute when the COVID-19 pandemic pushed many activities of daily life online.
"With the COVID pandemic, most of our customers need to video conference with work and school, which was either a challenge or flat out impossible," said Tim York, general manager of Warm Springs Telecom, a utility owned by the tribal government.
Relief is on the Way
And with the pandemic came some long-overdue assistance. Two Oregon tribal nations received funding to upgrade their broadband infrastructure under the Coronavirus Aid, Relief, and Economic Security Act, according to Business Oregon, the state's economic development agency. In 2020 Warm Springs Telecom received $492,290 in CARES funding administered by the state of Oregon to upgrade broadband capacity — specifically to upgrade office equipment and radio equipment on towers and in equipment huts. The Confederated Tribes of the Umatilla Indian Reservation in northeastern Oregon received about $1.75 million in CARES funding for broadband upgrades, including money the tribal government received directly from the federal government for work on a fiber-optic network.
And at the end of 2020, Congress passed an omnibus spending bill setting aside money tribal nations can use for broadband improvement. The bill included $1 billion for tribal broadband connectivity, $300 million for broadband infrastructure deployment, and $285 million for connecting minority communities.
York said the CARES Act grant enabled the utility to update the wireless network with all new equipment that gave customers access to internet speeds of 25 megabits per second, the minimum to meet the FCC definition of broadband.
He also said the utility will soon offer speeds of 100 megabits per second or more — which would put Warm Springs residents on par with Portlanders, who had an average connection speed of 110 megabits per second, according to a 2018 report.
"The old broadband offering varied between 1.5-Mbps and 4-Mbps," York wrote in an email. "You can't do much with those speeds."
Access Still Limited
It's hard to say exactly how much access reservation residents have to broadband: The FCC has been tracking internet access since the 1990s, but until recently, they only measured whether it was possible to access the internet from a given Census block — not whether households in those blocks had internet service.
Even those numbers show a significant gap in access, however. The FCC's report published in January said that in 2019, more than 99% of Census blocks in U.S. urban areas have access to some broadband service, but only 65% of rural tribal lands have the same level of access.
The situation has improved in recent years — between 2018 and 2019, the deployment of high-speed internet access increased from approximately 46% to almost 50% on tribal lands — but the consensus is that when COVID-19 hit Oregon, many people living on reservations were not receiving internet service that allowed them to work from home or attend classes remotely.
Ryan Heinrich, the principal of Nixyaawii Community School, a charter school in Pendleton that serves Native American students, said in January that attendance was down 10%-12% from the same time last academic year, but that the numbers improved this academic year over last spring's attendance, due in part to improved broadband access.
Every tribal member received a Chromebook in the spring, and while some students at the school are not enrolled in the tribe, the school was able to get devices to them too.
"The device was not the issue. It was the broadband access," Heinrich said.
Future Investment
Bruce Zimmerman, the tax administrator for the Confederated Tribes of the Umatilla Indian Reservation, said the CARES Act funding was enough to build a "fiber-optic backbone," the start of a fiber-optic network.
"Construction of the backbone began in December, with the goal being to roll out access to households this summer."
"A number of Indian Reservations that I know about have extreme terrains … think Arizona desert," York, of Warm Springs Telecom, wrote in an email to Underscore. "In the Willamette Valley to plow a fiber optic cable in the ground may cost around $5 per foot. When you are trying to dig through rock … the price skyrockets to $30+ per foot, making it impossible to place fiber cables to all customers. That is the problem with getting fiber to all of our customers here in Warm Springs, as it is with many other Indian Tribes."
There's more federal funding on the horizon to get broadband into rural areas. York said Warm Springs Telecom is installing free Wi-Fi in the downtown Warm Springs area for students who have a difficult time getting reliable broadband at home.
He also says there is talk that the utility's assistance program for low-income consumers will soon stop subsidizing voice service but will pick up broadband. A little more than a third of the utility's 650 customers qualify for the assistance, York said.
"This is huge, as one of the final barriers to internet is the cost," York said. "Internet is not cheap." Warm Springs phone and internet bundles start at $36.99 per month and top out at $79.99 per month.
Squiemphen said in January that she was aware of the upgrades to the reservation's Wi-Fi access, but "we still have the issue with the weather." Her house just isn't in the right position to pick up signal from the antenna, she said.
By early April, little had changed in her household: Schools had reopened but allowed students the option of continuing with distance learning, and her grandchildren chose to remain home.
The school district has switched to an online learning program that allows students to learn on their own schedule and seems to work better for students, but the connection is still sporadic, she said.
Gordon Scott has children in school in Warm Springs and also works as a community liaison for On Track Oregon Health and Science University, which partners with Oregon schools to increase the number of students from underrepresented backgrounds in the health sciences. He said he's able to access the internet at home, but knows students who've had to "get creative" — driving two or three miles down the road to access the internet in their vehicles. Squiemphen said she saw a photo of a little boy using a device at the grocery store to attend school online, and she's shown it to her children as inspiration to keep at it even when their connection is sporadic.
"We are very adamant about education in our household," Squiemphen said.
And the internet access at Scott's home "does work, but it's just very unstable and unpredictable. You have to make adjustments for how you're using it," Scott says.
"The whole world has switched to doing things online and doing things at home," Squiemphen said. "For us here in Warm Springs, it's a bit of a different story. The internet is so vital. It's kind of a leaky faucet in a poor home."
‍Underscore is a nonprofit collaborative reporting team in Portland focused on investigative reporting and Indian Country coverage. We are supported by foundations, corporate sponsors and donor contributions. Follow Underscore on Facebook and Twitter.
Get stories like these delivered straight to your inbox. Sign up for The 74 Newsletter