Painting Black History in the Time of Censorship for Young Readers: A Conversation with Nikkolas Smith, Illustrator of 1619 Project's Born on the Water Children's Book
By Marianna McMurdock | February 22, 2022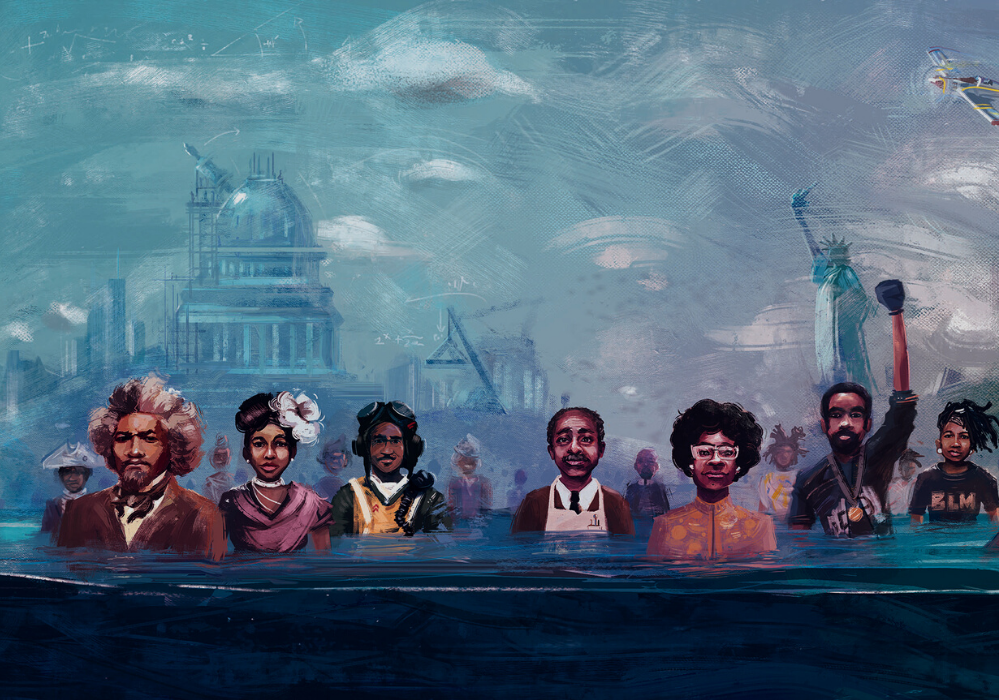 Nikkolas Smith is not surprised by the book bans and culture of fear dominating schools in his home state of Texas.
If anything, recent events make his work as a children's book illustrator and self-described "artivist" more urgent.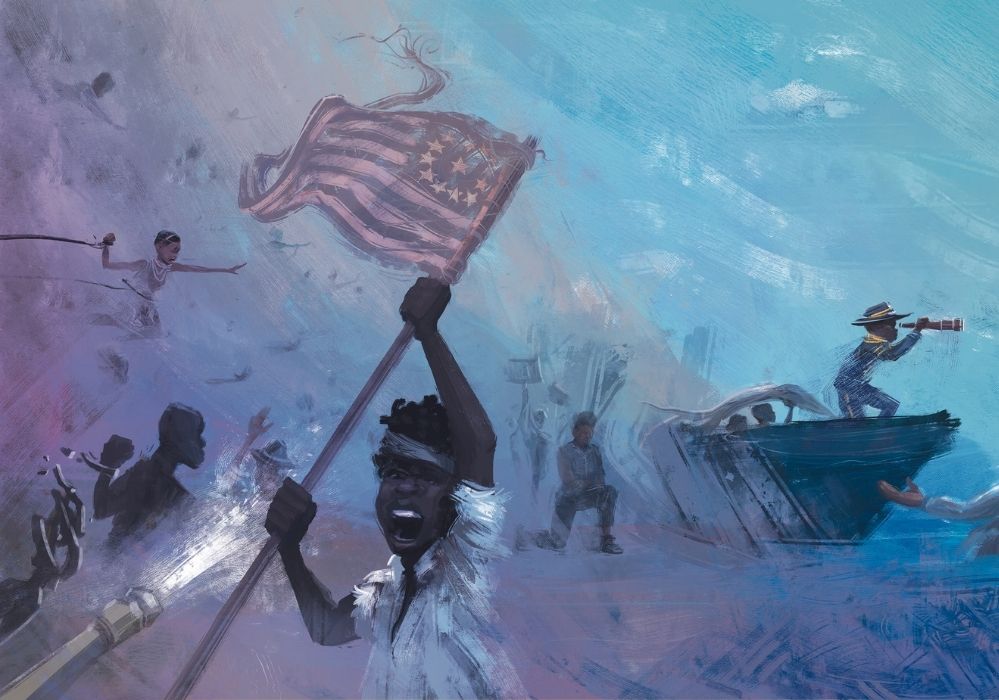 "I'm gonna keep making books that will probably be on banned lists… because all they do is tell the truth about history. And it's just ridiculous that accurate history is trying to be suppressed, basically, by those in power who have benefited from racism for centuries," said Smith, who collaborated with Nikole Hannah-Jones to illustrate The 1619 Project for children.
Growing up in Houston, he was taught to celebrate the tales of Davey Crockett and the Alamo — "whitewashed" stories "always from one perspective:" glorifying those who owned and killed other human beings, he told The 74.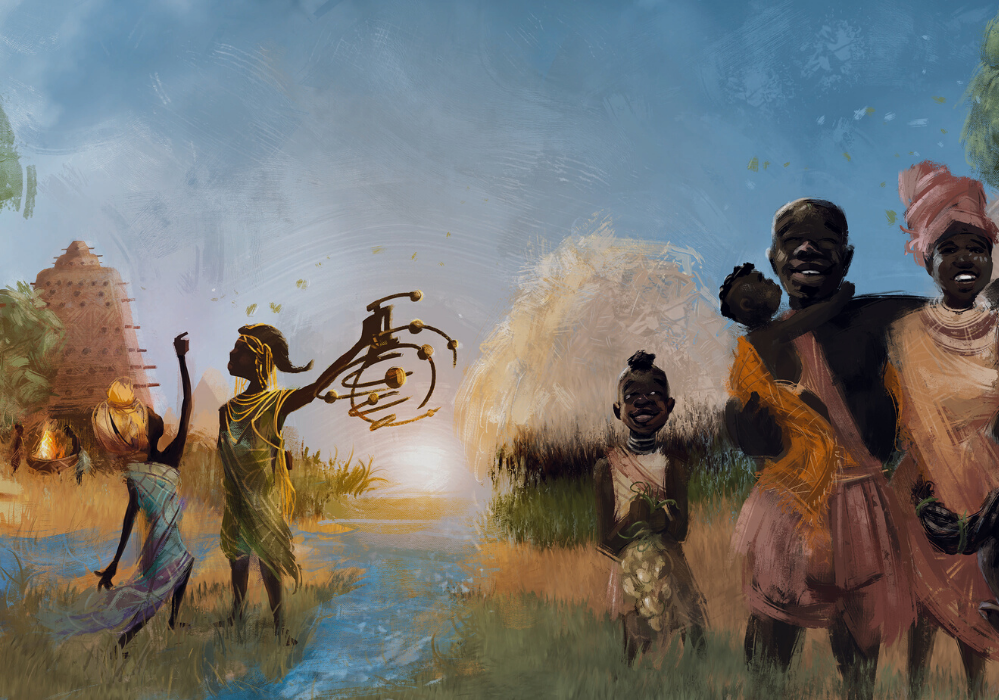 Now, alongside the words of Hannah-Jones and children's book author Renée Watson, Smith's art flips the script to teach young readers the legacy of slavery rooted in humanity; a Black history rooted in joy.
In Born on the Water, the children's picture book accompaniment to The 1619 Project, Smith's paintings bring the cultures of West Africans to life, showing the pre-enslavement history often omitted from classrooms.
"One of the things that me and Nikole talk about is there's so much rich history, and culture, and so much joy in these tribes and these people that were stolen from their land," Smith told The 74. "You really have to understand all of that to understand how heavy it was, and how tragic it was… We really just wanted to show that life."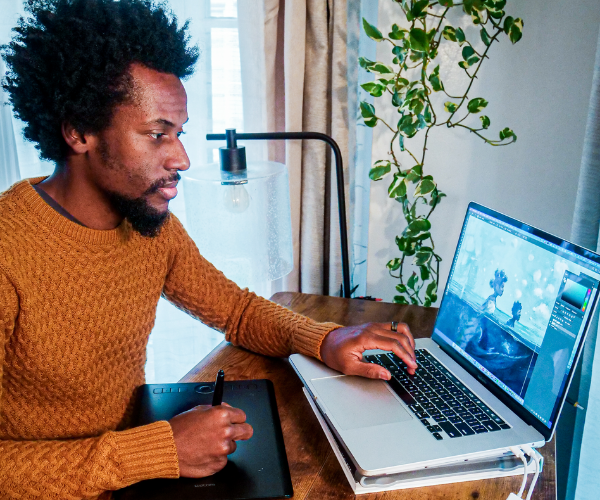 From his plant-filled Los Angeles home, Smith paired Hannah-Jones and Watson's poetry with family traditions, beautiful hair, dances, imagery that evoked death and spirits. Using a digital speed-sketch style, his illustrations began as monochrome shapes and skeletons in Photoshop, impressions of how he felt after reading and internalizing their verses.
The book hit shelves last fall amid a wave of proposed state laws aimed at preventing students from learning a mythical "critical race theory" and "divisive concepts." In at least four states, legislation attempted to ban the 1619 Project explicitly. So far, Florida has succeeded.
While a vocal minority of lawmakers and parents believe school aged children are too young to grapple with just how violence against Black people was intrinsic to the nation's founding, many more yearned for the content. Born on the Water topped bestseller lists as families headed into 2022, looking for ways to talk to children about the country they'll inherit.
Smith's artistic approach seemed a natural fit. In digital paintings, he added layer after layer of color and symbols — clouds modeled after picked cotton, the shape of a person sinking underwater, or a green toy tied to a tree, the only sign of life left after colonizers stole a tribe — to convey anger and fear in ways young readers could feel without being traumatized by explicit violence.
Long-inspired by Nina Simone "to reflect the times," he'd balanced trauma and life in children's illustrations for years, painting Tamir Rice, Elijah McClain and others killed by police.
His second book, My Hair is Poofy and That's Ok, explored the internalized hatred young Black children develop from racism and microaggressions.
Through his work, which he describes as "art as therapy", he tries to help himself and viewers heal "the broken bones of society."
"For them to say, we have a book about the transatlantic slave trade and slavery, and all of these very heavy things that we as Black people in America, we think about it all the time … I felt like that's one of the biggest broken bones in America," he said.
"…Remember that these weren't slaves that were taken, these were brilliant people, and they did some amazing things … They knew how to design and build cities, they built this country, and that's why they were stolen, because they were brilliant and good at what they do. We just want to remind people of that, and also how much they fought and resisted and got their freedom back."
"And [for] the young folks who are not Black, there's no shame in anything we're saying. We want people to grow up having an accurate understanding of what happened in this country. I feel like it's really not until we address all of these things openly and honestly that we're gonna really grow and move forward as a nation."
—Nikkolas Smith
Smith blurred linear understandings of time by using symbols across generations, to help young readers understand that "[ancestors'] vision of the future, their wildest dreams are now embodied in us — [we're] having to take that mantle and move forward."
And in faces, Smith balanced the world of feelings bound up in the Black experience: from shame, when the protagonist cannot make a family tree beyond three generations, to pride, after her grandmother recounts the rich history of tribes pre-enslavement. Her hair, in Bantu knots, and clothing give reference to past generations.
Ultimately, Smith hopes his work can help the next generation of Black youth have a sense of pride. Over the next few months, he'll paint scenes of Ruby Bridges, the first young person to integrate a Southern school in 1960. And next year, he'll collaborate with celebrated author Timeka Fryer Brown on a picture book about the Confederate flag.
He expects both will end up on some banned lists.
"All we can do is keep putting the truth out there," Smith said, "and it'll get into the right hands."
All paintings are illustrated by Nikkolas Smith for Born on the Water, a publication of Kokila, an imprint of Penguin Young Readers.
Get stories like these delivered straight to your inbox. Sign up for The 74 Newsletter