Paid Internships Can Provide HS Students with Something No College Counselor Can
Artis: Skills training, college and career coaching, alumni support — and a salary — can really pay off, especially for first-generation students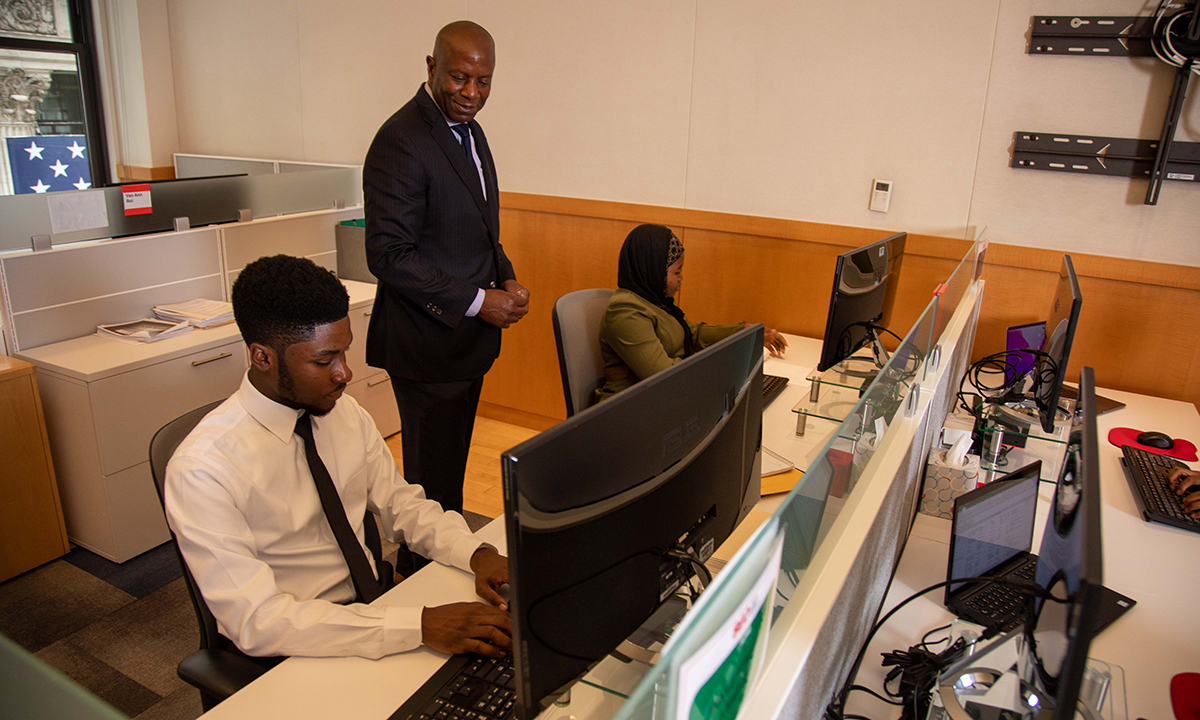 Support The 74's year-end campaign. Make a tax-exempt donation now.
With inflation and college costs rapidly increasing, it's no wonder many high school seniors aren't sure about the next step to take. Should they pursue a short-term certificate or a four-year degree? Is it possible to enroll in a good school without accruing too much debt? Which degrees and certificates lead to good-paying jobs?
For first-generation college students, the answers to these questions are often difficult to come by, leading to serious consequences. These young adults are less likely to enroll in and graduate from college than those who have a parent with a degree, and, if they do earn a bachelor's, tend to have lower incomes.
Paid internships during high school may not seem like they have the power to address these challenges. However, at Genesys Works, a nationwide program that provides high school students in underserved communities with eight weeks of targeted skills training, paid corporate internships, college and career coaching, and alumni support, we know that they do. We've seen time and again how internships have transformed the lives of the young people we serve — 72% of whom are first-generation college students and 91% of whom are people of color.
While it's important to make sure that young people have the guidance and resources to make informed decisions about their future — keeping them on a pathway to a career — a paid internship provides something that no college counselor can.
Some of the benefits are obvious. A paid internship engages students who feel pressure to earn money while attending school. Rather than getting stuck in a minimum-wage job, uncertain about how to achieve their goals and economic self-sufficiency, high school interns can experience a corporate environment at companies like Accenture, TransUnion and Medtronic, and feel like valued members of their teams. An internship can change their perception of themselves and what's possible.
It can also expose students to new industries and allow them to build their professional networks, providing them with the social capital that is so critical to launching a successful career. One of our students in Chicago had never envisioned himself working in finance before his internship at the Collateral Department at The Private Banks (now CIBC). Now, he's a private equity analyst for an independent financial services firm. His internship gave him access to a network that guided him along his professional journey, illustrating the power of connecting young people to non-parental adults as mentors.
And an internship can give students a lifelong career boost. After one of our students completed his senior year internship in tech support, the company extended the arrangement through college and hired him after graduation. Some 20% of young people who successfully finish the year-long program work full time for the companies they interned with during high school, in industries such as finance and technology.
The less obvious benefits of an internship pertain to college outcomes. A network of professionals — including internship supervisors and seasoned colleagues — can offer students guidance on their career path and help them understand the link between a particular degree and work. Nearly half of our alumni stay connected with their internship supervisors and co-workers after their internship ends.
As a result, 72% of our alumni graduate from college, compared with 45% of U.S. adults over 18, and report median earnings of $50,000 a year within six years of graduating high school — significantly higher than the average income of many individuals six years after they enroll in college.
I believe every high school student would benefit from a paid internship. Purposeful interactions and interventions at the high school level result in improvements in college enrollment, degree attainment and early career success. For first-generation college students, meaningful professional experiences are especially vital. High schools that want to support their students' long-term success and help them achieve their education goals should look into partnering with organizations, like Genesys Works, which have a portfolio of companies that they work with and that understand their needs.
When vetting a potential program partner, high schools should make sure they can:
Speak with local employers about their talent needs and how high school interns could fill certain roles after some targeted skills training.
Highlight the return on investment for employers in terms of tapping a diverse talent pipeline.
Discuss additional career benefits, such as professional development, for existing employees who are preparing for management roles. The opportunity to mentor interns can be a valuable experience for everyone involved.
High school interns can be tremendous assets to any organization, following some short-term skills training and ongoing support. These opportunities are a win for students, schools and local employers — and they can make all the difference in the trajectory of a young person's life.
Support The 74's year-end campaign. Make a tax-exempt donation now.